Norse Atlantic makes it seven carriers offering flights between London and New York this summer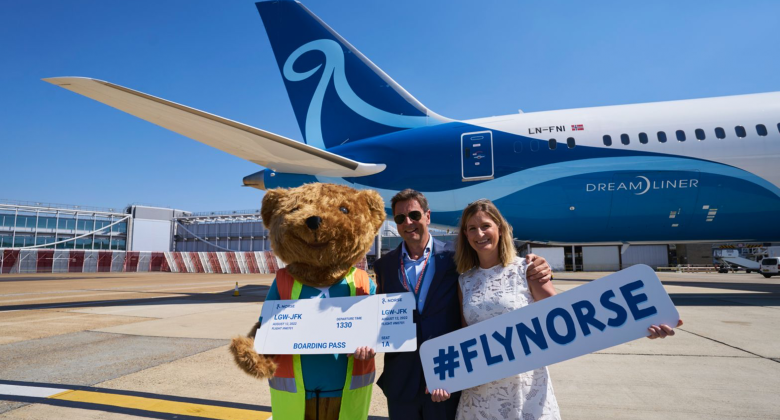 New York is by far the biggest US market from the UK, as confirmed in our recent story looking at the London-Boston market. The market welcomed a new carrier on 12 August when Norse Atlantic Airways began daily service between London LGW and New York JFK using 787-9s, formerly operated by Norwegian. Between 2004 and 2019 annual one-way seat capacity between the two major cities was consistently between 2.7 and three million, apart from a dip in 2009 and 2010 following the global economic recession.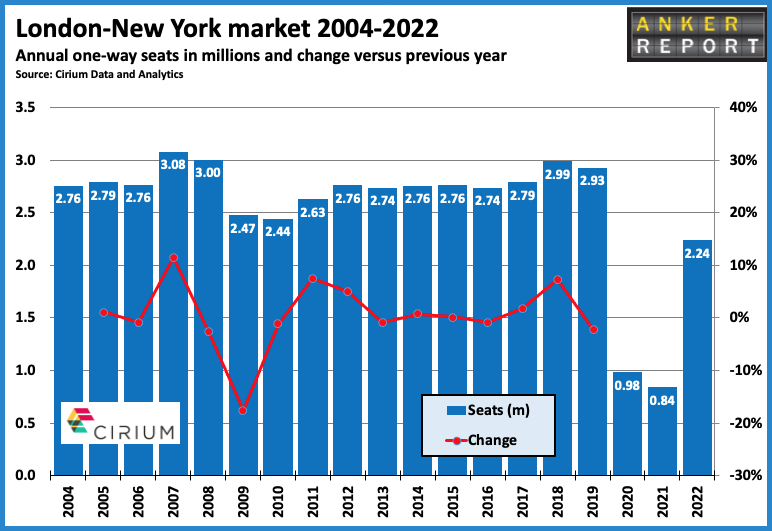 Considering the ban on non-essential travel between the UK and US following the start of the pandemic, the number of seats flown in 2020 and 2021 may be surprising. However, the importance of the cargo market and a significant amount of apparently 'essential' travel meant that capacity even in 2021 was still around 30% of the pre-pandemic level.
JetBlue and Norse Atlantic are newest carriers linking London and New York
The four biggest airlines in the market in recent years have been British Airways, Virgin Atlantic, American and United, with Delta some way behind. Last year, JetBlue began transatlantic service by connecting both Gatwick and Heathrow with its New York JFK hub, and now Norse Atlantic has become the seventh airline connecting London and New York. According to Cirium schedule data, several other carriers have been present in the market since 2004:
Air India
Continental
Eos Airlines
Kuwait Airways
La Compagnie
MAXJet
Norwegian
Primera Air
SilverJet
Zoom Airlines UK
BA and American have had between 45% and 55% of the market
Oneworld alliance members British Airways (BA) and American have, combined, averaged a 52% share of the market for the last 20 years, peaking at 57% in 2009.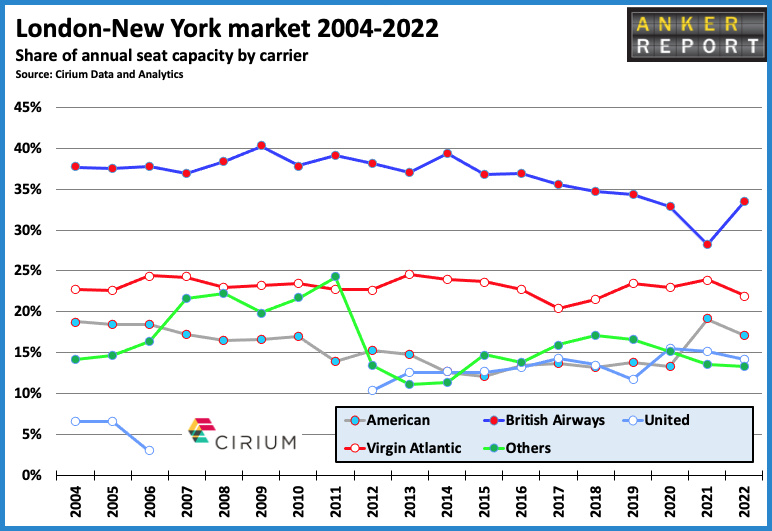 Between 2007 and 2011, Continental Airlines had a significant share of the market, but it then merged with United, with the United name being retained. Outside of the main four carriers, all other carriers combined have, in recent years, struggled to account for more than 15% of the market. However, Norwegian's aggressive expansion and the brief emergence of Primera Air in 2018, helped push the share of 'other' airlines up to 17% that year. This year the figure is likely to be around 13%.
It will be interesting to see whether JetBlue and Norse Atlantic can establish themselves as long-term players in the London-New York market, or whether they will become mere footnotes in future analyses of services between these two great cities.