North America April 2021 Overview
Traffic trends and route development in North America, defined here as encompassing Canada, the US and Mexico. Although the US domestic market recovered relatively slowly last summer, at least compared with some European markets, its recovery has continued through the winter season and into spring.
As passenger data from TSA makes clear, US domestic passenger demand around Easter was back to around 60% of demand during the same period in 2019. This is much higher than anywhere in Europe with the possible exception of Russia and Turkey.
Mexico too, has seen a relatively good recovery in domestic travel demand, though the trend here has been reversed in the first quarter of 2021. Conversely, Canadian air traffic demand has been at very low levels since the pandemic started, though an upturn is expected from around June onwards.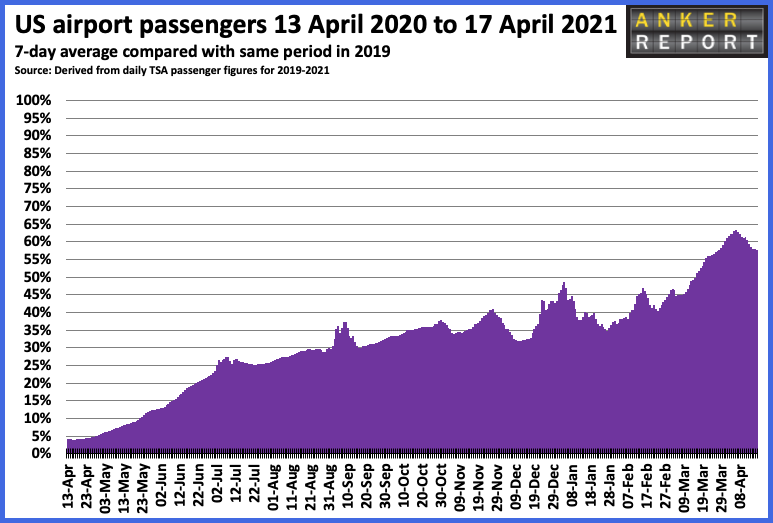 Over 100 new routes started since 1 March
To support the analysis of developments in North America, The ANKER Report has been busy collecting information on new routes launched since 1 March as well as upcoming new routes between now and the end of the year. Between 1 March and 16 April we have identified over 110 new services which are presented in the table on the bottom of this page and is available in the downloads section. A further 200 new services have already been identified that hope to launch between mid-April and the end of the year across Canada, Mexico and the US.
Of the new routes launched since 1 March, Southwest is responsible for 51, well ahead of American (15), Frontier (13) and United (eight). The average weekly frequency for these routes is just over seven, driven by Southwest's high frequency services on its return to Houston IAH.
Exactly half the new services being launched by the airlines are already served by at least one other carrier, while the other half face no direct competition. Arguably the bravest decision has been made by Alaska Airlines to start operating daily between Los Angeles and Austin, as this route is already served by six other carriers, who all operate the route daily as well.
Some 90 airports, mostly in the US have welcomed new services, with Las Vegas leading the way with 11, followed by Long Beach and Miami both with eight, and Chicago MDW, Los Angeles, Nashville and Savannah all with seven. It will be interesting to see which airports come top for new services across the whole of the summer season.
Looking at a state level, Florida comes top with 36 new services followed by California (33), Texas (23), Illinois (13), Georgia (11) and Nevada (11). The battle for top spot between Florida and California looks set to continue over the course of the summer season.
While domestic services dominated, a total of 19 new international services were identified including the launch on consecutive days by American and Delta of new flights between Seattle-Tacoma and London LHR.
Hello Avelo, Breeze coming soon
Last week saw the announcement of the first base and 11 routes to be operated by America's newest carrier, Avelo Airlines. The airline is targeting West Coast leisure travellers from its base in Burbank, in northern Los Angeles and will begin operations at the end of April with three 737-800s.
Details of the planned route network for another new carrier, Breeze Airways, are expected to be revealed shortly. This carrier is led by serial airline entrepreneur David Neeleman, best known for founding JetBlue Airways in the US and Azul in Brazil. Breeze is planning to base its business model around connecting smaller, secondary airports using A220-300s, having signed an MoU for 60 of the type in July 2018. However, it may start operations with E195s leased from Azul.
In Canada, relative newcomer Flair Airlines plans rapid domestic growth this summer, with the help of a new leadership team with experience at Wizz Air, while a new airline, Connect Airlines, has also emerged, with plans to serve the US from Toronto's downtown airport, which is currently home to Porter Airlines. Exciting times ahead!