North America welcomes 88 new routes in last four weeks involving 100 airports as US demand reaches 65% of pre-pandemic level
Since our first look at the North American market four weeks ago, there have been plenty of developments worthy of note. With Easter occurring at the beginning of April, passenger numbers relative to the same dates in 2019 saw a new post-pandemic peak of 60% being reached on 31 March and staying at over 60% for a fortnight. Traffic then dipped back below 60% (but still above 55%) for three weeks before breaking through the 60% mark again on 4 May. On 12 May, it passed 65% for the first time as the US market continues to see a steady recovery in 2021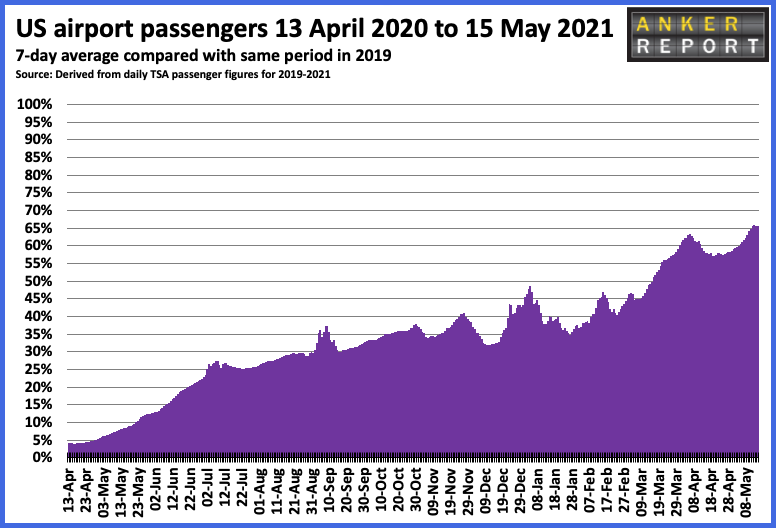 Airlines launch 88 new routes in last four weeks
During the last four weeks (17 April to 14 May) The ANKER Report has identified 88 new routes launched by airlines across North America, the vast majority (70) being US domestic routes. There were eight routes between the US and Mexico, four Canadian domestic routes and three routes between the US and Colombia. There was one Mexican domestic route, one route between the US and Israel, and one route between Canada and Turkey thanks to Turkish Airlines.
The 88 routes were flown by a total of 17 airlines of which 13 were US carriers, two were from Mexico with one each from Canada (Flair) and Turkey. American launched 17 routes followed by Southwest with 16 and Delta with 10. Newcomer Avelo launched nine routes from its Burbank base in California.
Competition exists on 37 routes
In terms of competition, 51 of the new routes do not, at present, face direct competition. That means that 37 of the routes airlines have chosen to launch will face direct competition from at least one other carrier. On 22 of these routes competition comes from just one competitor, while a further six routes are already served by two other carriers. Three routes have three competitors. A total of six routes are already served by four other carriers; Las Vegas to Chicago ORD (with Southwest joining), Los Angeles to San Jose del Cabo (with Spirit joining), Chicago ORD to Tampa (with Southwest joining), Chicago ORD to Fort Myers (with Southwest joining), Austin to Orlando (with American joining) and Austin to Las Vegas (with American joining).
100 airports welcomed a new service
A total of 100 airports welcomed at least one of the 88 new routes launched in the last four weeks. Leading the way with nine new routes was Burbank, thanks to the launch of Avelo's base there. Next up were Las Vegas (which led the way last month) and New York LGA both with seven, Houston IAH with six, and Austin and Minneapolis-St. Paul with five each. Looking at a state level, California came top this month with 24 new services followed by Texas (17), Florida (14) and New York (12). Last month Florida had been top ahead of California.
American biggest US carrier by seats in May
Analysis of schedule data for May shows that American has a healthy lead over its nearest rivals, Delta and Southwest, in terms of seats offered from US airports. It is also beating its two closest rivals in terms of its capacity as a percentage of that offered in pre-pandemic May 2019. However, while American is offering 80% of seats compared with two years ago, other carriers are doing even better. Alaska Airlines is at 81%, Sun Country at 89% and Spirit Airlines at 96%. Leading the way, by offering more capacity in May 2021 than they did in May 2019, are Allegiant Air at 101% and Frontier Airlines at almost 105%.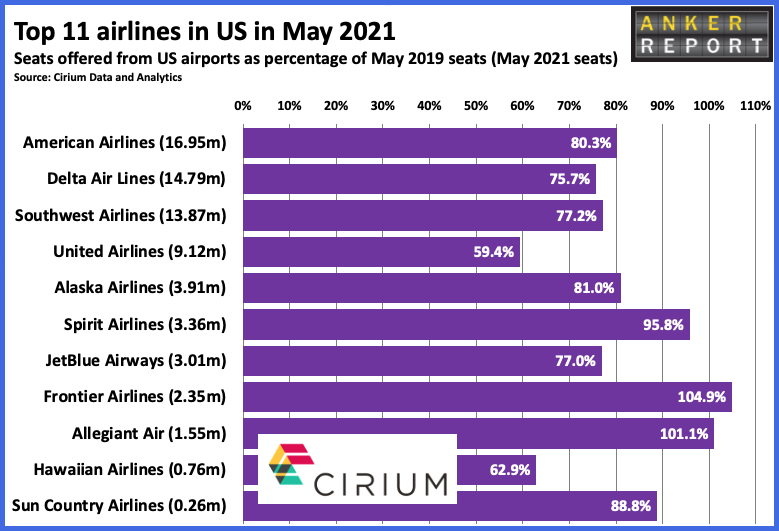 Salt Lake City and Miami seats up compared with 2019
Among the top 20 US airports (those offering the most seats in May 2021), two are already offering more seats than they did in May 2019. They are Salt Lake City (at 104.3%), where the airport's leading airline Delta has grown capacity by 7%, and Miami (at 101.1%), where the arrival of JetBlue and Southwest, as well as the growth of Frontier, has more than offset the drop in international capacity.
At the other end of the ranking comes San Francisco, where capacity is at only 38% of May 2019, with all the leading carriers there having cut capacity and international capacity to Asia and Europe down 81%.