North America welcomes 93 new routes in last seven weeks involving 92 airports as US demand stable at 75%-80% of pre-pandemic level
Latest daily figures provided by the US TSA show that average weekly passenger numbers passing through US airports are now at around 75%-80% of the level they were back in 2019, with that figure rising to around 85% on national holidays such as Independence Day (4 July) and Labor Day (6 September).
However, the biggest US carriers have all expressed concern recently that the spread of the so-called Delta variant appears to have resulted in a softening of demand for the next couple of months. The hope is that the situation will improve for the financially all-important Christmas and New Year period.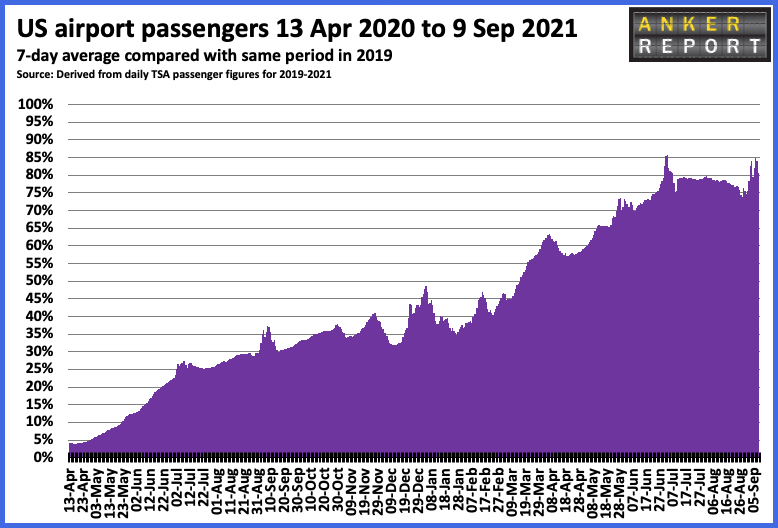 Airlines launch 93 new routes in last seven weeks
During the last seven weeks (24 July to 10 September) The ANKER Report has identified 93 new routes launched by airlines across North America. That's an average of almost two new routes per day. Of these, 65 are US domestic routes and 20 were Canadian domestic routes. The eight remaining routes were international services; five from the US, two from Mexico and one from Canada. One of the new international routes from the US was JetBlue's inaugural transatlantic service from New York JFK to London LHR, which launched on 11 August. The new Canadian international service was operated by WestJet from Calgary to Amsterdam.
The 93 routes were flown by a total of 20 airlines, of which 12 were US carriers, five were Canadian and there was one each from Colombia (Viva Air Colombia), Mexico (Vivaaerobus) and Senegal (Air Senegal). American and Frontier both added 16 new routes, followed by Flair Airlines of Canada (11), Allegiant (nine) and newcomer Breeze (seven).
Competition exists on 45 routes
In terms of competition, 48 of the new routes do not, at present, face direct competition. That means that 45 of the routes airlines have chosen to launch will face direct competition from at least one other carrier. On 24 of these routes competition comes from just one competitor, while a further 10 routes are already served by two other carriers. Six routes have three competitors and five routes have four competitor. Those five routes are; Atlanta to Chicago ORD (Frontier joining), Hartford to Orlando (Sun Country joining), Houston IAH to Las Vegas (Sun Country joining), Mexico City to Bogota (Vivaaerobus joining), and New York JFK to London LHR (JetBlue joining American, British Airways, Delta and Virgin Atlantic).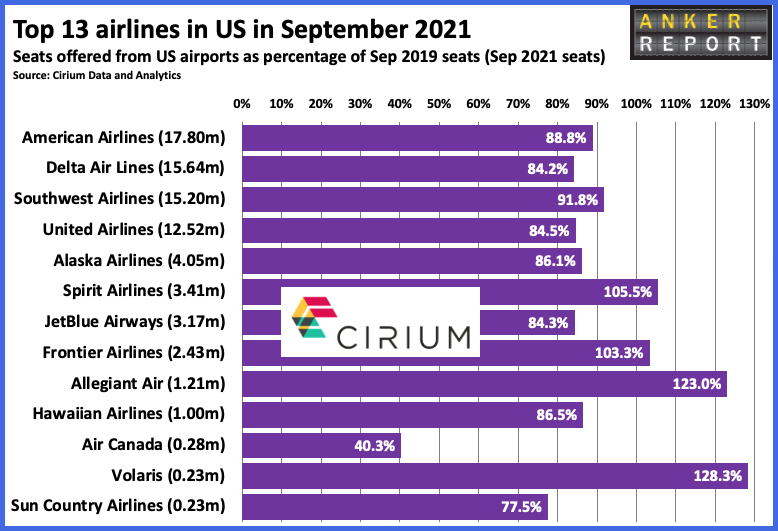 92 airports welcomed a new service
A total of 92 airports welcomed at least one of the 93 new routes launched in the last seven weeks. Leading the way with 15 new routes was Las Vegas. Frontier was responsible for eight of these routes, Southwest and Sun Country three each and Spirit one. Austin ranked second for most new airline routes with eight, all of which were launched by American. Rapid City in South Dakota also welcomed eight new routes, all offered by Allegiant, but these were all operated just four times each around the time of the Sturgis Motorcycle Rally.
Atlanta celebrated six new services (all operated by Frontier), while Pittsburgh (Allegiant and Breeze) and Ottawa (Flair and PAL Airlines) both saw five additional services being offered. Looking at a state/province level, Texas came top this month with 17 new services, followed by Nevada (16), British Columbia (11), South Dakota (nine) and Georgia and Ontario (both with eight).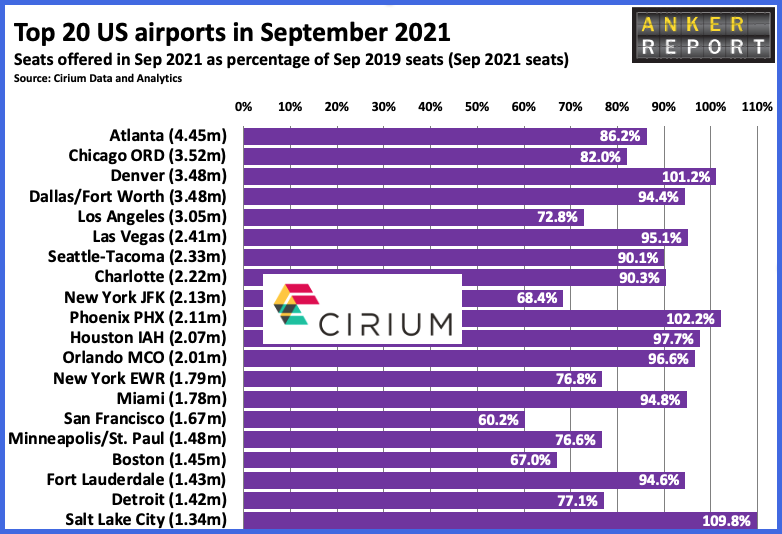 Allegiant seats up 23% in September
Analysis of schedule data for September shows that American still has a healthy lead over its nearest rivals, Delta and Southwest, in terms of seats offered from US airports. All three of the US global carriers have capacity at between 80% and 90% of their 2019 figure. Leading the way for seat recovery among US carriers are the country's three ULCCs; Allegiant seats are up 23%, Spirit capacity is up almost 6% and Frontier seats are up 3.3%.
With international traffic opening up, Air Canada and Volaris are now among the top 12 carriers operating from US airports. While Air Canada's US capacity is still down 60%, Volaris's seats are up almost 30%.
Denver, Phoenix and Salt Lake City seats up on 2019
Among the top 20 US airports (those offering the most seats in September 2021), three are already offering more seats than they did in September 2019. They are Salt Lake City (+9.8%), Phoenix PHX (+2.2%) and Denver (+1.2%). At the other end of the ranking comes San Francisco, where capacity is still at only 60% of September 2019, Boston (67%) and New York JFK (68%). All three of these airports are typically more reliant on business traffic than leisure traffic.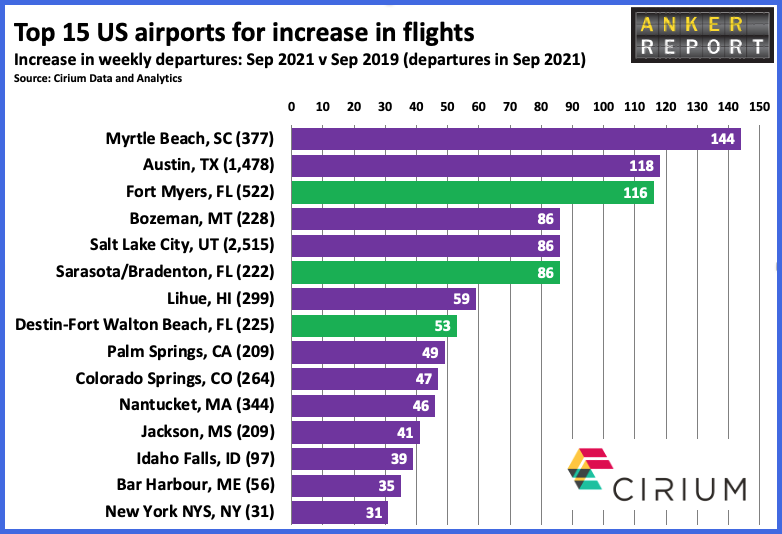 Myrtle Beach tops flight growth rankings
In previous months, the analysis of which airports had seen the biggest increase in the number of flights versus two years ago had seen secondary airports in Florida dominate the rankings, as airlines recognised the potential advantage of flying holiday makers to less crowded and therefore potentially safer airports. Compared with the rankings in July there were new entries in the top 10 in September for Austin, Colorado Springs, Lihue, Palm Springs and Salt Lake City while Boise, Hilton Head Island, Key West, Panama City and Pensacola dropped down the rankings.
Austin sees massive American expansion
The appearance of Austin-Bergstrom International Airport in second place is primarily down to American. Although it is only the airport's second biggest carrier (by flights and seats) after Southwest, it has increased flights by over 50% compared with September 2019. During that period it has increased its network of non-stop services from eight to 23. In particular, American launched six new routes on 8 September, with daily flights commencing to Cincinnati, El Paso, Indianapolis, Jacksonville, Kansas City and Reno. The following day daily service to St. Louis was added.
Alaska Airlines has also increased its presence in Austin with a net increase of 53 weekly flights compared with September 2019. This is down to an increase in weekly frequency on its five pre-existing routes, plus new daily flights to Boise and Los Angeles.
Mexico domestic traffic now at over 85% of 2019 figure
Analysis of the latest passenger figures from Mexico shows that the country's airlines carried 4.37 million passengers on domestic routes in July 2021. That figure represents a drop of 13% compared with pre-pandemic July 2019. Volaris continues to be the leading domestic airline with 1.71 million passengers in May, representing 39.1% of the total market. Next came Vivaaerobus with 30.0%, ahead of Aeromexico (15.1%) and Aeromexico Connect (12.3%). The gap between Volaris and Vivaaerobus has narrowed from 15.5 percentage points in April to 9.1 percentage points in September. The national carrier's share (Aeromexico and Aeromexico Connect combined) continues to be below 30%.
International passenger numbers were 3.87 million in July, which is down only 12.8% compared with two years earlier. In June, the decline had been just 12.5%. The leading carriers for international passengers in July were American (573k), United (565k) and Volaris (431k) followed by Aeromexico (399k) and Delta (363k). Compared with May, United has closed the gap considerably on American.