Oman Air now serving eight destinations in Europe; Istanbul and Heathrow flown daily, Trabzon new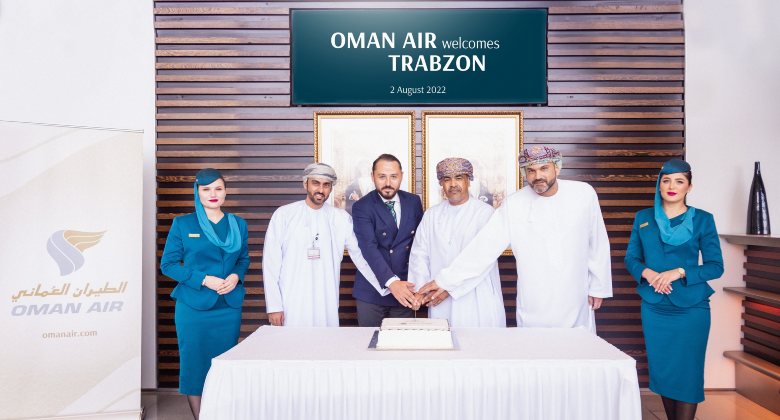 Oman Air is not the biggest Middle Eastern airline, but it plays an important role in developing Oman's ambitions as a business and leisure destination. Pre-pandemic the airline was serving 10 European destinations with non-stop flights from Muscat, the country's capital. These were:
Athens: 5-weekly
Frankfurt: daily
Istanbul IST: daily
London LHR: 2-daily
Manchester: daily
Milan MXP: 11-weekly
Moscow DME: daily
Munich: daily
Paris CDG: daily
Zurich: daily
In total that made 79 weekly flights operated using a mix of A330s, 737s and 787s. This summer (August 2022) it is no longer serving Athens (launched in June 2019), Moscow DME or Manchester and has cut frequency on all other routes, except for Istanbul, where it has instead cut capacity by 30% by using more 737s and fewer 787s.
The good news is that it also added a new 3-weekly service to Trabzon in Turkey on 2 August 2022 using its 737 MAX 8s. Competition on this new route is fairly intense, as it is also served by SalamAir (9-weekly), Turkish Airlines (4-weekly) and Pegasus Airlines (2-weekly). As a result, Oman Air is now offering 37 weekly flights from Muscat to Europe, a reduction of 53% compared with August 2019.
Istanbul IST and London LHR are now the only routes served daily, Milan MXP is served 5-weekly, while Frankfurt, Munich and Paris CDG are all flown 4-weekly. That just leaves the new Trabzon service and Zurich flown 3-weekly. Apart from Turkish Airlines (which also competes with Oman Air on the Istanbul IST route), no other European flag-carriers serve Oman.