Over 1,200 new routes launched in 2021 involving airports in North America; 62 airlines contributed
Despite the pandemic, it was a busy year for airline route planners working for airlines in the US. As traffic recovered more quickly (compared with Europe) to reach around 80% of 2019 demand by the end of the year, US carriers in particular used the opportunity to try out many new routes. The ANKER Report has identified 1,252 new routes launched by airlines last year involving airports in North America (comprising Canada, Mexico and the US). In summary:
A total of 1,252 new airline routes were identified in 2021 involving North American airports
Of these 664 (53%) faced no direct competition at the time of launch. Therefore 588 routes (47%) were launched where there was at least one incumbent airline.
There were 889 new US domestic routes.
The average weekly frequency of the new routes was 4.55
356 routes were launched with at least daily frequency. Routes launched with the highest frequency were Southwest's Denver-Chicago ORD (35-weekly) and Houston IAH-Dallas DAL (33-weekly).
A total of 62 airlines were involved in the new routes
362 airports were involved in these new routes
June was peak month for route launches
Analysis of when the new routes were launched reveals that June was the busiest month with airlines starting 263 new services that month. Then came May with 188 and November with 180. Because fewer US airports are slot controlled (compared with Europe) route launches tend to be more often associated with periods just before Federal holidays, rather than the start of the 'summer' and 'winter' seasons.
Just under 100 routes were launched between 26th and 29th May, just before the Memorial Day weekend, while almost 80 routes were launched between 17th and 20th November, just before Thanksgiving.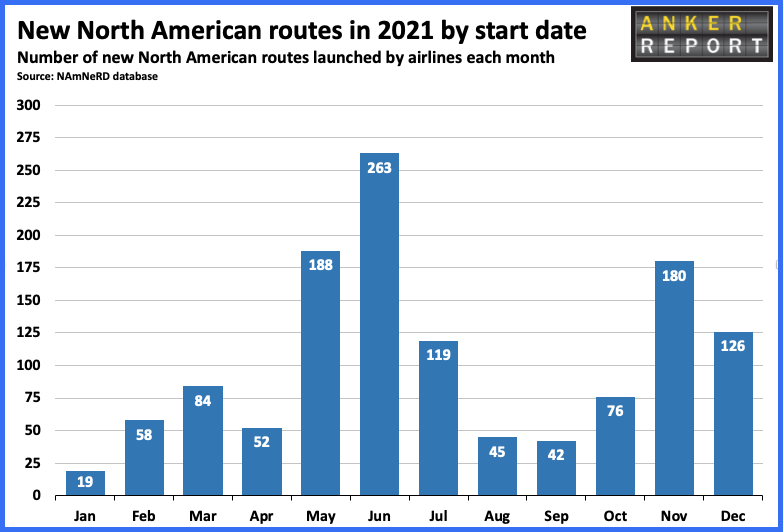 Southwest is North American new route champion in 2021
Celebrating its 50th anniversary in 2021, Southwest launched over 180 new routes last year, more than any other airline in North America. This included starting service to 14 new airports in 2021, including major hubs such as Chicago ORD and Houston IAH as well as much smaller airports such as Bellingham and Syracuse.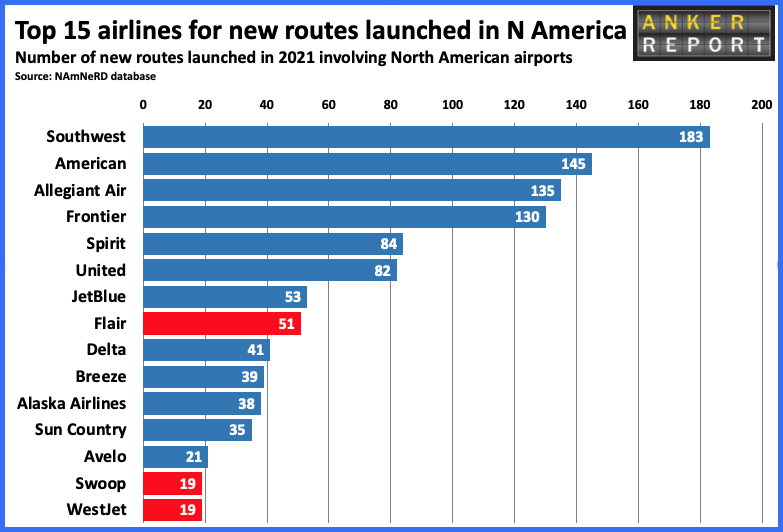 Legacy carrier American ranked second with almost 150 new routes, followed by the three fastest-growing US carriers, Allegiant Air, Frontier and Spirit. With their focus on leisure markets, these carriers looked to find new markets that would appeal to passengers looking to get away for a relaxing break during the pandemic. Among the top 15 airlines for new routes were two US start-ups, Avelo and Breeze, and three Canadian carriers (shown in red).
Florida leads the way for new route celebrations
For new route celebrations the place to be last year was Florida. Airlines launched over 350 routes involving airports in the state, well ahead of California (216 new routes) and Texas (166 new routes). Among the top 15 states (or provinces in the case of Canada), two were in Canada (shown in red). Given the relative size of the air travel markets in each state/province, the appearance of Montana (ranked 14th) is noteworthy. The state proved appealing as a destination that would attract customers looking to get away from congested cities.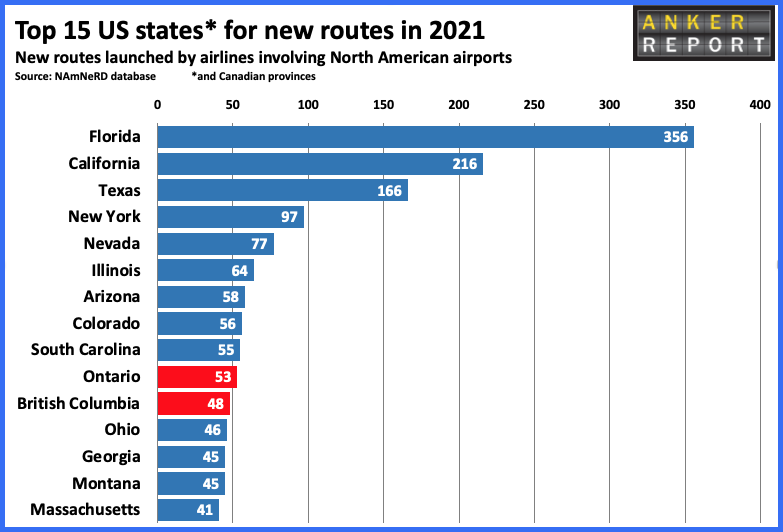 Miami welcomed most new airline services
At an airport level, there was also a clear winner, with Miami welcoming over 80 new airline services. The airport celebrated multiple new route launches from American (15 new routes), Frontier (21), Southwest (12) and Spirit (28). However, it also attracted new long-haul services from foreign carriers including Air Transat, Emirates and Finnair. Two other airports in Florida also made the top 15; Orlando MCO was second with 62 new routes while Tampa ranked ninth. New York and Texas were the only other states to have more than one airport in the top 15 with JFK ranked 8th and La Guardia 15th, and Austin 4th and Dallas/Fort Worth 12th.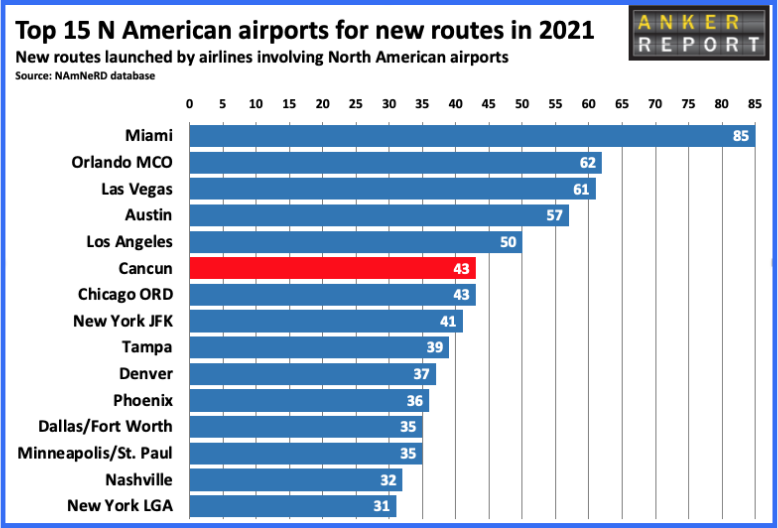 For details on all these 1,252 new routes, including date of launch, weekly frequency, sector length and competitor information, download the North American New Route Database (NAmNeRD) file available on the homepage of this website.