Over 2,000 new routes launched in 2021 involving airports in Europe; 134 airlines contributed
While demand for air travel in Europe in 2021 may have still been down significantly compared with 2019, that did not mean that airline route planners had a quiet year. In fact, quite the opposite, as many airlines were willing to experiment with new routes thanks to having excess capacity. As a result, The ANKER Report identified 2,069 new routes launched by airlines last year involving airports in Europe. The actual figure is likely to be a little higher as some new route launches may have been missed, especially those involving second-tier Russian airlines. For comparison, in 2019 airlines launched around 1,850 new routes in Europe. In summary:
A total of 2,069 new airline routes were identified in 2021 involving European airports
Of these, 1,203 faced no direct competition at the time of launch (therefore 866 routes were launched where there was at least one incumbent airline)
There were 319 new domestic routes and 1,750 international routes
The average weekly frequency of the new routes was 2.66
134 routes were launched with at least daily frequency. Of these 68 were domestic routes and 66 were international routes. Routes launched with the highest frequency were Volotea's Cagliari-Milan LIN (35-weekly) and Cagliari-Rome FCO (28-weekly). These were routes taken over from Alitalia for at least seven months.
A total of 134 airlines were involved in the new routes including several from non-European airlines
99 countries were involved in the new routes. Clearly, many of these were outside of Europe and were welcoming new flights from Europe.
In total, 485 airports across the world were involved in these new routes. Again, many were outside of Europe.
June and July were peak months
In a normal year, the start of the summer season at the end of March would result in April, May and June being the busiest months for new route launches. Things would then be much quieter in July, August and September before the start of the winter season at the end of October would see another surge in new routes. However, because of the timing of the easing of travel restrictions in 2021, the peak months for new route launches last year were June and July, with 900 routes starting in those two months alone.
More recently, the last three months of 2021 all saw between 150 and 250 new route launches as travel restrictions eased further in some cases, although there were also new restrictions, which pushed back the planned launch of several new routes into 2022.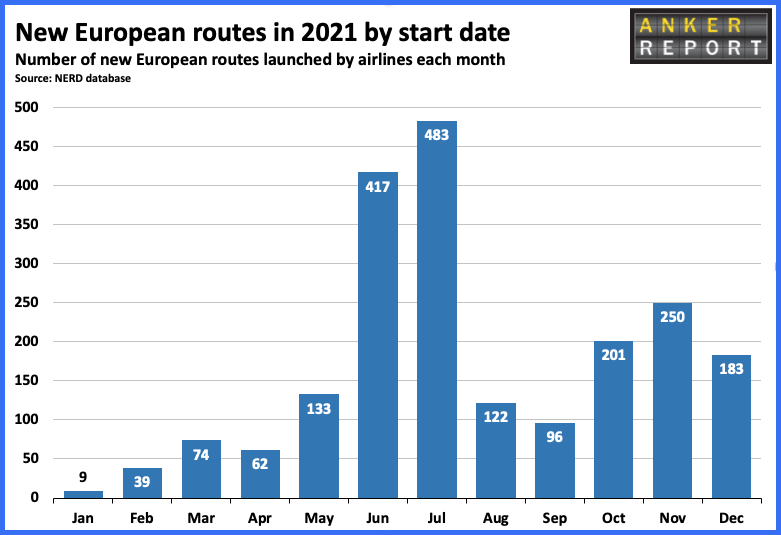 Ryanair beats Wizz Air to be European new route champion in 2021
Despite the launch of multiple new bases across Europe, Wizz Air was ultimately still beaten into a distant second place by Ryanair when it came to new route launches in 2021. The Dublin-based ULCC launched over 550 new routes which represented 27% of all new routes launched in Europe last year. It was also easily more than twice as many as Wizz Air launched. Wizz Air in turn celebrated the launch of more than twice as many new routes as third ranked easyJet, which was the only other carriers to celebrate over 100 new routes last year.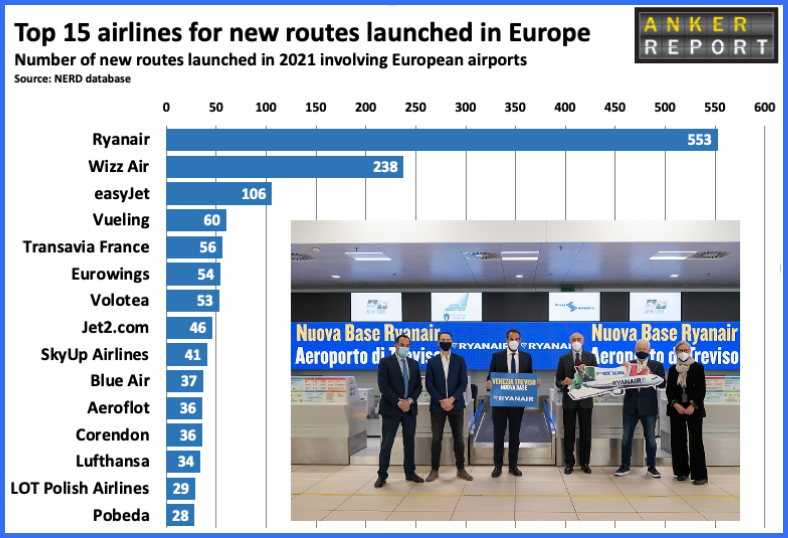 The other airlines that made up the rest of the top 15 for new route launches were nearly all low-cost or leisure airlines. The notable exceptions were Aeroflot in 11th place, Lufthansa (13th) and LOT Polish Airlines (14th). For the purposes of this analysis, ITA Airways was not considered a new airline, as it still operated using Alitalia's AZ code and used Alitalia's aircraft. Also, airlines shifting their Berlin routes to the new airport (as a result of the closure of the old airports) were not considered new routes.
Italy leads the way for new route celebrations
For new route celebrations the place to be last year was Italy. With uncertainty hanging over the future of Alitalia and its eventual transition into ITA Airways, many airlines took the opportunity to expand their presence in the Italian market, resulting in 27% of all new routes involving at least one airport in that country. Some way behind were Spain, the UK, Greece, France, Germany and Russia. Greek airports performed well in attracting new seasonal leisure services once the holiday season got well and truly under way in June and July.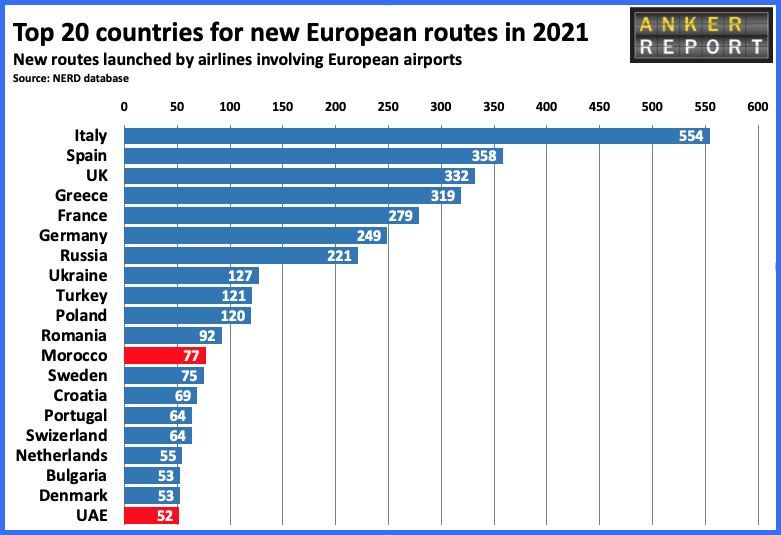 Among the top 20 country markets, just two were outside Europe (shown in red). Morocco welcomed almost 80 new routes from Europe, with Ryanair leading the way. The country might have welcomed even more new routes in 2021 except that it introduced an almost complete travel ban on international flights towards the end of the year when the Omicron variant of COVID started spreading rapidly.
The UAE just made it into the top 20, with just over 50 new routes. Wizz Air and its Abu Dhabi based subsidiary contributed significantly to these figures. The delayed opening of the EXPO 2020 in Dubai in October also encouraged airlines to launch new routes to that airport.
Fiumicino and Orly welcomed most new airline services
At an airport level, things were, on the whole, much closer. The difference in new airline routes between Corfu and Frankfurt (in joint third place with 52 new routes) and the three airports in joint 19th place (with 33 new routes) was just 19. However, well ahead of the rest were Rome FCO with 68 new airline routes and Paris ORY with 59.
Wizz Air's new Rome base accounted for half of that airport's new routes, with Ryanair accounting for two-thirds of the rest. In Orly, Vueling with 31 new routes and Transavia France (with 21) were responsible for the majority of the new services after Vueling was awarded some Air France slots as part of a deal related to the financial support of the French flag-carrier.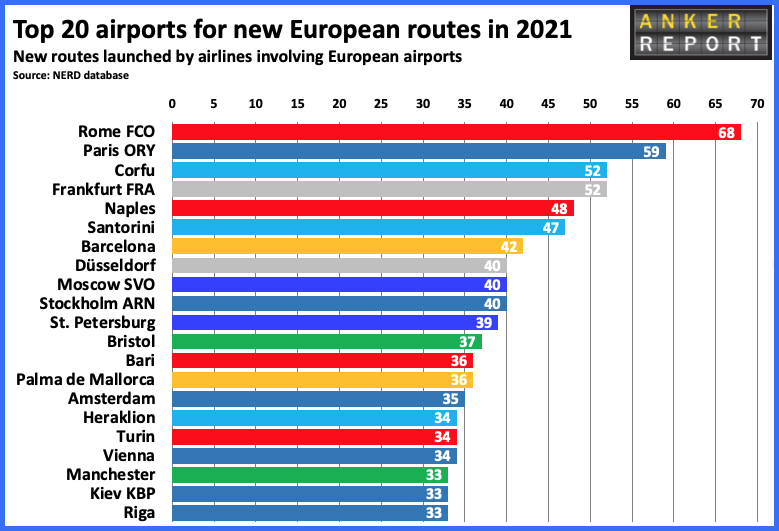 Among the top 21 airports for new airline services in 2021, four were in Italy, three were in Greece, while there were two airports each from Germany, Russia, Spain and the UK. Austria, France, Latvia, the Netherlands, Sweden and Ukraine each contributed one airport to the top 21.
For more details of all the new routes launched in Europe since May 2020, download the New European Route Database (NERD) file from this website. This also includes date of launch, sector length, aircraft type, weekly frequency when launched and competitor information.