Over 70 US-Europe routes launched since start of pandemic; United passes Delta for most routes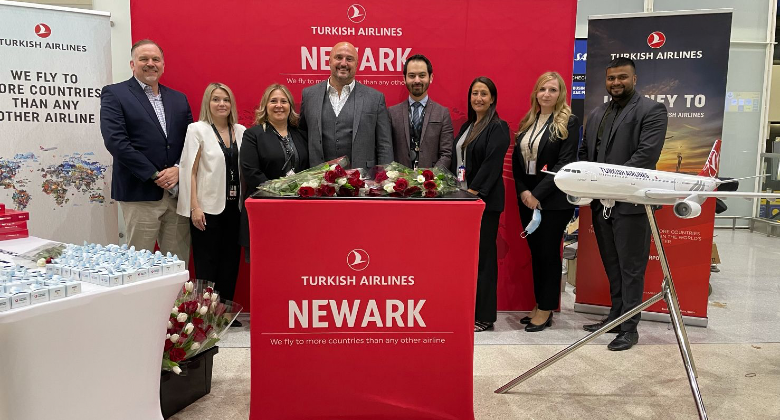 After non-essential travel between Europe and the US was once again permitted last November, airlines on both continents appear to be hoping that there is plenty of pent-up demand for crossing the Atlantic this summer, as capacity data from Cirium shows that the number of planned seats for the peak summer period is down just 11% compared with 2019. Maybe even more impressively, compared with three years ago, airlines are this summer offering over 70 routes that they did not operate back then.
United overtakes Delta for Europe-US routes
This summer sees United offering more Europe-US routes than any other carrier (73) an honour that previously rested with Delta. Thanks to launching 14 new routes, United has increased its offering from 62 routes to 73 (it has dropped three routes), while both Delta and American have cut the number of Europe-US routes, Delta from 69 to 58 and American from 57 to 44. The remaining carriers in the top 15 for most Europe-US routes are all European carriers. Most are operating a similar number of Europe-US routes as they did in the summer of 2019, though some have made significant changes to which routes they are operating.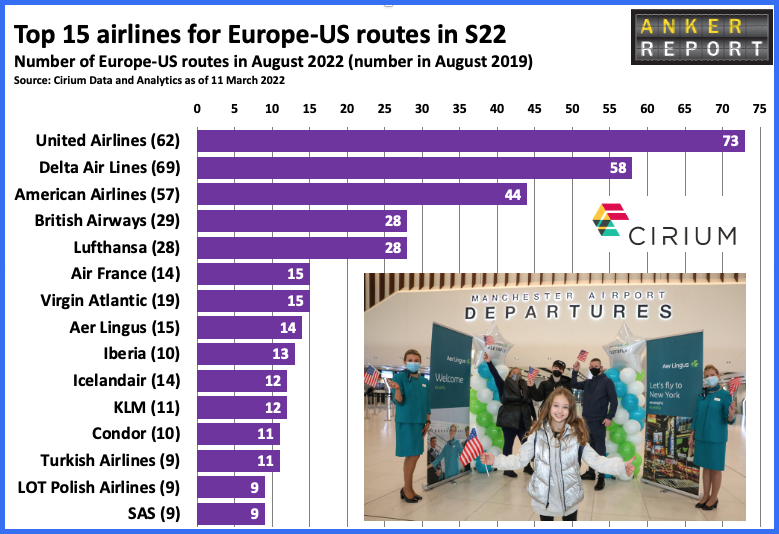 As already mentioned, United will have launched 14 new Europe-US routes since the start of the pandemic by the time we get to the peak of the summer 2022 season. This is twice as many as any other carrier. Some of these routes already launched last summer, such as Washington IAD to Athens and New York EWR to Dubrovnik. This summer sees more new European routes from Newark to Bergen (host city for Routes Europe in May), Nice, Palma de Mallorca, Ponta Delgada and Tenerife TFS. There will also be new routes from Chicago to Milan MXP and Zurich.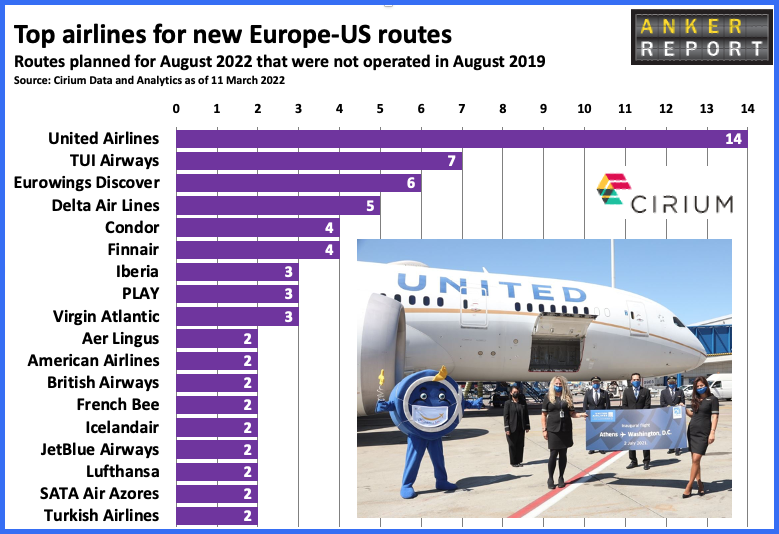 TUI Airways has chosen to move its Florida services from Orlando SFB to Orlando MLB. This will be the first time that Melbourne Orlando International Airport (IATA code MLB) has welcomed flights from Europe. While Melbourne is a new airport in the Europe-US market, there are also new airlines involved in Europe-US services. This includes Eurowings Discover, the new medium/long-haul leisure brand from Lufthansa, well-established US carrier JetBlue and Icelandic newcomer PLAY. Hopefully, another newcomer, Norse Atlantic Airways, will soon confirm its entry into the market, given that it now has eight aircraft all set and raring to go.
Other interesting developments include Aer Lingus now operating flights to the US from the UK as well as its home market of Ireland, and Finnair offering US flights from Sweden as well as Finland.
Turkey, Greece and Iceland see growth versus 2019
Looking at individual country markets reveals that the top seven in terms of size, are all currently expecting to see capacity in 2022 Q3 at between 80% and 90% of the level of 2019 Q3. However, three of the top 15 country markets are expecting to see capacity growth of at least 10%, with Turkey leading the way (+75%), followed by Greece (+27%) and Iceland (+12%).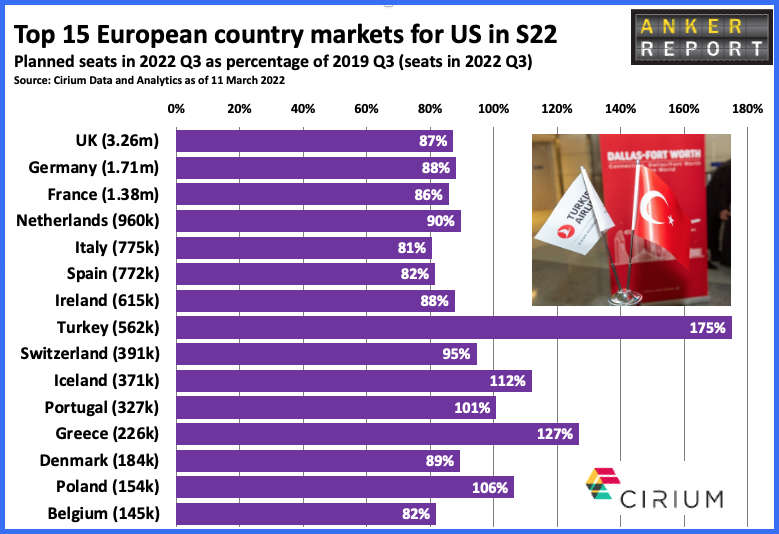 Turkish Airlines has launched new routes from Istanbul IST to both Dallas/Fort Worth (in September 2021) and New York EWR (in May 2021) and has doubled frequency from daily to 2-daily on several of its existing US services. It is worth noting that no US carrier serves Istanbul.
The Greek market has seen all three major US carriers add new services to Athens since 2019; American from JFK, Delta from Atlanta and Boston, and United from Washington. No European carrier connects Athens with the US since Norwegian abandoned its JFK service.
Iceland is benefitting from Icelandair's continued development (it has added Baltimore/Washington and Raleigh-Durham but dropped Kansas City, Philadelphia and San Francisco) and the emergence of PLAY which will soon be launching flights to Baltimore/Washington, Boston and New York SWF.
Given the global geopolitical situation and the already noticeable impact on fuel prices, a lot may change by the time we get to the third quarter of this year, but this is where things currently stand.