Ryanair announces closure of Frankfurt base from end of March; currently operating 17 routes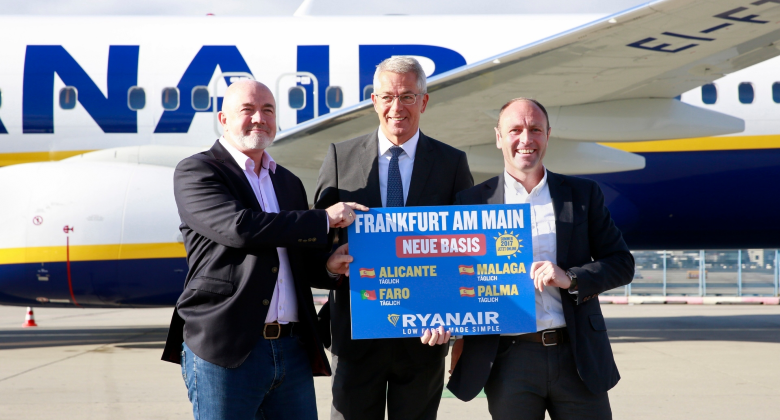 Last Friday (7 January 2022), Ryanair announced that it would be closing its Frankfurt FRA base from the end of March 2022. It blames the decision on the airport increasing its charges. Ryanair's first flights from Frankfurt FRA were on 29 March 2017 to Alicante, Faro, Malaga and Palma de Mallorca. In early September a further 17 routes were added, while the start of the W17/18 season saw the addition of three more destinations. At the end of March 2018, 12 more routes were added with Dublin service added at the end of October 2018. Since then, the only new service Ryanair has launched from Frankfurt FRA has been a 2-weekly service to Fuerteventura which began on 31 October 2021. A summary of the routes launched by Ryanair from Frankfurt FRA:
S17: Alicante, Athens, Catania, Faro, Glasgow GLA, Gran Canaria, Krakow, Lanzarote, Madrid, London STN, Malaga, Manchester, Milan BGY, Palma de Mallorca, Pisa, Porto, Seville, Tenerife TFS, Toulouse, Valencia, Venice TSF
W17/18: Barcelona, Brindisi, Lisbon
S18: Agadir, Chania, Corfu, Girona, Kefalonia, Marseille, Murcia, Mykonos, Perugia, Pula, Rijeka, Zadar
W18/19: Dublin
W21/22: Fuerteventura
In the summer of 2018 a total of 34 destinations were being served. Last summer the number of routes offered had fallen to just 21 with 17 routes still on sale this winter.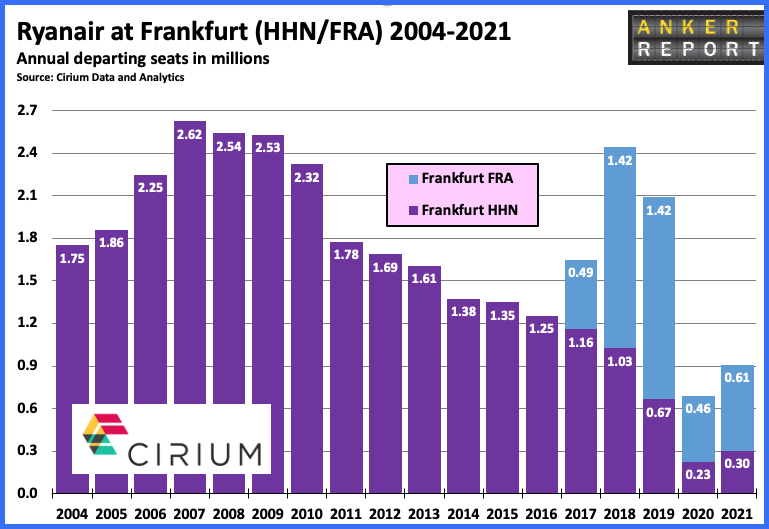 Ryanair has been serving Hahn Airport since April 1999 when it began flying from London STN. Shannon flights were added in May 2000 before Ryanair made the airport a base in February 2002. It is located 93 kilometres from Frankfurt FRA, but only 84 kilometres from Luxembourg Airport. Ryanair's capacity at Frankfurt HHN has been in steady decline since the peak of 2007. Since 2019 its Ryanair capacity has been roughly half of that at Frankfurt FRA. However, last summer Ryanair was still offering flights to 23 destinations from Hahn, with that number dropping to 20 this winter. In total, Ryanair has offered flights to over 100 destinations from Hahn during the last 20 years. The long-term future of Hahn is currently in some doubt as the Chinese-owned airport filed for insolvency last October.
Although it will no longer base aircraft at Frankfurt FRA, it could continue to serve the airport using aircraft based at other airports. However, a look through the airline's on-line booking tool suggests that all routes will end come the end of March.
Frankfurt FRA is Ryanair's third biggest German base
Analysing Cirium data for 2021 reveals that Frankfurt FRA ranked third among Ryanair airports in Germany, behind Berlin and Cologne Bonn. Hahn ranks sixth having been Ryanair's #1 German airport up until 2016 when Berlin SXF took over that role.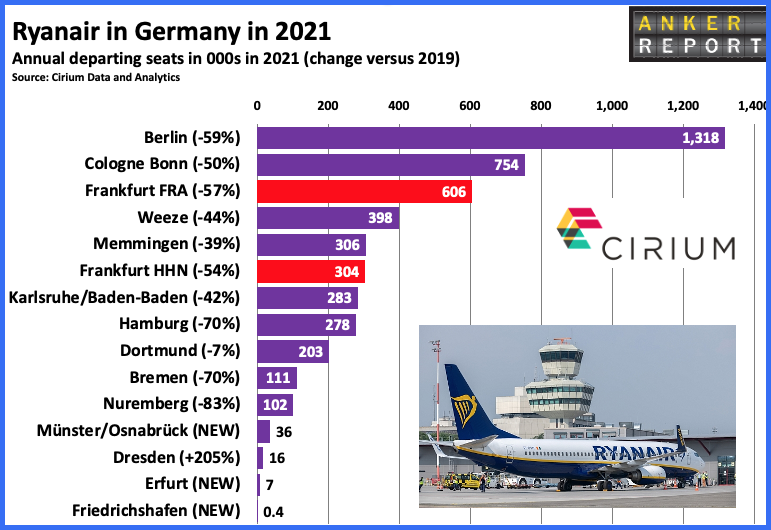 One German airport which will benefit from Ryanair's presence this summer is Nuremberg. Ryanair is planning to once again base two aircraft at the airport from the start of the summer season and launch 13 new routes.