Ryanair announces two aircraft base from Stockholm Arlanda this winter with 21 new routes; enters domestic market with two routes
Ryanair began serving Sweden as long ago as June 1997, when it started operations from London STN to Stockholm NYO. The facility lies around 100 kilometres south-west of Stockholm. In April 2003 it made Skavsta a base and launched six additional routes to Aarhus, Glasgow PIK, Hamburg LBC, Oslo TRF, Paris BVA and Tampere. Since then over 70 further destinations have been served at one time or other by Ryanair from Skavsta.
However, Ryanair announced the closure of the Skavsta base at the end of 2019 citing delivery issues with its Boeing 737 MAXs as the reason. Despite this, and the subsequent pandemic, Ryanair was still offering 10 routes to/from Skavsta last summer and has 13 destinations listed for sale on its website for this summer.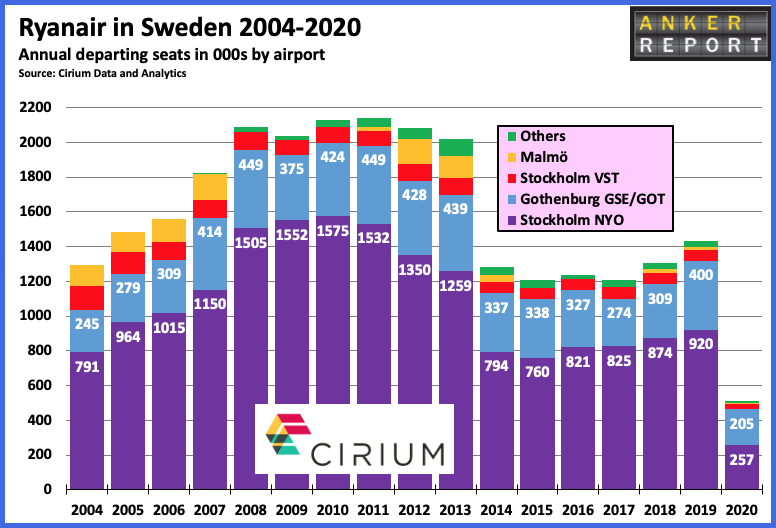 Other Swedish operations
Ryanair's operation in Sweden are not limited to Skavsta. In 1998 it began service to Malmö, followed in 2001 by both Gothenburg GSE and Stockholm VST, all initially served from just London STN. Capacity offered from Swedish airports continued to grow significantly until 2008, after which annual seat capacity levelled off at just over two million seats through to 2013.
Between 2013 and 2014 capacity was cut by almost 40% and between 2014 and 2017 capacity was around 1.2 million seats. Capacity from Skavsta and Gothenburg was increased in both 2018 and 2019.
Was third biggest international carrier in Sweden
Analysis of 2019 schedule data shows that Ryanair was the third biggest carrier in Sweden for international capacity after SAS and Norwegian. With Norwegian drastically cutting its international offering and Wizz Air looking at new opportunities it is not clear where Ryanair ranks right now. Schedule data for May 2021 suggests Ryanair may have fallen to sixth place, behind KLM, Lufthansa and Wizz Air. However, provisional schedule data for July shows Ryanair back in third place, behind SAS and Norwegian.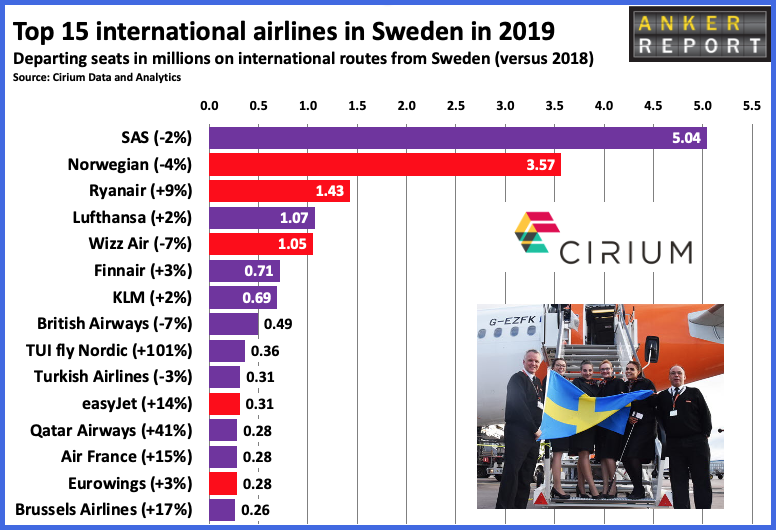 Alicante, Malaga and Stansted routes are key
Analysis of Ryanair's leading Swedish routes in 2019, as measured by ASKs (Available Seat Kilometres), shows the importance of Spanish routes (shown in red) and UK connections (shown in green). Ten of the top 15 routes are to airports in these two countries. Of the top seven routes, six are to just three destinations; Alicante and Malaga in Spain and London STN.
UK, Poland and Spain top country rankings
When measured by flights rather than ASKs, the UK and Spain are joined at the top of the rankings by Poland. Ryanair offered a total of 10 routes between Sweden and Poland in 2019, involving four airports in Sweden and five airports in Poland (Gdansk, Katowice, Krakow, Poznan and Warsaw WMI). In total, Ryanair offered flights from Sweden to 20 countries in 2019.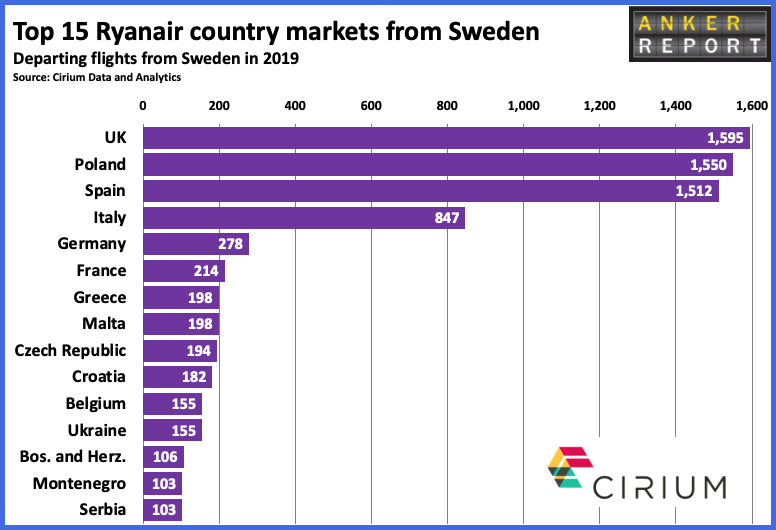 Stockholm Arlanda base opening this winter
Ryanair recently announced that it would be launching a two aircraft base from Stockholm ARN this winter, which would enable the launch of 21 new services from the airport that lies around 40 kilometres north of the Swedish capital. Of the 21 routes, only three have not previously been served by Ryanair from Skavsta; Bologna plus the two new domestic routes to Gothenburg and Malmö. The decision to launch flights to Gothenburg and Malmö represents the first time that Ryanair has offered domestic flights in Sweden. It does not (yet?) offer such flights in Norway, unlike Wizz Air.
While winter schedules are still tentative at best, it seems likely that SAS will provide direct competition on around eight of the routes, and indirect competition on several more, such as Brussels, London, Milan and Warsaw. With Ryanair apparently withdrawing all services from Skavsta this winter, that would leave only Wizz Air serving the airport. The Budapest-based carrier is currently offering a total of 16 routes from the airport.