Ryanair expands Edinburgh network to 65 routes this summer; Glasgow's two airports share 16 routes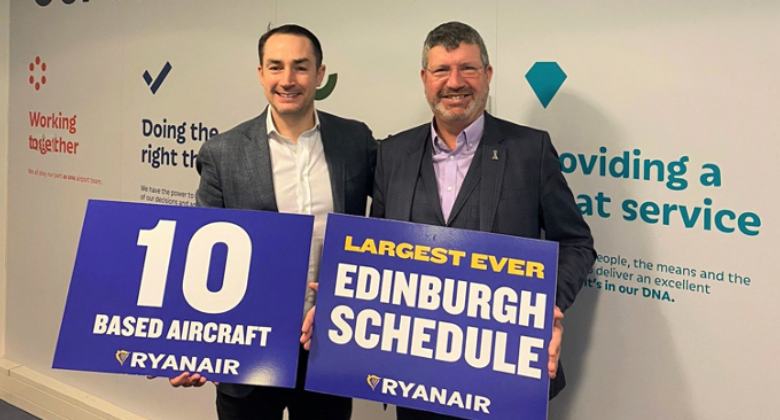 Earlier this week Ryanair announced it would be operating its largest ever schedule this summer from Edinburgh and would be basing a record 10 aircraft at the airport. It would also be operating non-stop service to 65 destinations. Of these four are completely new this summer (Bari, Marrakech, Nimes and Santiago de Compostela), while four started during the current winter season (Cork, Madrid, Palermo and Paris BVA) and will continue to operate into the summer season.
For many years, Ryanair's focus in Scotland was Glasgow PIK, where it was just about the only operator. In 2008, when Ryanair's capacity at the airport peaked, it was the carrier's eighth busiest airport, and third biggest in the UK after London STN and Liverpool. However, Edinburgh is now by far Ryanair's preferred airport in Scotland.
Edinburgh replaces Prestwick as #1 Scottish airport for Ryanair
Ironically, Ryanair only started serving Edinburgh (then operated by the BAA) when British Airways's low-cost subsidiary Go started operating from Edinburgh to Dublin back in 2001. Having previously indicated it had no wish to operate from 'high-cost' Edinburgh, Ryanair responded to Go by launching its own Dublin-Edinburgh service on 1 September (just 10 days before '9/11') and it would remain the airline's only Edinburgh route for over five years, until Shannon flights were added in October 2006. Then, in November 2008, Ryanair confirmed Edinburgh as a base.
Having also previously shunned Glasgow GLA in favour of Prestwick, Ryanair made Glasgow GLA a base in October 2014 and launched seven routes; Bydgoszcz, Warsaw WMI and Wroclaw in Poland, City of Derry, Dublin, London STN and Riga. However, after growing in Glasgow for the next four years, Ryanair then closed its base there at the end of S18 and reduced its network from 23 to just three routes (Dublin, Krakow and Wroclaw). A few routes were also transferred to Edinburgh. As a result, Edinburgh was Ryanair's 16th biggest base in 2019 and third biggest in the UK after Stansted and Manchester.
This summer Ryanair and easyJet will be evenly matched for seats on offer from Edinburgh, though easyJet looks likely to offer more flights as its average seats per flight figure is lower than Ryanair's. easyJet is offering non-stop service to almost 40 destinations from Edinburgh, including six in the UK. These six domestic routes account for just over half of easyJet's flights from the airport. The two carriers look set to compete head-to-head on 13 international routes from Edinburgh this summer; Alicante, Berlin, Copenhagen, Hamburg, Krakow, Lanzarote, Lisbon, Madrid, Malaga, Naples, Palma de Mallorca, Prague and Tenerife TFS. They also compete indirectly on routes to Milan, Paris and Venice.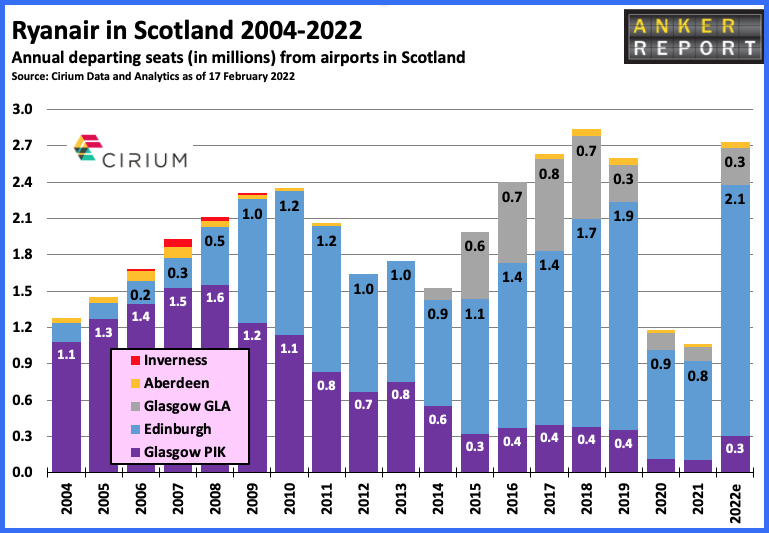 Glasgow GLA's network for this summer comprises seven routes; Dublin, Alicante and Malaga in Spain, Brussels CRL, and three Polish airports (Krakow, Warsaw WMI and Wroclaw). From Glasgow PIK, Ryanair is offering flights to nine destinations of which eight are in Spain with Faro being the other route. From Aberdeen, Ryanair will be serving Alicante, Malaga and Faro.
easyJet is still bigger than Ryanair in Scotland
Analysis of current Cirium data for the second quarter of 2022 shows that overall capacity from Scottish airports is down 17% compared with the same period in 2019. The number of flights is down 25%. A major factor has been the demise of Flybe which had a significant presence in the Scottish market. As can be seen in the graph, easyJet is still the leading airline in Scotland for total seat capacity, almost 50% bigger than Ryanair. However, in terms of flights operated, Loganair is the leading carrier, as it was back in 2019. However, the increased capacity recently announced by Ryanair for Edinburgh means that the gap to easyJet may be significantly smaller, especially in Q3.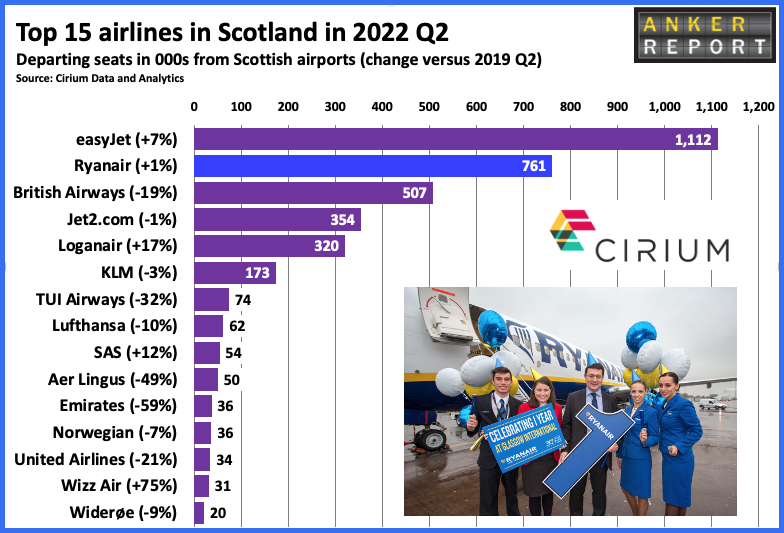 24 countries served from Edinburgh but no domestic flights
Ryanair's Edinburgh network for this summer comprises 65 destinations spread across 24 countries:
Austria (1): Vienna
Belgium (1): Brussels CRL
Bulgaria (1): Sofia
Croatia (1): Zadar
Czech Republic (1): Prague
Denmark (2): Billund, Copenhagen
Estonia (1): Tallinn
France (9): Beziers, Bordeaux, Carcassonne, Marseille, Nantes, Nimes, Paris BVA, Poitiers, Toulouse
Germany (3): Berlin, Hamburg, Weeze
Greece (1): Corfu
Hungary (1): Budapest
Ireland (4): Cork, Dublin, Knock, Shannon
Italy (9): Bari, Bologna, Milan BGY, Naples, Palermo, Pisa, Rome CIA, Turin, Venice TSF
Latvia (1): Riga
Lithuania (1): Kaunas
Malta (1): Malta
Morocco (1): Marrakech
Netherlands (1): Eindhoven
Poland (5): Gdansk, Krakow, Poznan, Warsaw WMI, Wroclaw
Portugal (3): Faro, Lisbon, Porto
Romania (1): Bucharest
Slovakia (1): Bratislava
Spain (14): Alicante, Barcelona, Fuerteventura, Gran Canaria, Ibiza, Lanzarote, Madrid, Malaga, Palma de Mallorca, Santander, Santiago de Compostela, Seville, Tenerife TFS, Valencia
Sweden (1): Gothenburg
Flights to Katowice, which operated in S21 and W21/22 are set to cease at the end of March 2022 according to the airline's on-line booking tool and so are not included in the above list. Another route operated in S21 but not in S22 is the airline's seasonal service to Girona in Spain.
Flights to London STN, which began in October 2014, were suspended at the end of October 2019, after almost exactly five years. Two other UK domestic routes have also been operated by Ryanair from Edinburgh; to Bournemouth (between November 2008 and March 2010) and to City of Derry (between October 2018 and December 2020).