Ryanair leads the great Greek holiday getaway; seat capacity up 20% versus summer 2019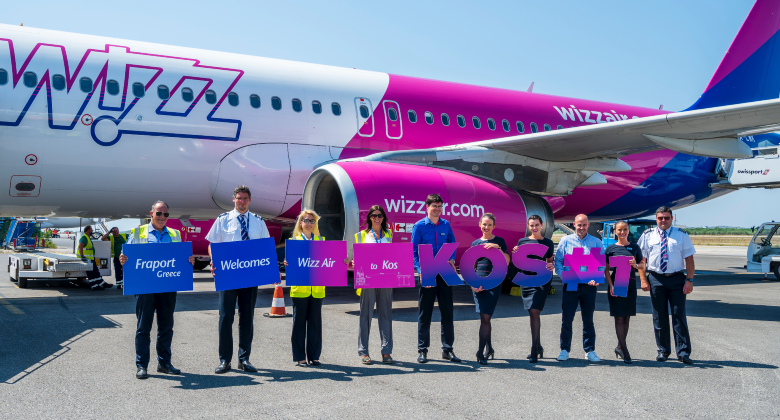 Tracking new route launches across Europe this summer, one thing has become abundantly clear. Many of Europe's leading airlines have been launching new routes to airports serving the most popular tourist destinations in Greece. Analysing Cirium Data and Analytics schedule information for the week commencing 9 August 2021 reveals that scheduled airline seat capacity is up 20% compared with the same period in August 2019. That's pretty impressive.
Capacity growth at 10 of 14 holiday airports
Looking at the 14 most popular holiday airports in Greece (Athens and Thessaloniki are not considered pure holiday airports), the top eight are all seeing capacity growth compared with 2019. Only two of the these 14 airports (Heraklion and Kalamata, shown in purple) are not currently managed by Fraport Greece. That company recently completed a four-year programme to overhaul, modernise and expand the infrastructure at 14 airports in Greece (those shown in blue plus Mytilene and Thessaloniki).
Five airports are reporting growth of more than 20% in August with Santorini expecting to see seat growth of around 45%. Only Kavala, has not seen capacity reach at least 90% of the level achieved in 2019.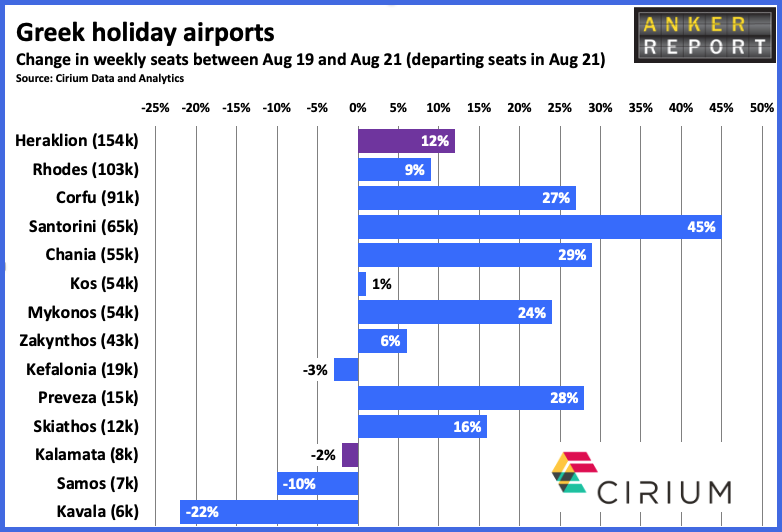 Ryanair now #1 with four based aircraft
Many of these Greek airports will welcome a number of pure charter services which do not show up in schedule data. However, the vast majority of services are provided by airlines that do provide schedule information. Analysis of this data reveals that since 2019 Ryanair has overtaken easyJet as the leading provider of international capacity this summer to these holiday airports.
Ryanair announced in March that it was opening three seasonal bases in Greece; Chania (with one aircraft), Corfu (with two aircraft) and Rhodes (with one aircraft). These aircraft have been used to operate over 100 routes in total from these airports, of which almost 50 are new.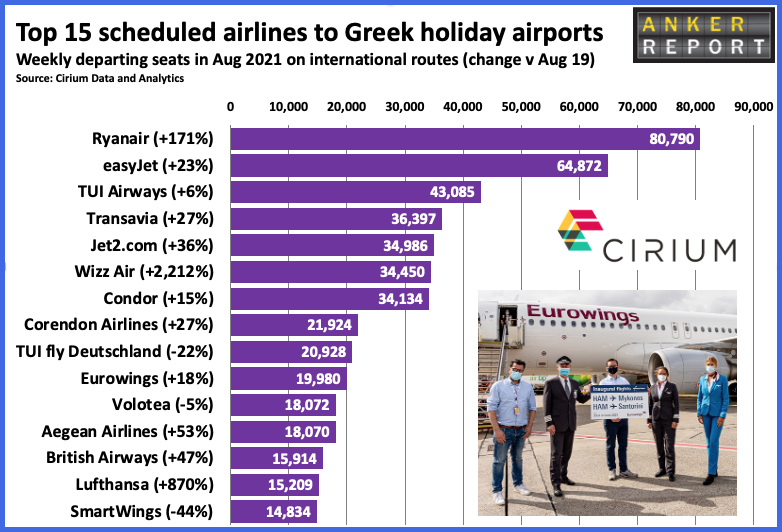 easyJet adds over 20 new routes
easyJet still ranks second and has grown its capacity by 23%, just above the overall rate. It has added 26 routes compared with August 2019 while dropping just seven. easyJet serves 11 of the 14 airports analysed, with Corfu (65 weekly departures), Mykonos (56) and Heraklion (46) being the airline's busiest Greek holiday airports.
Wizz Air's massive growth
Wizz Air (including its Abu Dhabi based subsidiary) has gone from operating five routes in August 2019 to over 80 in August 2021. It now ranks as the sixth biggest carrier in this market, only just behind Jet2.com and Transavia (the combination of Transavia Netherlands and Transavia France).
While Wizz Air's rate of growth is impressive, in terms of additional seats added in this market since August 2019, it still lags some way behind Ryanair. The Irish ULCC has added almost 51,000 weekly seats compared with almost 33,000 for Wizz Air.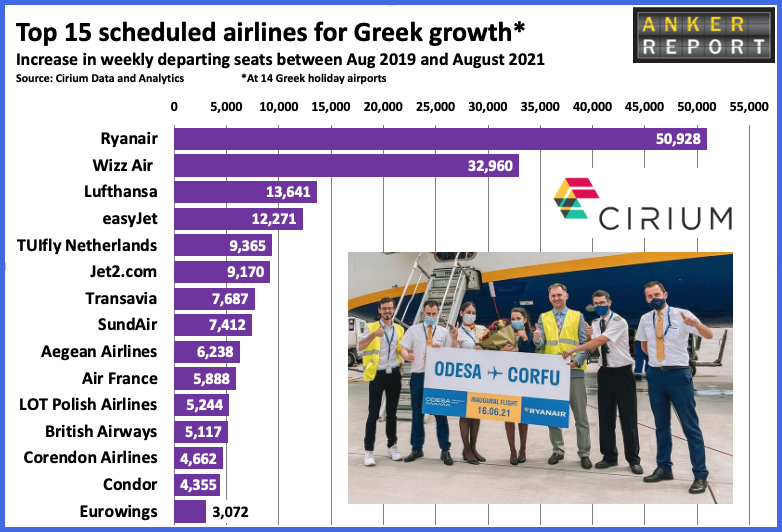 Legacy carriers not afraid to try their luck
In third place for most seats added is Lufthansa, which has expanded from five routes in 2019 to 19 routes this summer (nine from Frankfurt and 10 from Munich). Capacity (and flights) are up almost tenfold. British Airways has transferred its Heraklion, Kos and Rhodes flights from Gatwick to Heathrow and increased frequency on its other routes.
Other highlights include:
Aegean Airlines dropping nine but adding 17 new routes (six each from Heraklion and Mykonos)
Air France going from two routes to seven, with four new routes from Paris CDG and one from Marseille
Etihad Airways starting service to Mykonos and Santorini
Jet2.com launching its first ever routes to Kalamata, Mytilene and Santorini
LOT Polish Airlines expanding from one flight per week in August 2019 to 31 flights per week next month spread across 20 routes.