Salt Lake City, Crossroads of the West and World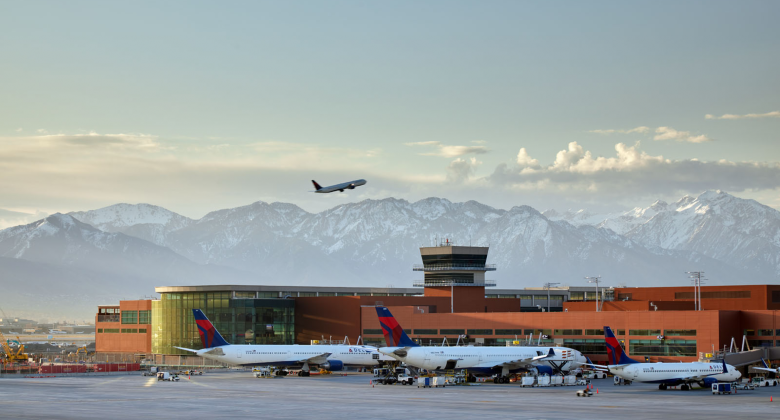 Salt Lake City International Airport (SLC) is securing its position as a global aviation hub by building a brand-new airport that will serve the growing region for decades to come.
Long known as the "Crossroads of the West," Salt Lake and Utah are fast becoming known as the "Crossroads of the World." When Phase 1 of "The New SLC" Airport Redevelopment Program opened in Fall 2020, a new era of air transportation began, with expanded domestic and international flights and an elevated passenger experience. Phase 1 encompassed a Central Terminal and the west end of two linear concourses connected by a tunnel.
And there is more to come. In late 2023, Phase 2 will open with 22 additional gates on Concourse A-East, along with 19 shops and restaurants. By Fall 2024, a new Central Tunnel –dubbed the River Tunnel – and more gates on Concourse B-East will open, providing passengers streamlined access between A and B concourses and one, immersive and inspiring art experience from curb to gate. Phase 3 of the construction program is already underway and will add even more gates on Concourse B-East.
With more gates, SLC is able to offer more flights to more destinations. Thus far in 2022, SLC has welcomed three new carriers to the market: Air Canada to Toronto; Eurowings Discover to Frankfurt, Germany; and Spirit Airlines to Las Vegas, Los Angeles and Orlando. The airport also recently celebrated the return of KLM and Delta's transatlantic flights to Amsterdam, Paris and London.
The next generation of air transportation is taking off at SLC. To learn more, go to  www.slcairport.com/thenewslc.