San Antonio passed 10 million passengers in 2019; welcomed first Breeze and JetBlue flights in 2021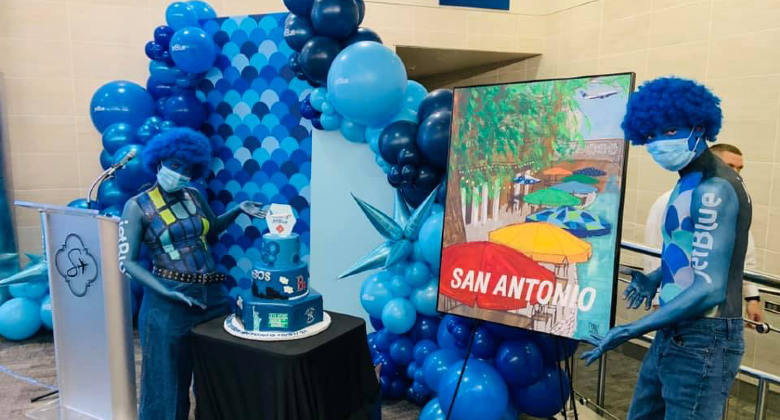 San Antonio is the second biggest city in Texas with a population of over 1.4 million people, making it also the seventh most populous city in the whole of the US after New York, Los Angeles, Chicago, Houston, Phoenix and Philadelphia. Despite this, the airport serving San Antonio was only the sixth biggest in Texas in 2021, behind Dallas/Fort Worth, Houston IAH, Austin, Dallas DAL and Houston HOU. In 2019, just under 10.4 million passengers passed through the airport, making it the airport's busiest ever year. Growth at the airport had been steady rather than spectacular since 2009, with traffic increasing by between 0% and 5% for each of the next eight years. However, 2018 saw traffic rise by over 10% for the first time this century. Several carriers contributed to growth that year with Frontier, American, Southwest and United all adding more than 50,000 one-way seats compared with the previous year. Frontier in particular, more than doubled its flights at the airport.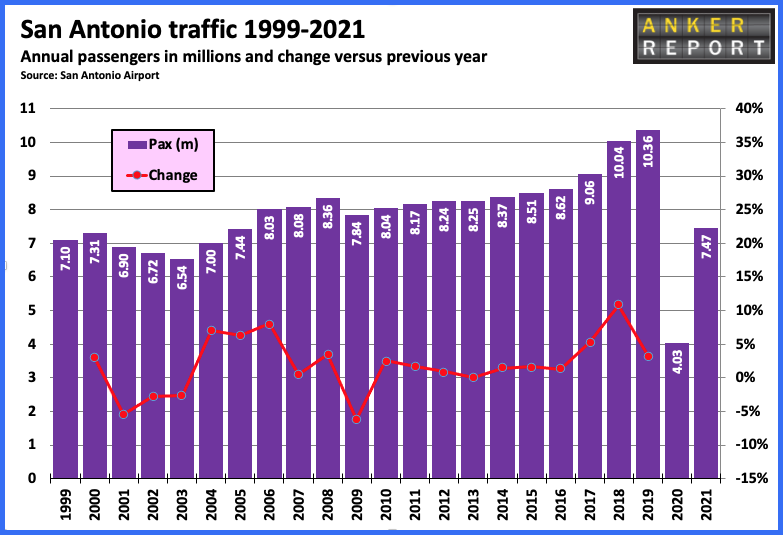 In 2020 traffic fell by 61%, though 2021 saw demand rise by 85% compared with 2020. From June to December, San Antonio's recovery rate (compared with the same months in 2019) was consistently between 80% and 90%.
Pre-pandemic, the airport's seasonality profile was relatively flat between March and December, with July typically being the airport's busiest month. January and February are the quietest months, but even so, July traffic is only around 40% more than in February (which typically has only 28 days compared with 31 in July).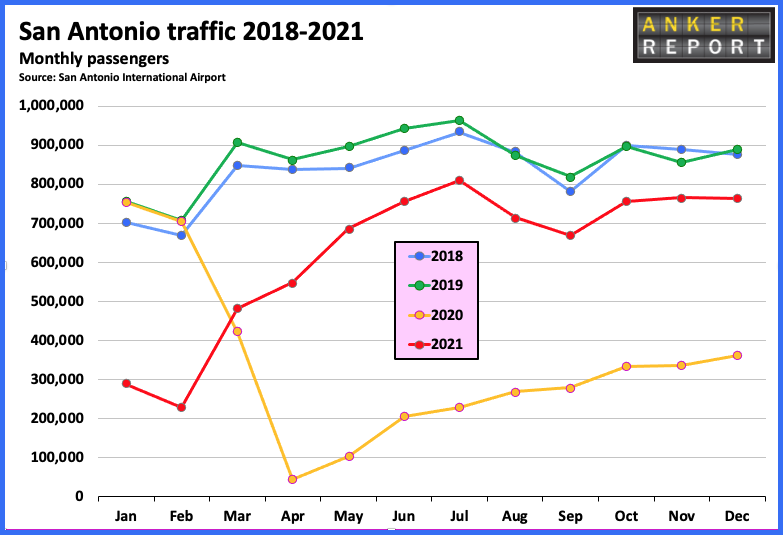 Southwest is leading carrier in March
The leading carrier in San Antonio, and by some distance, is Southwest, with over 200 weekly departures planned for March. These are spread across 17 routes. Back in March 2019 the LCC served 20 destinations non-stop. Since then, flights to Fort Lauderdale, Kansas City and Oakland have been suspended. American, Delta and United are all expected to have between 100 and 140 weekly departures next month.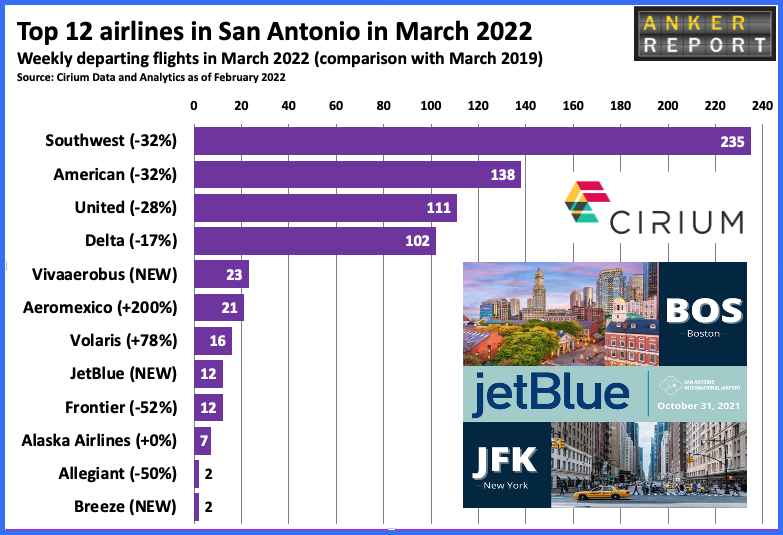 San Antonio welcomed two new airlines in 2021. Newcomer Breeze began 2-weekly service on 15 July to Northwest Arkansas/Fayetteville, Oklahoma City and Tulsa using its Embraer jets. However, the latter two services only operated until the end of November according to Cirium data. At the end of October, another carrier founded by David Neeleman, JetBlue, also began San Antonio service, from its bases in Boston and New York JFK.
Mexico's Vivaaerobus had begun serving San Antonio in July 2020 with service from Monterrey, followed by Mexico City flights beginning in late September. A third route to Leon/Guanajuato was added in May 2021. Three Mexican carriers now serve San Antonio, the others being Aeromexico and Volaris.
Back in March 2019, two other carriers also served San Antonio. Air Canada offered flights to Toronto YYZ, while now defunct Interjet offered flights to Guadalajara, Mexico City and Monterrey.
Traffic to Mexico in 2021 up almost 60% versus 2019
San Antonio's top two routes this month in terms of weekly departure are both within Texas. American offers 71 flights per week to Dallas/Fort Worth, while Southwest has 52 weekly flights to Dallas Love Field. These routes are both 400 kilometres in distance. The two international routes in the top 16, to Mexico City and Monterrey, have both seen an increase in flights since March 2019. Traffic data from the airport reveals that international passengers at San Antonio were up 59% in 2021 compared with the record-breaking year of 2019.
According to the airport, San Antonio ranked #1 among all US medium-hub airports for total seats to Mexico in 2021 and ranked 11th among all airports, between San Francisco and Seattle-Tacoma.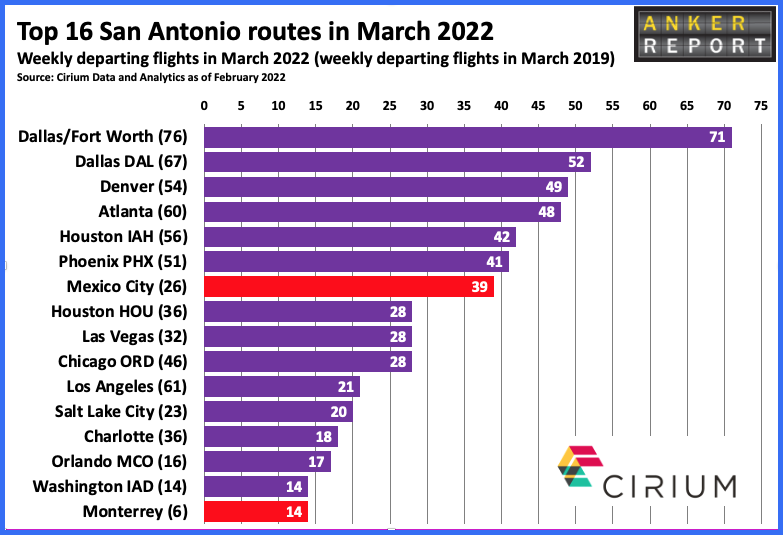 New destinations in March 2022 not served in March 2019 are Boston (with JetBlue), Leon/Guanajuato (with Vivaaerobus) and Northwest Arkansas/Fayetteville (with Breeze). New airline services launched in 2021 not previously mentioned are Sun Country to Cancun (launched 28 May) and Southwest to Colorado Springs (winter seasonal service started on 20 November).
Apart from the three destinations no longer served by Southwest, and the dropped Breeze routes, San Antonio has also seen the loss of flights to Orange County/Santa Ana (by Frontier), Orlando SFB (Allegiant), Ontario (Frontier), Philadelphia (American) and Toronto YYZ (Air Canada).
Southwest to succeed where Breeze failed?
Interestingly, it seems that Southwest believes it can succeed where Breeze failed as the carrier is launching service to Oklahoma City from the end of April. While Breeze offered mostly just 2-weekly service, Southwest is planning to operate up to 6-weekly on the 655-kilometre route during the peak summer period from June onwards.
In addition, Delta is set to resume service on its route from New York JFK. With JetBlue also operating this route and United serving Newark, customers will again have a choice of three carriers for travel between San Antonio and the New York metropolitan area.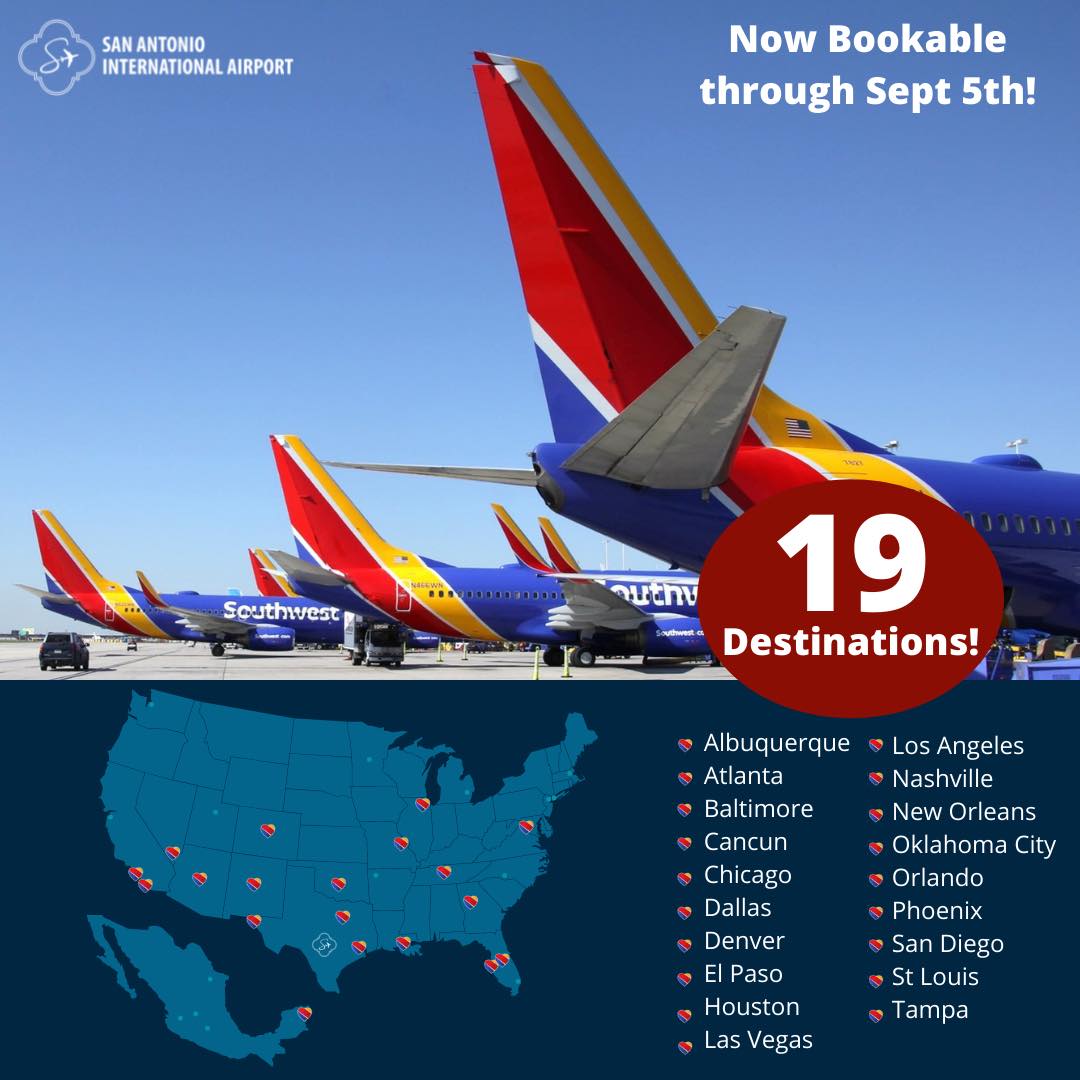 Hosting Routes Americas next week
San Antonio will next week be the venue for Routes Americas, where airlines, airports and other relevant bodies will get together (in person!) to discuss air service development. Air Service One will be there as well. If you would like to meet with us, contact jon@jonathanl227.sg-host.com.