Spanish airport traffic reaches 70% of pre-pandemic levels in October; Madrid welcomed over 3m pax
Latest passenger figures from Aena show that Spain's airports handled 17.3 million passengers in October, which was 30% fewer than in October 2019, but almost 290% more than in October 2020. This means that demand in October was at 70% of the level of two years ago. This is a significant improvement on the 52% recovery rate in July, 61% in August and 60% in September.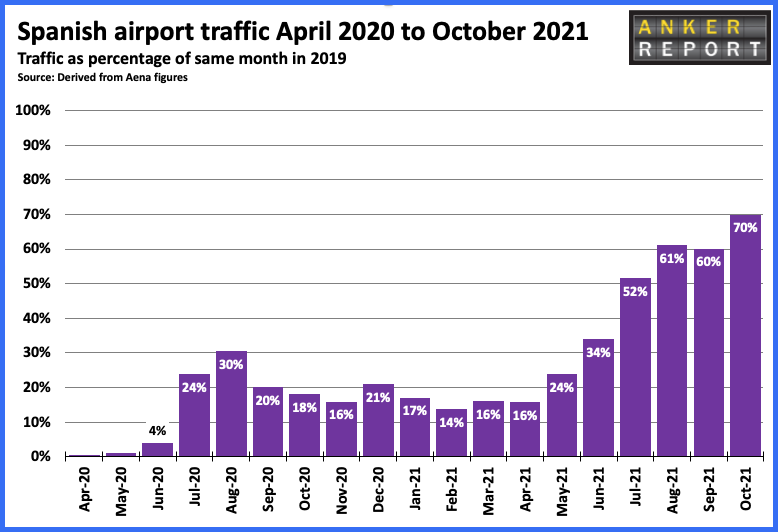 A look at the top 15 airports in Spain last month reveals a range of recovery rates from Madrid (at just 56%) to Menorca (at 98%). Airports in the Canary Islands (shown in orange) and the Balearic Islands (shown in red) have recorded higher recovery rates than those airports on the Spanish mainland (shown in purple).
Menorca traffic down just 2%
Traffic at Menorca Airport was down just 2% compared with October 2019. Ryanair has been a major factor here as it has increased its route network in that period from three to 15 routes. In 2020, Ryanair added a route to Dublin, while this summer saw new services from Alicante, Bologna, Bordeaux, Malaga, Marseille, Milan BGY, Naples, Santiago de Compostela, Seville, Toulouse and Vienna. Ryanair is now Menorca's leading airline by flights and seats, having ranked just sixth in October 2019 behind Vueling, Iberia, easyJet, Jet2.com and TUI Airways.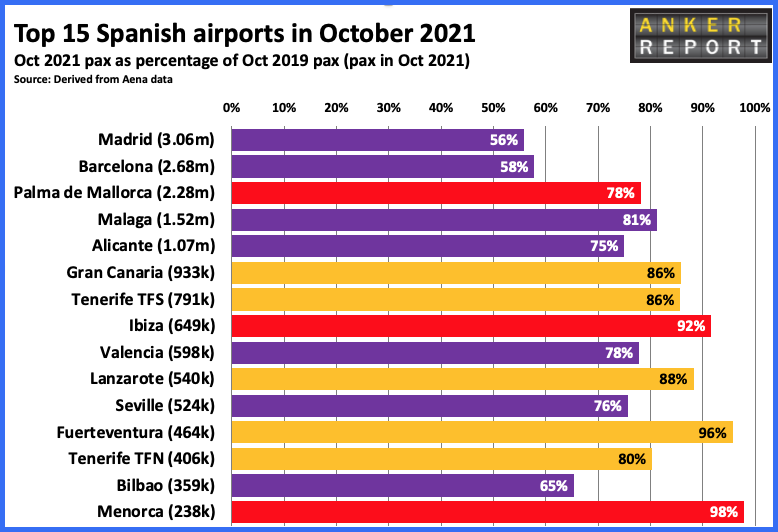 Outside of the top 15, other mainland airports had mixed results with Asturias (at 92%) and Santiago de Compostela (at 89%) doing better than average, and Jerez (64%), Granada (61%), A Coruna (60%) and Almeria (57%) towards the bottom of the recovery rankings.