Spirit makes Utah its latest US state with the addition of Salt Lake City services from 26 May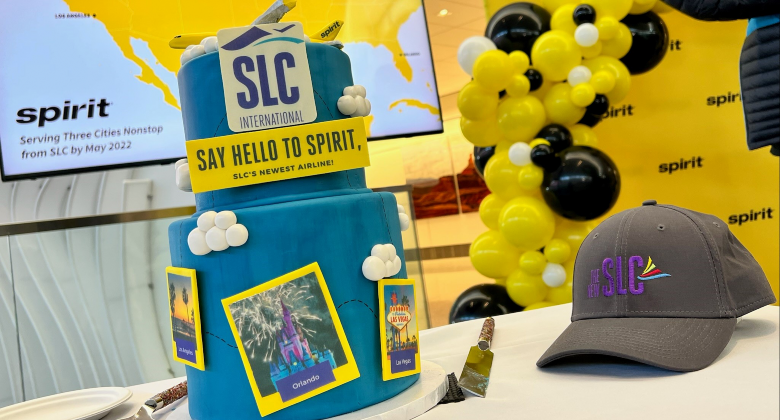 Spirit this week announced its first ever flights to Salt Lake City (and also the state of Utah) starting on 26 May. It will operate daily service to Los Angeles and Orlando and 2-daily service to Las Vegas. It will face significant competition on each route. The US ULCC has been growing its footprint in the US having also added service to New Hampshire (Manchester), Kentucky (Louisville) and Wisconsin (Milwaukee) during 2021.
Until 2011 the carrier accounted for less than 1% of the US domestic market as measured by seat capacity. Since then, it has quadrupled capacity, rebranded into its current yellow-dominated colour scheme and grown its fleet to almost 180 aircraft, all of which are A320-series. As a result, analysis of Cirium data reveals that it had almost 4.5% of the US domestic market in 2021 (as measured by seat capacity), ranking it sixth, behind American, Delta, Southwest, United and Alaska Airlines, but ahead of JetBlue, Frontier and Allegiant. Impressively, its domestic capacity in 2021 was only 5% lower than it had been in 2019.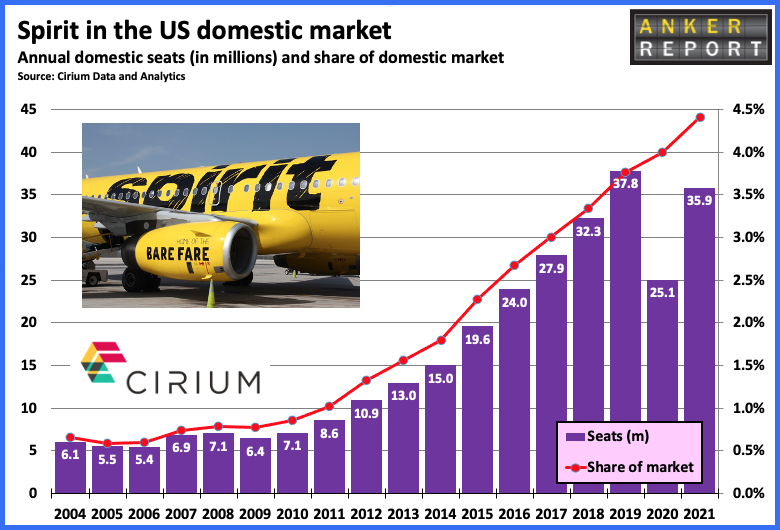 Spirit reports operational data on a quarterly basis. In 2021 its load factor was 72.1% in Q1, 84.4% in Q2 and 77.6% in Q3. Pre-pandemic its average aircraft utilisation was between 12 and 13 hours. In 2021 Q3 it was 10.4 hours.
Orlando, Fort Lauderdale and Las Vegas lead the way this winter
Analysis of which are Spirit's busiest airports this winter reveals that three airports are offering twice as many seats as all other airports. Orlando MCO, Fort Lauderdale and Las Vegas are the leading airports for the airline this winter, with Orlando overtaking Fort Lauderdale as the airline's busiest airport. Five of the carrier's top 15 airports are in Florida (shown in red) highlighting the airline's focus on young leisure travellers. Launching a new base in Miami in 2021 was a major decision for the airline and has resulted in a drop in capacity at nearby Fort Lauderdale.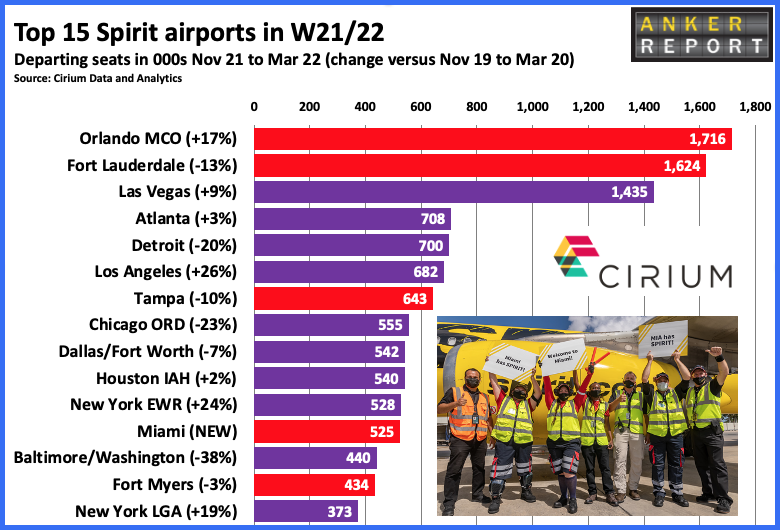 Focus on Florida
Not surprisingly, Florida is by far the airline's busiest state. Seat capacity there this winter is over four times more than from airports in Nevada. While the airline's capacity overall is up just under 2% versus W19/20, there is considerable variation among the top 15 states. Six states are showing capacity increases, while nine states have seen a reduction in seat capacity. Florida has seen an additional 385,000 seats, California an extra 143,000 seats and Missouri an increase of 100,000 seats, the latter driven by Spirit starting service at St. Louis in 2021.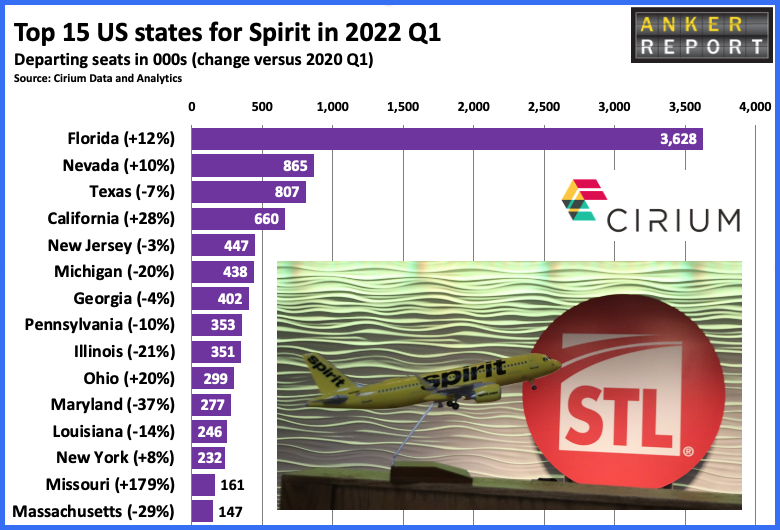 By contrast, Maryland has lost 163,000 seats, Michigan 110,000, Illinois 93,000, North Carolina 84,000, Colorado 78,000, Minnesota 77,000, Texas 63,000 and Massachusetts 60,000. Spirit, like all airlines, has been proactive in constantly looking for viable new markets and also making the hard decision to sometimes abandon existing markets. The following is a list of which US domestic airports the airline has added (and dropped) since 2005.
2005:

Dropped

– Denver
2006:

Added

– Atlanta, Boston, Dallas/Fort Worth, San Francisco
2007:

Dropped

– Dallas/Fort Worth
2008:

Added

– Columbia, Islip, San Antonio
2008:

Dropped

– Providence, San Francisco
2009:

Dropped

– Islip
2010:

Dropped

– Columbia, San Antonio
2011:

Added

– Charleston, Dallas/Fort Worth, Latrobe, Niagara Falls, Oakland, Plattsburgh, Portland PDX, San Diego
2012:

Added

– Baltimore/Washington, Denver, Houston IAH, Minneapolis/St. Paul, Phoenix AZA
2013:

Added

– New Orleans, Philadelphia, Phoenix
2013:

Dropped

– Washington DCA
2014:

Added

– Kansas City
2014:

Dropped

– Phoenix AZA
2015:

Added

– Cleveland
2016:

Added

– Akron/Canton, New York EWR, Seattle/Tacoma
2017:

Added

– Hartford, Pittsburgh
2018:

Added

– Asheville, Columbus, Greensboro, Jacksonville, Richmond
2019:

Added

– Austin, Burbank, Charlotte, Indianapolis, Nashville, Raleigh/Durham, Sacramento
2020:

Added

– Orange County
2021:

Added

– Louisville, Miami, Manchester MHT, Milwaukee, Pensacola, St. Louis
2021:

Dropped

– Asheville, Jacksonville, Niagara Falls, Plattsburgh
2022:

Added

– Memphis, Niagara Falls, Salt Lake City
2022:

Dropped

– Greensboro
Before Spirit launches flights from Salt Lake City it will be celebrating its first flights from Memphis in Tennessee. As in Salt Lake City, the first three routes will be to Las Vegas, Los Angeles and Orlando, with the Nevada and Florida flights set to start on 20 April and California service commencing on 8 June.