Tallinn to lose 10 Ryanair routes, as airBaltic adds four to have its biggest ever network from Estonian capital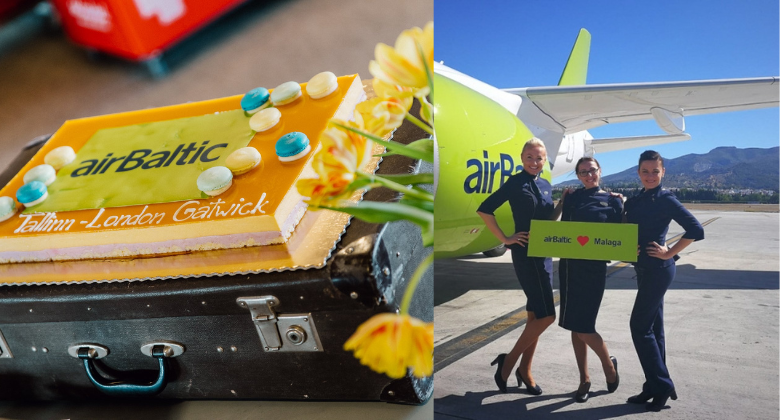 Tallinn welcomed 2.7 million passengers in 2022, according to the airport's own figures. Traffic at the airport serving the Estonian capital was about half that of fellow Baltics capitals Riga and Vilnius. Tallinn's passenger volume was also about 16% lower than in 2019. This was for various reasons, including the end of Nordica's scheduled operations. However, it was offset by considerable growth by others, especially Ryanair – whose seat capacity more than doubled versus 2019, becoming Tallinn's second biggest airline, and Wizz Air (+56%).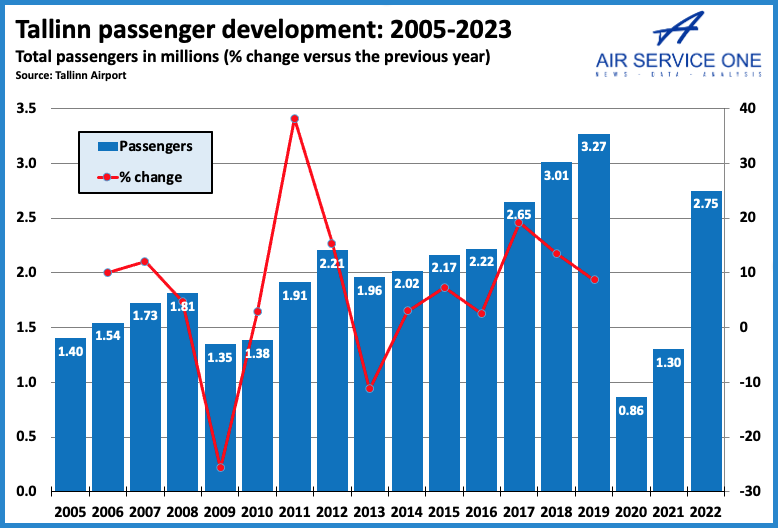 Ryanair cuts 10 Tallinn routes
Supposedly because of Tallinn's fees rising by 30%, Ryanair plans just 150,000 one-way seats this coming summer, 36% fewer than in S22. Its route network has reduced from 15 to eight year-on-year. The eight are Barcelona, Berlin, London STN, Milan BGY, Rome CIA, Stockholm ARN, Venice TSF and Vienna. Ryanair's S23 network is as small as it was in S11, its first summer serving the country. Ryanair has had much route churn at Tallinn. Of the eight routes in S23, only three – Berlin, Milan BGY and London STN – were served in S19, while fewer than half were last summer.
Ten routes have been cut in 2022/2023, as shown below. Of these, five (with an *) started in 2021/2022. In contrast, two – Dublin and Weeze – were among Ryanair's original Tallinn routes when it first served the airport in late 2010; they must have performed sufficiently well overall to be retained for so long.
26 October 2022: Edinburgh
26 October 2022: Liverpool*
23 March 2023: Naples*
23 March 2023: Paphos
23 March 2023: Weeze
24 March 2023: Billund*
24 March 2023: Dublin
25 March 2023: Paris BVA*
25 March 2023: Malta
25 March 2023: Nuremberg*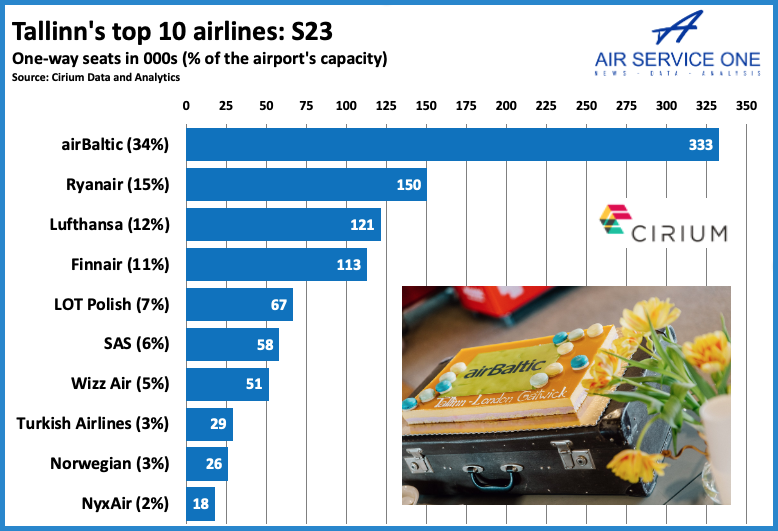 airBaltic adds four routes
airBaltic, which remains Tallinn's leading operator, will introduce four new routes in 2023, as follows. According to Cirium, Dubrovnik was last served in 2009 by long-defunct Estonian Air, while Split was most recently linked by Nordica in 2019. SmartLynx served Heraklion and Rhodes until last year.
1 May 2023: Rhodes (2-weekly)
1 May 2023: Split (2)
2 May 2023: Dubrovnik (2)
3 May 2023: Heraklion (2)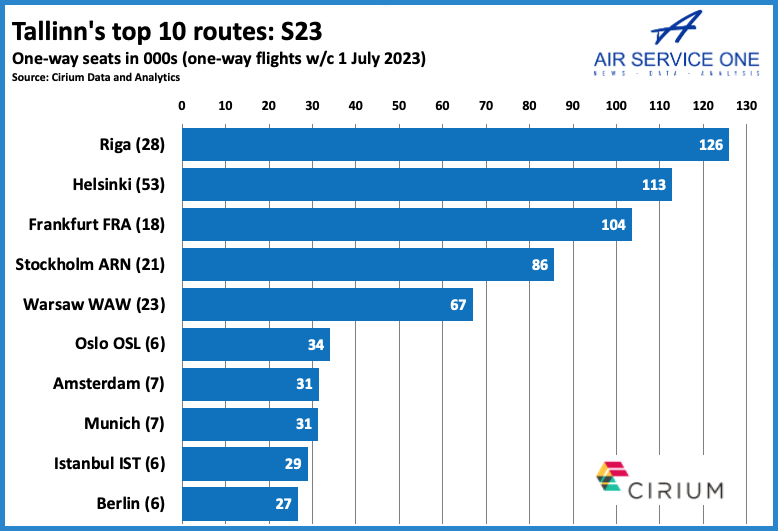 airBaltic has 16 Tallinn routes – its most to date
The four coming destinations mean that airBaltic has 16 Tallinn routes this summer, its highest yet, beating its previous best (in S22) by three. The 16 routes include the 280-kilometre hop to Riga, which is Tallinn's top route with 13% of seats. (Note: Air Service One can confirm that you can do a day return to Tallinn from Riga by bus, but it doesn't give you much time for sightseeing!) Given Ryanair's cuts, airBaltic has once again regained the number of routes crown from the ULCC. Tallinn's success depends on both carriers. Between them, they operate 63% of the capital's S23 routes – 23 out of 36 – and have about half of the seats.
Since the pandemic started, apart from airBaltic and Ryanair, other new routes launched from Tallinn include:
2 July 2020: Wizz Air to Vienna (3-weekly)
4 July 2020: Wizz Air to Kharkiv (3-weekly, currently suspended)
4 July 2020: Wizz Air to Lviv (3-weekly, currently suspended)
18 July 2020: Wizz Air to Milan MXP (2-weekly)
21 December 2020: NyxAir to Kuressare (12-weekly domestic route with ATRs)
2 July 2021: SWISS to Zurich (3-weekly)
2 July 2021: Wizz Air to Rome FCO (2-weekly)
7 September 2021: Pegasus Airlines to Antalya (2-weekly)
17 September 2021: Wizz Air to Naples (2-weekly)
4 March 2022: Wizz Air to Venice VCE (2-weekly)
1 April 2022: SunExpress to Antalya (5-weekly)
1 April 2022: Wizz Air to Oslo TRF (2-weekly)
1 November 2022: Wizz Air to London LTN (3-weekly)
 However, apart from the Ukraine routes, Wizz Air is also currently no longer serving Naples, Oslo, Rome FCO, Venice VCE or Vienna.