TAROM still going after 67 years but share of Romanian international market has fallen to just 6%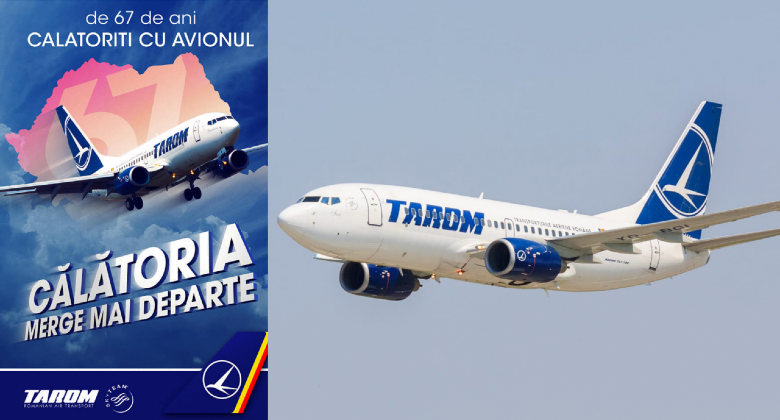 Romania's state-owned flag-carrier TAROM continues to operate, despite, according to local sources, not having generated a profit since 2007. According to planespotters.net, the SkyTeam member currently has 26 aircraft, 12 Boeing 737s (four -800s, four -700s and four -300s), four Airbus A318s, six ATR 72s and four ATR 42s. Of these, 10 are currently not flying, including the older 737-300s and the ATR 42s. One of the other parked aircraft, a 737-700 (registration YR-BGG) was repainted in a retro livery several years ago. Last September TAROM celebrated its 67th birthday making it one of Europe's oldest airlines still using the same name. In the decade before the pandemic the airline's reported load factor was typically between 65% and 75%.
Share of Romanian international market continues to fall
Analysis of Cirium capacity data since 2010 shows that TAROM's share of international seat capacity from Romanian airports has fallen significantly in recent years. Between 2010 and 2014 it hovered around the 20% mark but started to fall from 2015 onwards as Wizz Air and Ryanair in particular expanded their Romanian networks. By 2019 it had fallen to 11%. The accuracy of schedule data for Wizz Air, and to a lesser extent Blue Air, has been somewhat suspect during the last two years. However, based on currently planned flight schedules for 2022, TAROM's market share of international seat capacity is now just 6%.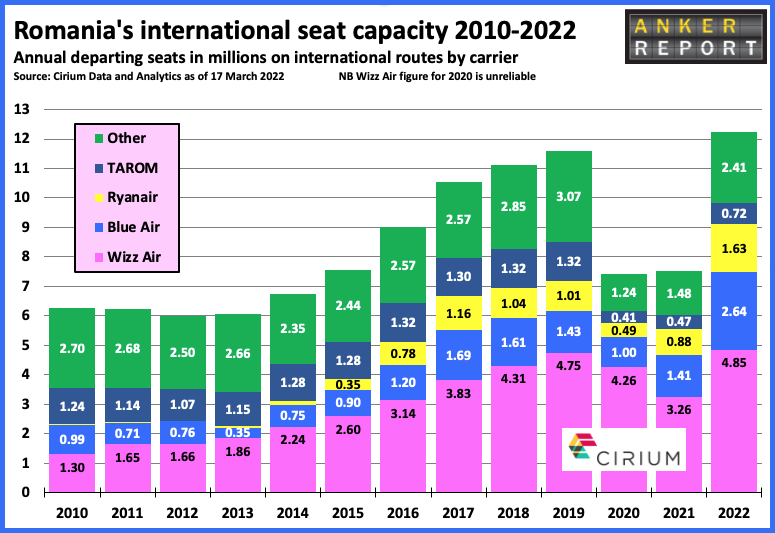 30 routes from Bucharest
This summer the airline is offering the same 30 routes from Bucharest as it did last summer, though the number of weekly departures has increased from 189 in August 2021 to a planned 232 in August 2022. TAROM has not exactly been prolific when it comes to adding new routes from its main hub at Bucharest. In fact, according to Cirium data, the last new destinations launched by the airline were weekly seasonal ski routes to Lyon and Turin in November 2019 and before that in April 2019 to Cairo and Yerevan. While service to the Egyptian capital resumed post-pandemic in 2021, flights to the Armenian capital did not. Yerevan is not alone as a destination that has not seen services resume post-pandemic. Alicante, Hamburg, Larnaca, Odessa, Sibiu, Stockholm ARN, Tbilisi and Valencia have also not welcomed back TAROM service as yet.
Amsterdam is top route for ASKs this summer
Using ASKs (Available Seat Kilometres) as a metric, TAROM's top route this summer from Bucharest is to Amsterdam, a service that is set to operate 2-daily. Then come Madrid, Paris CDG, Frankfurt and London. Amsterdam and Paris CDG are the home bases for fellow SkyTeam members KLM and Air France. Three of the top 15 routes are domestic services (shown in red) which are served with multiple daily flights. Only two of the airline's routes are over 2,000 kilometres. Madrid is the carrier's longest route at 2,466 kilometres, ahead of London LHR at 2,110 kilometres.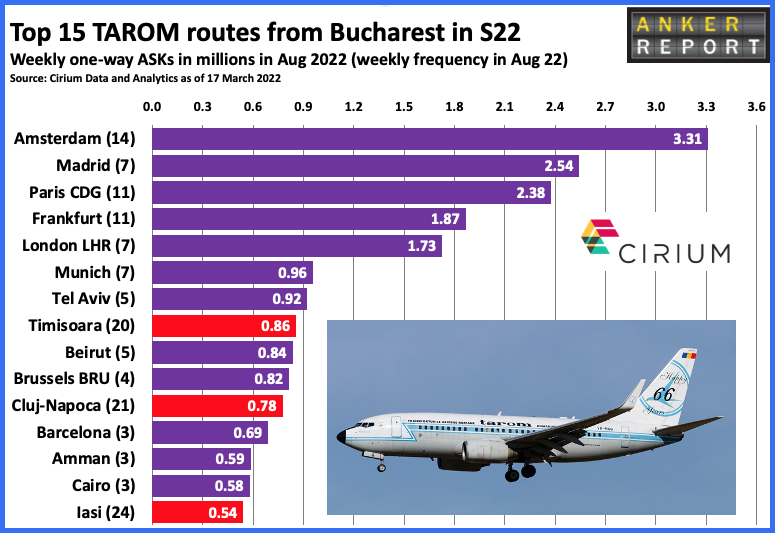 In total, TAROM is operating seven domestic routes from Bucharest. In addition to the three routes in the top 15 there are 2-daily flights planned in August to Oradea, 8-weekly to Suceava, 5-weekly to Satu Mare and 5-weekly to Baia Mare. These last four are all flown using the airline's fleet of ATRs which are also used to serve sub-1,000 kilometre international routes to Belgrade, Budapest, Chisinau, Sofia, Thessaloniki and Vienna. Competition on the domestic routes comes courtesy of Blue Air on five routes and Ryanair, which offers a daily service between Bucharest and Timisoara. Wizz Air does not operate any domestic routes in Romania.
No more international flights from regional airports.
At present TAROM is only offering international flights from Bucharest. Back in the summer of 2016, the carrier offered non-stop service from Iasi to seven non-Romanian destinations (Bologna, London LTN, Madrid, Munich, Rome FCO, Tel Aviv and Turin), as well as Vienna from Cluj-Napoca and Munich from Sibiu. In mid-July 2018, TAROM launched 3-weekly service to Stuttgart from both Sibiu and Timisoara. Both routes were suspended in March 2019. By the summer of 2019 only the Iasi-Tel Aviv route remained.