Trieste traffic down just 11% in 2022; Ryanair offering 11 routes in S23 as Wizz Air arrives in July from Tirana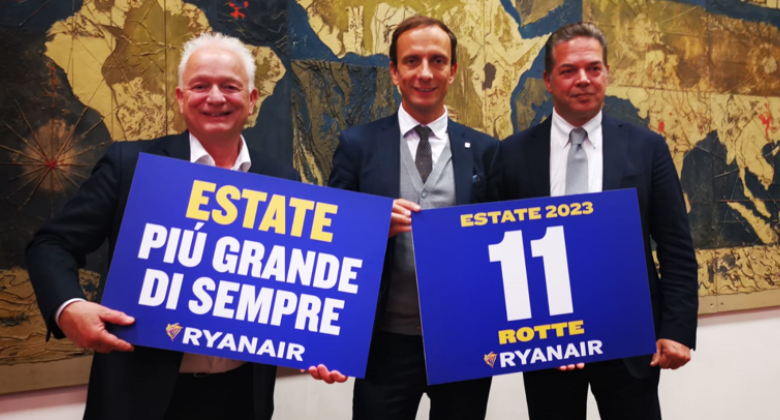 Located in the far north-east of Italy, close to the border with Slovenia, Trieste has an urban population of around 240,000 people. The airport serving the city has typically handled between 600,000 and 900,00 passengers per annum since 2001, peaking at just under 880,000 in 2012. In 2022, the airport welcomed almost 700,000 passengers, just 11% fewer than in pre-pandemic 2019. Just over 60% of traffic last year was on domestic routes, similar to the proportion seen between 2013 and 2018.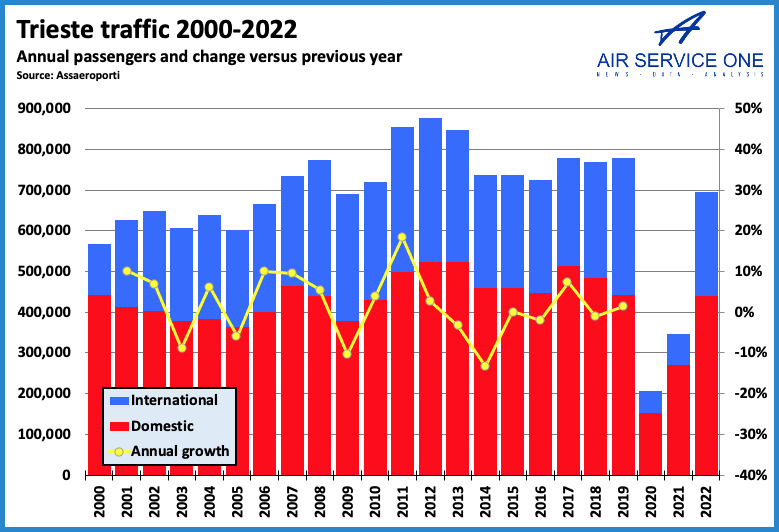 After a slow start to 2022, Trieste's traffic recovered strongly in the second half of the year. In fact, in the third quarter of last year (July to September) the airport handled more passengers than in the same period in either 2018 or 2019.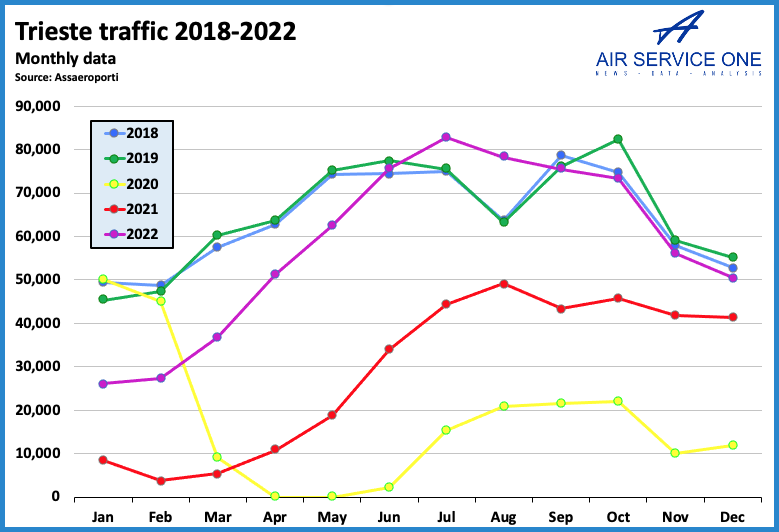 Ryanair adding new routes, Wizz Air coming in July
Following the pandemic, Trieste has seen airlines not resuming a number of services. These include Alitalia/ITA Airways to Milan LIN, Eurowings to Cologne Bonn, Lufthansa to Munich and Volotea to Naples. In addition, the daily service to Frankfurt, previously operated by Lufthansa Regional has now been transferred to Air Dolomiti since 30 January.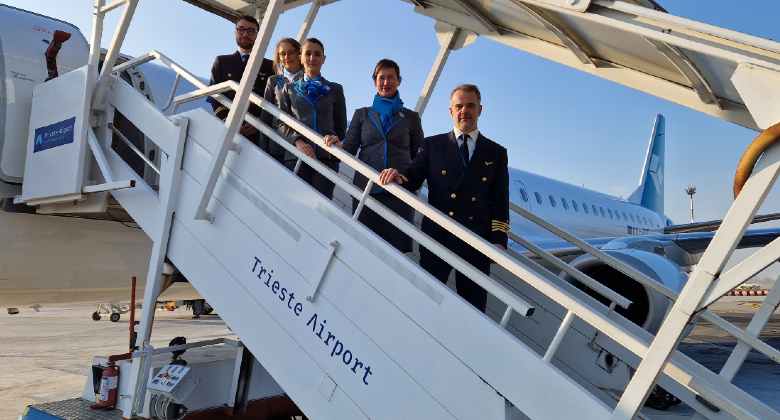 However, Ryanair has expanded its network from four in S19 to 11 routes this summer. Since mid-2019 it has added Malta (27 October 2019, 2-weekly), Cagliari (2 July 2020, 2-weekly), Naples (25 October 2020, 2-weekly), Palermo (3 May 2021, 2-weekly) and Brussels CRL (31 October 2021, 2-weekly, resumption). This summer will see the Irish carrier launch new 2-weekly service to both Barcelona and Dublin.
During the summer of 2020, Volotea added domestic flights from Trieste to Lamezia Terme (July 2020-September 2020), Olbia (S20, S21 and S22) and Palermo (July 2020 to January 2022 but with gaps). Volotea does not serve Trieste in S23. Another airline to have recently tried a route to Trieste was Air Serbia. It launched service last June from Belgrade using its ATR 72s, operating 2- to 3-weekly until the end of September. The service has not been put on sale for this summer.
Wizz Air is set to add Trieste to its route network for the first time from the beginning of July, when it launches 2-weekly service (on Mondays and Fridays) from Tirana in Albania. This is a route not currently served by the airport, though it was previously served by Belle Air, most recently in November 2013.
Six scheduled carriers for this summer
Looking at current Cirium schedule data for July 2023 the following carriers are offering flights in July 2023 (weekly frequency in brackets):
Air Dolomiti: Frankfurt (13)
Condor: Düsseldorf (1), Frankfurt (1)
ITA Airways: Rome FCO (28)
Ryanair: Barcelona (2), Bari (5), Brussels CRL (2), Cagliari (2), Catania (4), Dublin (2), London STN (4), Malta (2), Naples (5), Palermo (4), Valencia (2)
TUI fly Deutschland: Hannover (1), Munich (1)
Wizz Air: Tirana (2)
Connected to high-speed rail network
In 2018, the airport celebrated the opening of an intermodal hub. The terminal is connected to a high-speed rail station by a 425-metre covered, elevated walkway, crossing a large car park. According to the airport's website there are six high-speed and 48 interregional trains every day, in addition to the MICOTRA train to and from Villach and two daily train connections to and from Ljubljana operated by Trenitalia and Slovenske Zelenice.