Turkish Airlines and Aegean Airlines lead flag-carrier recovery in Europe; BA and Aer Lingus trail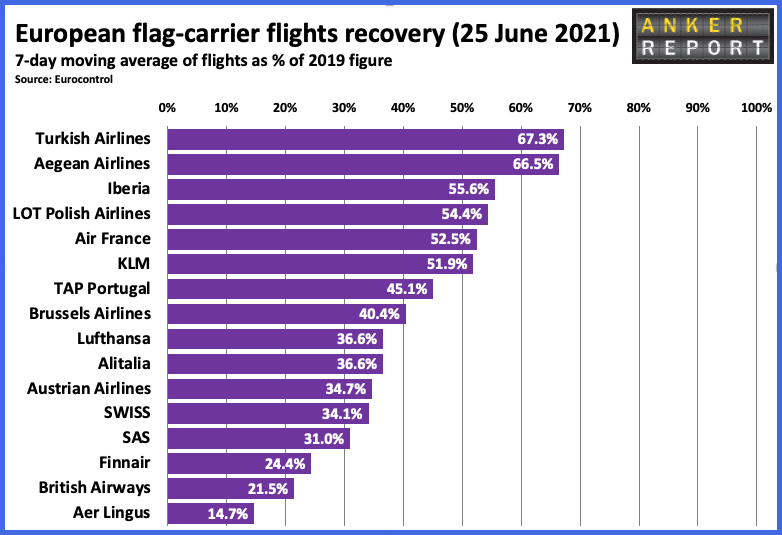 Analysis by The ANKER Report of the latest flight movement data published by Eurocontrol allows a comparison to be made about how quickly 16 of Europe's biggest flag-carriers are recovering. Calculating the average number of daily flights using a 7-day moving average (to remove day of week variations) for June 2021 and June 2019 shows how quickly (or not) some of Europe's biggest airlines are getting back to pre-pandemic levels of operation.
Turkey and Greece seeing quickest recovery
Leading the way with almost two-thirds of flights restored are Turkish Airlines and Aegean Airlines of Greece. Then come four airlines which are operating between 50% and 55% of their 2019 flights; Iberia (Spain), LOT (Poland), Air France (France) and KLM (Netherlands). Several Star Alliance carriers are currently flying between three and four of every 10 flights they had two years ago; Brussels Airlines (Belgium), Lufthansa (Germany), Austrian Airlines (Austria), SWISS (Switzerland) and SAS (Denmark, Norway and Sweden).
Languishing in the bottom three are a trio of oneworld (or former oneworld) airlines. Finnair's operation are now at almost one-quarter of where they were two years ago, while the UK's British Airways has only recently passed the 20% mark for recovery. Finally, well adrift at the bottom at present, is Aer Lingus, operating fewer than one in every six flights compared with before the pandemic.
LCCs now recovering quickly led by Ryanair and Wizz Air
Across all major European airlines, Turkish Airlines lags behind Wizz Air (70% of flights recovered) and the much smaller Norwegian airline Widerøe, which is operating as many flights now as it did two years ago. Two of Europe's other major (U)LCCs, Ryanair and Vueling, are now both above 50% of their pre-pandemic flight levels. However, easyJet is still only at 23% and restructured Norwegian is down at 11%.
In terms of flights tracked by Eurocontrol on Saturday 26 June, Ryanair leads the way with 1,589, followed by Turkish Airlines (1,085), Air France (760), Lufthansa (682), KLM (569), Wizz Air (540) and easyJet (528). At the other end of the scale, Finnair operated just 71 flights, Norwegian 54 and Aer Lingus a mere 40.