Turkish Airlines's US flights up 80% versus 2019; Seattle-Tacoma becomes 12th US destination

Turkish Airlines has launched a new service to the US with the introduction on Friday 27 May of 4-weekly service between Istanbul IST and Seattle in the state of Washington. The 9,770-kilometre route will be flown using the Star Alliance member's 300-seat 787-9s. Flights depart Istanbul every Monday, Wednesday, Friday and Sunday at 14:05 local time and are scheduled to land in Seattle at 16:15 local time, after a flight time of 12 hours and 10 minutes. Flight numbers TK203 and TK204 have been assigned to the route. Curiously, neither the airline nor the airport seem to have made much of a fuss about this new route, maybe not helped by the fact that the inaugural service arrived just before the start of the Memorial Day weekend in the US.
12th US route for Turkish Airlines
For Turkish Airlines this is now the airline's 12th non-stop service to the US from Istanbul. The full list is as follows, showing current frequency and how this compares with June 2019:
Atlanta: daily, up from 5-weekly
Boston: 10-weekly, up from daily
Chicago ORD: 2-daily, up from daily
Dallas/Fort Worth: daily (launched 24 September 2021)
Houston IAH: 10-weekly, up from daily
Los Angeles: 2-daily, up from daily
Miami: 2-daily, up from daily
New York EWR: daily (launched 21 May 2021)
New York JFK: 3-daily, unchanged
San Francisco: 2-daily, up from daily
Seattle: 4-weekly (launched 27 May 2022)
Washington IAD: 2-daily, up from daily
Since June 2019, the airline's US flights have increased by 81% from 75-weekly to 136-weekly. As a result, Turkish Airlines now ranks as the fifth biggest European carrier on flights between Europe and the US. Only British Airways, Lufthansa, Air France and Virgin Atlantic offer more weekly flights in the market this summer.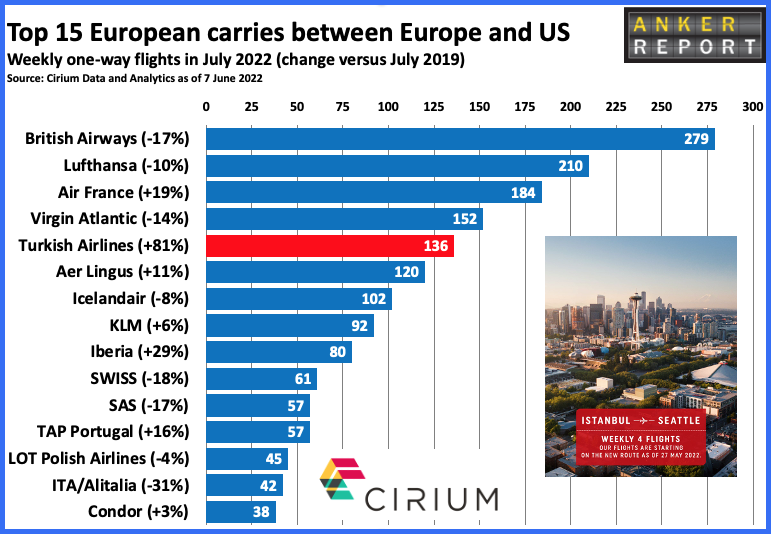 Seattle also welcomes Finnair
Seattle, which is the host city for the 150th IATA Slot Conference later this month, will welcome 90 weekly flights from Europe in July, compared with 88 back in 2019. Apart from Turkish Airlines, Seattle has also gained a 3-weekly service from Helsinki with Finnair (launched on 1 June) and Delta launched Heathrow service last summer. However, Norwegian's service to Gatwick no longer operates.
What they said
Lance Lyttle, SEA Airport Managing Director, said: "The Seattle area is one of the most diverse regions in the country, with over a quarter of our residents foreign-born. Turkish Airlines expands connections for our travellers to destinations throughout Africa, Asia, Europe, and the Middle East. On top of that, Istanbul is an exciting city and a must-visit on any traveller's bucket list."
Prof. Dr. Ahmet Bolat, Turkish Airlines Chairman of the Board and the Executive Committee, added: "We are pleased to open our new Seattle gateway, the first in the Pacific Northwest, as we continue to expand our US presence and global route network. We invite Seattle to connect with the world with Turkish Airlines' world-class service, award-winning cuisine, and world-famous Turkish hospitality. We are sure that each experience would be another unmatched discovery for them."