UK capacity recovery at 87% in December; eight of top 15 airlines growing including Wizz Air and Loganair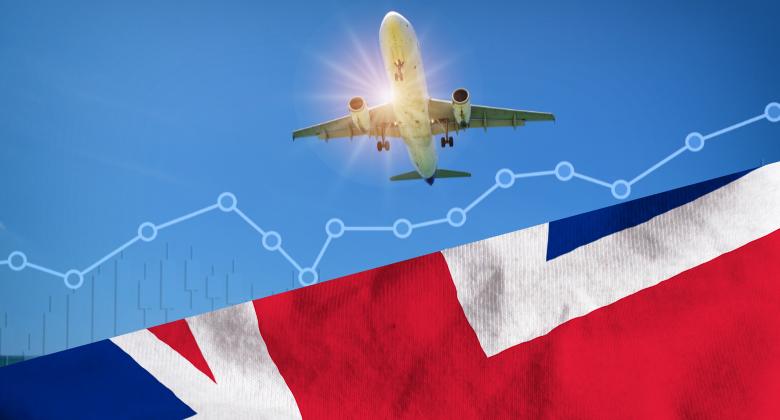 Since the arrival of COVID, the UK's recovery in air travel demand has been well below the European average with the country adopting severe travel restrictions in the early days and waiting longer than many of its European neighbours before removing the majority of restrictions. It has consistently lagged behind its major European rivals France, Italy, Spain and Turkey, though it has done better than Germany.
Using Cirium schedule data, a closer look at the UK recovery broken down by the leading airlines with UK AOCs reveals how each has recovered since April 2020. Monthly capacity data between January 2020 and December 2022 has been compared with the equivalent month in 2019 to produce a recovery rate where 100 represents a full capacity recovery.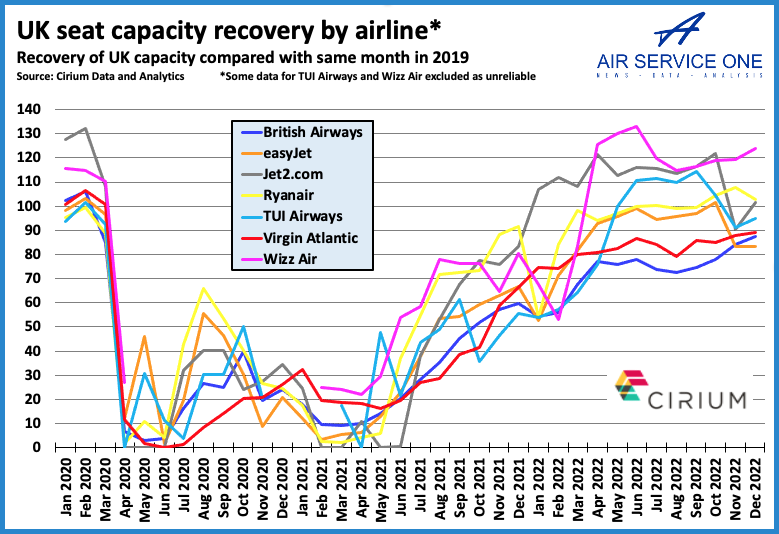 As can be seen from the seven airlines examined at different points in time Jet2.com, Ryanair, TUI Airways and Wizz Air have all had the highest monthly recovery rates. Note that Wizz Air data has been excluded between May 2020 and January 2021 as the schedule data provided by the airline to Cirium sadly bore little resemblance to what was actually being flown, something analysts in the future may wish to make a note of. Similarly, schedule data for TUI Airways for December 2020 to February 2021 has been excluded as being unrepresentative of what was actually flown. A couple of other data points, notably in May 2020 also look dubious. Given what was going on at the time some airlines were clearly not prioritising providing accurate schedule data to third parties.
All seven airlines have now reached a recovery rate in November and December of at least 80%. During the peak summer period, three airlines (Jet2.com, TUI Airways and Wizz Air) were consistently well above 100%. However, British Airways has been at around 75% for most of the summer
14 of top 15 airlines in UK now all back at over 80%
Among the UK's top 15 airlines for seat capacity in December, only one (KLM) has not yet restored seat capacity to at least 80% of what it was offering in December 2019. The Dutch flag-carrier is currently offering 17 routes to Amsterdam from the UK compared with 16 that it was flying previously, having resumed service to Southampton in August 2020. It had previously operated the route until March 2019. However, frequency and capacity has been reduced by at least 20% on 13 of the 17 UK routes.
Joining Wizz Air (+24%) with capacity now at least 10% higher than it was three years ago are Vueling (+17%) and Aer Lingus (+16%). However, the biggest growth has been achieved by Loganair (+42%). The Scottish-based regional carrier has taken advantage of the collapse of the original Flybe to considerably expand its UK operation with the addition of many new routes. It has only increased flights by 15% but has seen a significant increase in average aircraft size. Although it has suspended flights from Carlisle, East Midlands and London SEN it has added the following airports to its route network; Birmingham, Cardiff, Exeter, Liverpool, London LCY, London LHR, Southampton and Teesside.
In December 2019 Flybe was the UK's fourth biggest carrier (by seats). The new Flybe ranks 21st and its capacity is just 12% of what the original carrier was offering three years ago.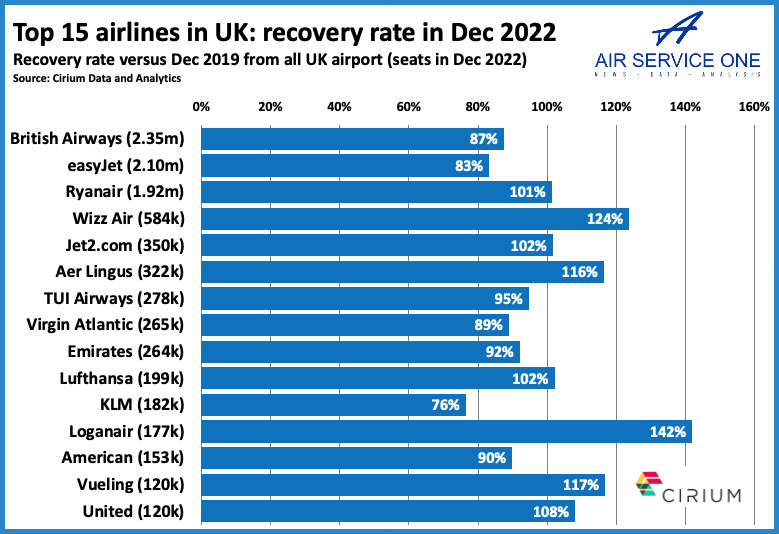 Several significant airlines that served the UK in December 2019 are no longer flying to/from the UK. These include Aeroflot, Blue Air, LEVEL (now only operating long-haul flights from Barcelona) and PIA.