US demand likely to be down just 5% to 10% in Q3; South Carolina and Idaho see fastest growth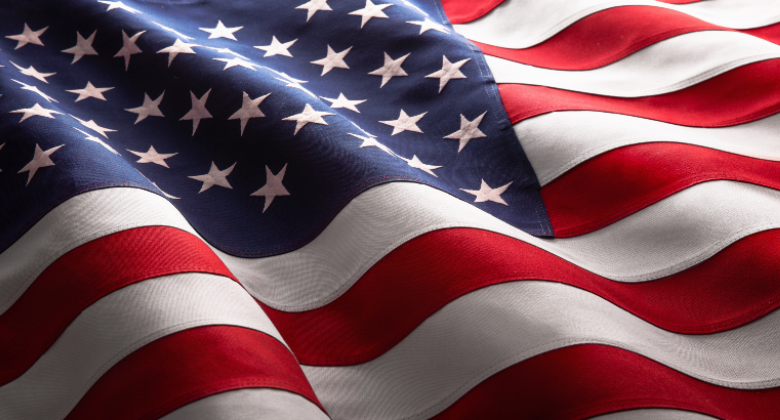 Since the start of the pandemic, domestic air travel in many countries has recovered more quickly than international air travel, as many countries put in place severe travel restrictions aimed at reducing the number of imported cases of Covid. Countries with large domestic markets (such as the US, Turkey and Mexico), or where domestic air travel plays a key role in connecting communities (such as Norway), saw traffic recover more quickly.
US demand currently at 90% of 2019
TSA passenger data shows that domestic demand in the US reached 25% of 2019 levels as early as July 2020 and 40% by the time Thanksgiving happened in November 2020. Between March 2021 and July 2021, the rate of recovery rapidly improved from 45% to 80%. Thereafter the recovery faltered somewhat, with some peaks (normally coinciding with holiday periods) and troughs. However, since mid-March 2022, the recovery rate has been steady at around 90%. If airline capacity data is a guide, this rate may improve a little further during the summer, but not by much.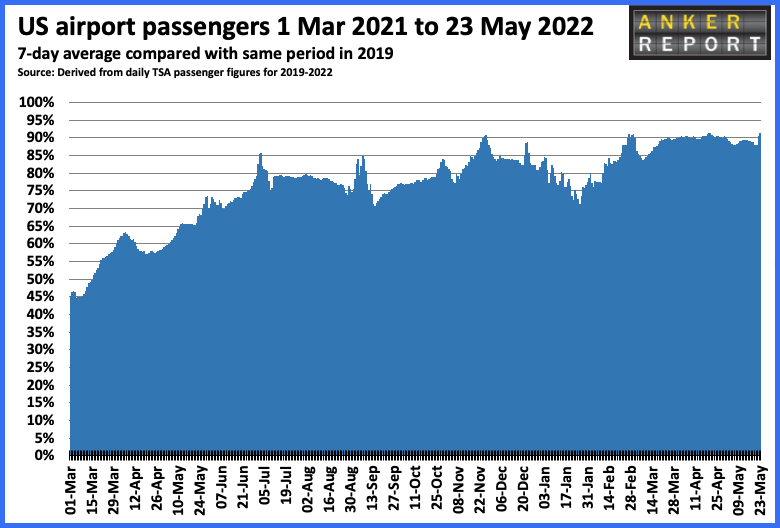 Q3 capacity down at least 4%; (U)LCCs gaining market share
Looking ahead to the financially all important third quarter of 2022 (July to September), analysis of Cirium schedule data suggests that airline capacity across all US airports is currently planned to be down just 4% compared with the same period in 2019. However, in recent weeks all US airlines have been continuing to fine tune their capacity, usually in a downwards direction. As a result, it is quite likely that actual capacity may be 5% to 7% below 2019 levels by the time we get to the end of Q3.
A look at the leading airlines in the US market shows significant variations in terms of their recovery rate. The three global US carriers are all showing capacity reductions versus 2019 of between 5% (American) and 10% (Delta) with United (7%) in between. However, the country's lower-cost airlines are all reporting growth compared with three years ago, with Allegiant (+30%) leading the way, followed by Spirit (+12%), Frontier (+8%) and Southwest (+6%).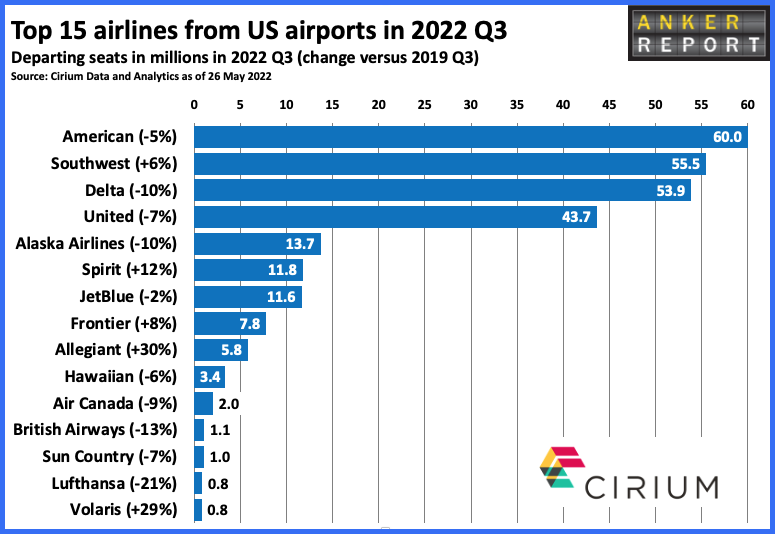 Among foreign carriers, Mexico's Volaris has seen US capacity grow by 30%. Just outside the top 15, newcomer Breeze is already in 17th place, while fellow start-up Avelo is ranked 21st. Turkish Airlines has rapidly risen up the rankings and is now 20th, as a result of 80% capacity growth. Other new airlines in the US market in 2022, not present in 2019, include Reno-based aha!, Lufthansa's leisure subsidiary Eurowings Discover, Canada's Flair and Icelandic newcomer PLAY.
South Carolina and Idaho are fastest-growing states
The pandemic has also seen a change in travel patterns. With business traffic recovering more slowly than leisure traffic, and passengers keen to explore and travel to less densely populated areas, there have been clear winners and losers among US states and individual airports. Based on current capacity data, 20 US states/territories are set to experience capacity increases in the third quarter of this year compared with 2019. Seven states will even see double-digit capacity growth, with South Carolina (+19%) and Idaho (+18%) leading the way.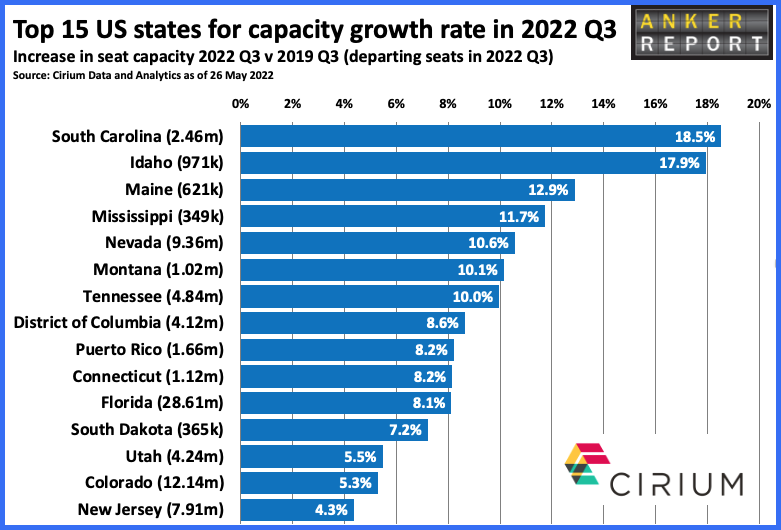 South Carolina has benefited from significant capacity growth at Myrtle Beach (+47%) and Charleston (+30%), while the smaller Idaho market has seen Idaho Falls capacity increase by 95% and Boise seats increase by 16%. If measured by additional seats, Florida (2.15 million more seats), Nevada (plus 895,000) and Colorado (plus 609,000) will all be welcoming over half a million additional seats in Q3.
At the other end of the rankings, Oregon (down 21.4%) and Wisconsin (down 21.0%) have seen air capacity drop by more than 20%. In Oregon, Portland's capacity is down 28%, while in Wisconsin, nearly all airports have seen a significant cut in capacity, with Milwaukee (down 22%) the busiest airport in the state.
Miami, Las Vegas and Austin see biggest seat growth
At an airport level, several smaller facilities (but still among the 200 busiest airports in the US) have seen capacity grow by more than 50%. Thanks to the arrival of Avelo, Tweed New Haven Airport in Connecticut has seen capacity growth of 720%. Melbourne in Florida (thanks to TUI Airways launching flights from the UK) and Provo in Utah (thanks mainly to Allegiant) have both seen capacity double in the last three years. The other top 200 US airports that have seen growth of more than 50% are Sarasota/Bradenton (+96%), Idaho Falls (+95%), Palm Springs (+77%), Key West (+64%) and Bozeman (+51%).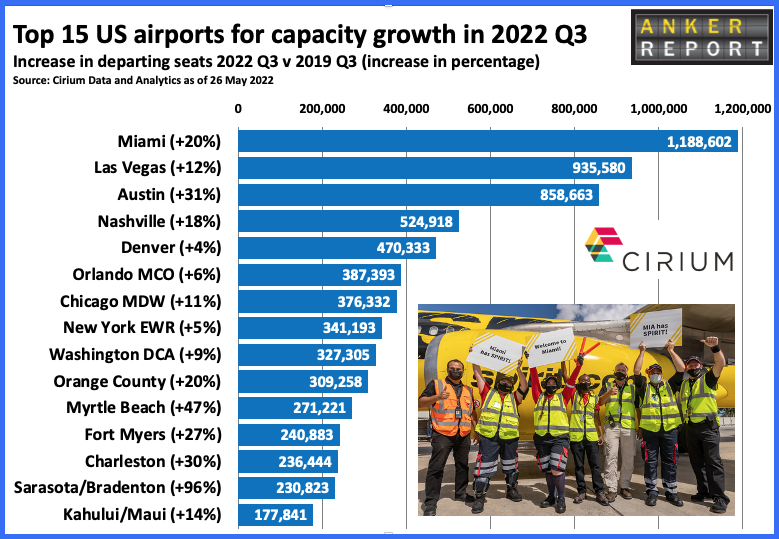 If measured by additional seats rather than percentage growth, Miami leads the rankings with an additional 1.2 million departing seats in Q3, representing an increase of almost 20% versus 2019. Three other airports are expecting at least 500,000 more departing seats; Las Vegas, Austin and Nashville. Of the top 15 airports for additional seats, four are in Florida and two are in South Carolina.