151st IATA Slot Conference heads down under to marvellous Melbourne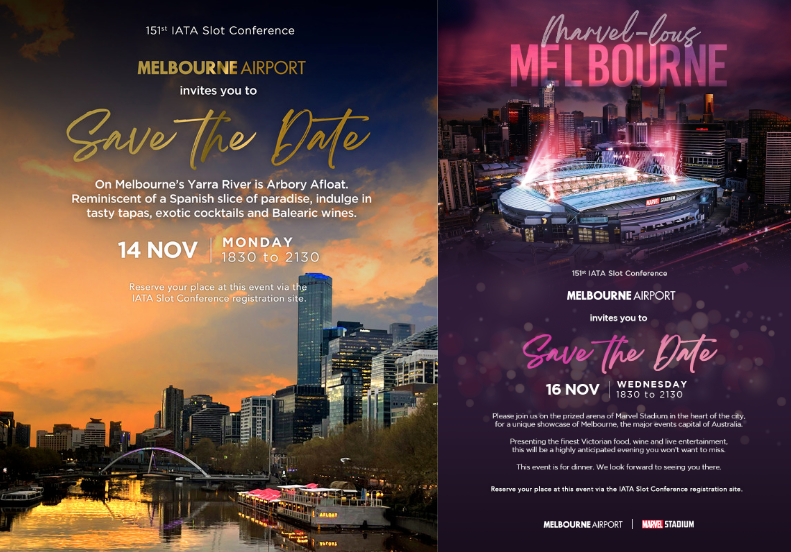 As summer migrates to the Southern Hemisphere once again, Melbourne International Airport is gearing up to host the 151st IATA Slot Conference (15-18 November).
The event will bring together airline and airport slot coordinators from around the world, ahead of what promises to be a busy 2023 for global travel.
For four days Melbourne International Airport will showcase the best of the city and the wider state of Victoria, kicking off with a cocktail soirée on the Yarra River on 14 November. The waterway is the lifeblood of the city and provides a scenic setting for this welcome party. Reserve your place for the event via the Slot Conference registration site.
Melbourne, of course, has a hard-earned reputation as a culinary hotspot and events capital. With that in mind, on 16 November the airport will host a money-can't-buy dinner at the city's Marvel Stadium, where delegates will be treated to fine foods, delicious wines and live entertainment. Again, reserve your place via the registration site.
Melbourne International Airport will also be spilling the beans about its plans for the coming years at the conference. With so many exciting developments in the pipeline for both the airport and the city of Melbourne, the team welcomes the opportunity to share this information with IATA delegates. Find them at booths 64-65. Be sure to stop by and pick up a souvenir footy.