196 new services launched in seven weeks by 47 airlines in Europe; 166 airports in 49 countries involved as Ryanair leads way once more
In the seven weeks since The ANKER Report was last published, Europe's airlines have again been busy starting a significant number of new routes. This analysis covers the period of Saturday 24 July to Friday 10 September, a total of 49 days. While The ANKER Report would like to believe that it has identified all of the new routes launched across Europe during this period, the reality is that several new services are likely to have been overlooked for a variety of reasons. Feel free to let me know via my e-mail.
Almost 200 routes launched in last seven weeks
However, what can be said with reasonable confidence is that at least 196 new routes involving European airports have been identified and confirmed, as a result of checking airline websites, published schedule data, flight tracking websites and the airports and airlines themselves. That equates to an average of exactly four new routes per day.
These routes have been launched by almost 50 airlines (some from outside of Europe) and involve over 150 airports across almost 50 countries. Yes, the last seven weeks has seen new routes added between Europe and regions outside of Europe, including Africa (Eurowings Discover to Namibia), the Middle East (SkyUp Airlines to Saudi Arabia) and North America (WestJet from Calgary to Amsterdam and JetBlue's first transatlantic service from New York JFK to London LHR).
For full details of all these new routes, including weekly frequency, aircraft type, sector length and competitor analysis, please check out the downloadable New European Route Database (NERD) file, which can be downloaded free from this website. During these challenging times, with constantly changing travel restrictions, airlines have had to be flexible in their planning. As a result, route launch dates have often been pushed back not just once, but sometimes several times. In some cases planned routes have been completely abandoned, at least for the foreseeable future. Airlines would rather push back a launch date, than start a route and then have to suspend it and then restart it, as this is not good for an airline's reputation and is expensive operationally.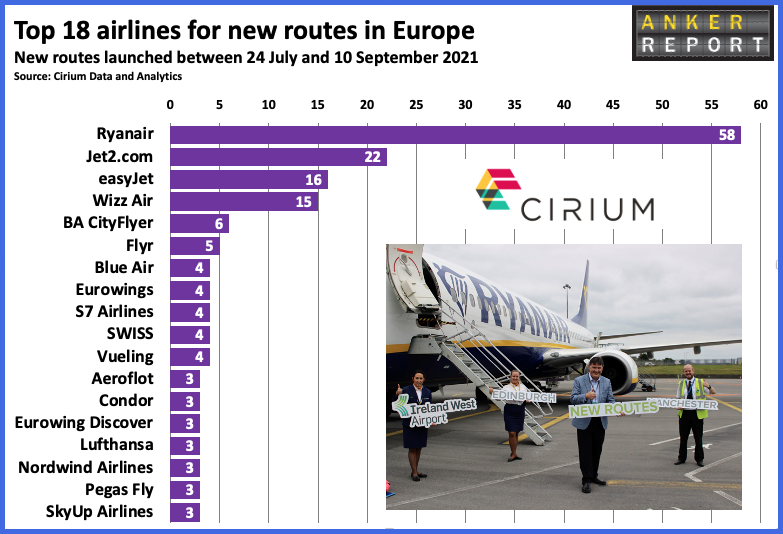 Ryanair leads the way once more
Among airlines, one carrier has been way ahead of all others, Ryanair. Its 58 new routes account for almost 30% of all new services launched during the last seven weeks. Next comes UK leisure carrier Jet2.com with 22. Most of these should have started much earlier in the summer, but were delayed due to the UK's on-going travel restrictions. Only two other carriers, easyJet and Wizz Air, saw at least 10 new routes added.
Other carriers with multiple new routes include Norway's new airlines Flyr, BA CityFlyer expanding operations from Southampton, four German carriers and four Russian carriers.
Bristol top for new route launches
Of the top 20 airports for most new services, five were in Greece, four were in the UK and three were in Italy. The remaining eight airports are all in different countries. Bristol in the UK is maybe the surprise leader in this category, but this is down to 13 delayed new routes from Jet2.com's new base, plus additional services from easyJet and Lufthansa.
Zagreb's prominent position is thanks to Ryanair launching 10 new routes from the airport, while Oslo's five new services were all thanks to Flyr.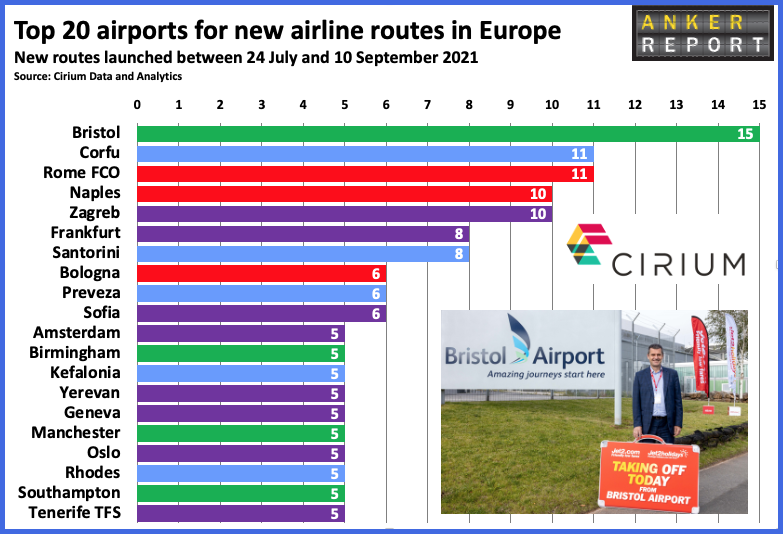 Italy beats Greece for new services
Italy just beat Greece and the UK for being involved in most new services during the last seven weeks. Italy benefitted from the launch of multiple domestic routes, which get counted twice, as both airports are in Italy. Greece's new services were all international, with the exception of a new Ryanair service connecting Corfu with Santorini.
One country that underperformed regarding new routes was France, which registered just 10. Of these nine were launched by non-French carriers with Air France not adding any new services recently.