25% of Keflavik's 2022 passengers connected; Icelandair and PLAY benefit from 24-hour hub system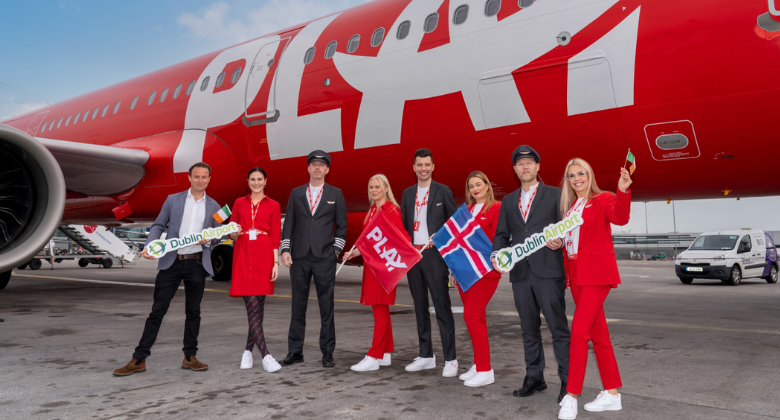 Keflavik welcomed 6.13 million passengers in 2022, based on Isavia's figures. Last year, about seven in ten passengers flew Icelandair and PLAY. When all airlines are considered, virtually three-quarters of traffic was local, while a quarter connected. Excluding 2020/2021, that was the lowest proportion of connecting passengers for many years, reflecting the recovery, PLAY's US launch in April 2022 and the end of WOW Air.
It was WOW Air and Icelandair's growth that largely contributed to the significant traffic in seen in 2017/2018, as shown in the following figure. Connecting traffic peaked at almost 40%, thanks to their relentless expansion and competitive reaction.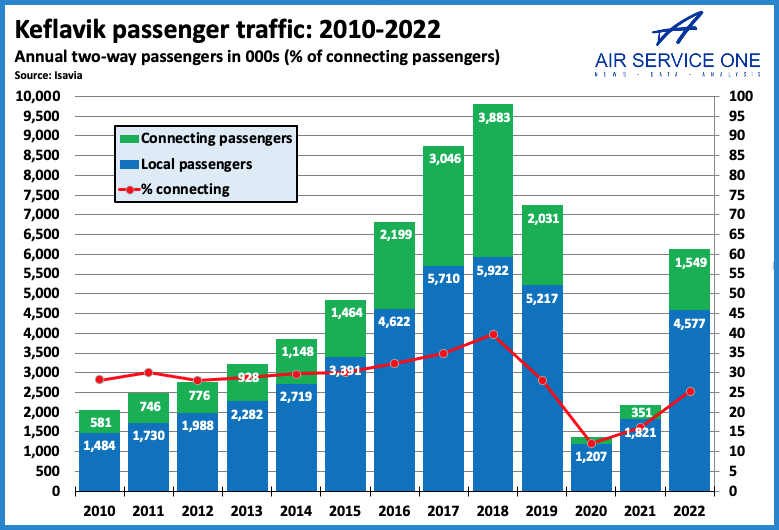 More than a third of Icelandair's passengers connected
Icelandair's investor relations document for 2022 shows that 34% of its international passengers transferred at Keflavik last year. Its report shows that Q3 was especially important for this market. In contrast, Icelandic passengers – keen to escape the country's cold – were nearly twice as great, percentagewise, in Q4 than Q3.
The following figure provides a breakdown of Icelandair's arrivals and departures per hour in the first week of August (only hours with flights are shown). While the carrier has various services timed for the local market, its connection setup is clear to see.
Like PLAY, Icelandair benefits from Iceland being the only 24-hour hub system in Europe or North America, taking advantage of time zone changes. This enables one aircraft to operate Keflavik-North America-Keflavik-wider Europe-Keflavik in a day. In contrast, most other airlines, based elsewhere, can only achieve one roundtrip.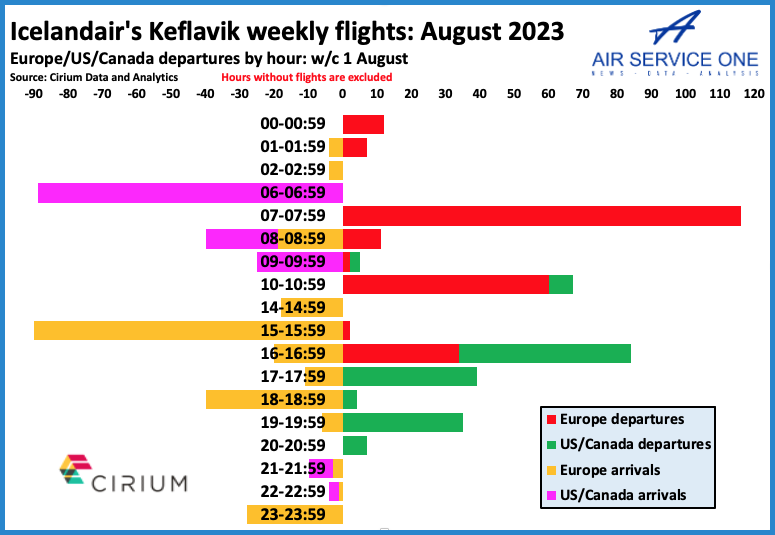 Icelandair's waves in the peak summer
To capitalise on the peak summer connecting market, Icelandair has multiple waves of flights. This contributes to the carrier having a considerable 650+ connection options in S23. By far the most important waves see US/Canada services arrive in Iceland between 06:00-06:59, with departures across Europe primarily 07:00-07:59. These arrive back in the mid-afternoon, with flights to North America departing between 16:00-17:59. Most then arrive back in the early morning. Detroit, which begins on 18 May (4-weekly), is timed in this pattern. It will benefit from the greatest connectivity and volume of passengers.
Icelandair's North America services also arrive at Keflavik between 08:00-09:59, mainly from airports located further away and those with higher frequencies, with aircraft continuing across Europe from 10:00-10:59. These arrive back in the early evening, helping to feed a growing mid-evening departure bank, between 19:00-20:59. These go to Chicago ORD, Seattle, New York, Boston, Toronto, Washington IAD and more, arriving back between 08:00-09:59.
Icelandair also has daytime summer flights to Boston and New York, its two main markets. These return to Iceland in the late evening, feeding onward overnight flights to certain continental airports, such as Berlin, Copenhagen, Frankfurt, Paris. They benefit from another forward time zone change. These aircraft arrive back between 08:00-08:59, feeding day services to New York and Boston, which get back in the evening.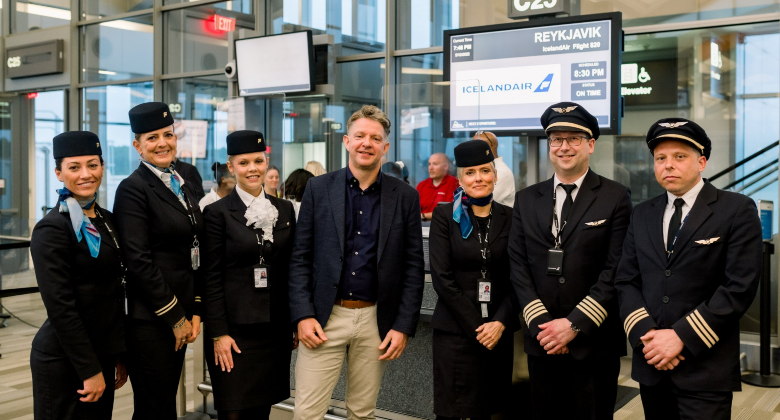 It is much simpler for PLAY
Being considerably newer and smaller, PLAY's schedule coordination for connecting markets is much simpler. Based on the same August week, flights arrive from the US – and Toronto YHM, which begins on 22 June (daily) – between 04:00-04:59.
Most aircraft leave for wider Europe between 06:00-06:59, primarily arriving back 13:00-13:59. US/Canada services then depart 15:00-15:59, returning very early the next day. Washington IAD, which launches on 26 April (daily), is, of course, also timed like this.