31 Mexican airports have US flights with 206 airport pairs; Cancun has overtaken Mexico City for #1 spot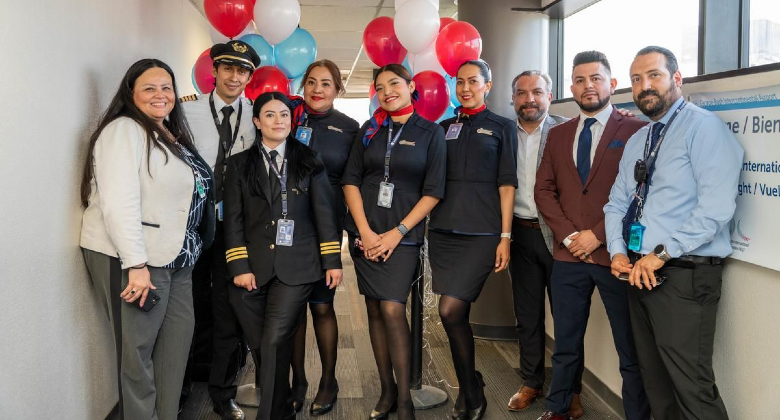 Mexico to the US is the world's third-largest international country market based on August flights. According to Cirium schedules information data, there are 2,764 weekly departures that month (nearly 400 daily). It is smaller than only USA-Canada and UK-Spain. Mexico-US August departures are 8.8% above 2019 and 2.2% greater year-on-year, the previous record. 31 airports in Mexico and 49 in the US have flights in the analysed period.
31 airports in Mexico have US service
They now include Mexico City NLU (Felipe Ángeles). It is thanks to Aeromexico, which launched Houston IAH on 1 May (daily). While analysis of Cirium data tells that Mexican airports have non-stop flights to a median of three US airports in August, 10 have flights to just one – including NLU. For now, only Houston IAH is scheduled from that Mexican airport.
As the following figure shows, Cancun has more US flights than any other airport. Like other inbound tourist destinations, like Los Cabos and Puerto Vallarta, Cancun has benefited enormously from the strong pandemic-driven growth. This has seen the resort airport's US flights rise by over half versus 2019. When combined with Mexico City's flights reducing by a fifth, Cancun surpassed the capital as the leading Mexican airport for US service. Some 39 US airports are linked to Cancun.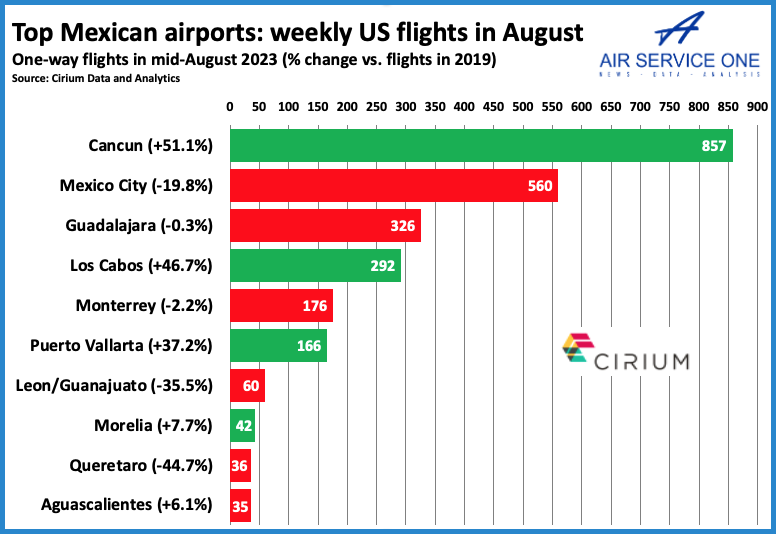 206 airport pairs; Cancun-Dallas DFW #1
Despite the 2.2% year-on-year rise in departures, airport pairs have fallen from 220 last August to 206 now. But they have increased from 193 in 2019, a modest increase, with the growth mainly coming from densification.
With 86-weekly flights, Cancun-Dallas DFW is the leading market. It connects Mexico's leading airport to the US with the US' leading airport to Mexico. Cancun now features five times in the top airport pair list, against just twice in 2019. Four airlines serve DFW-Cancun in August: American (49-weekly), Sun Country (16), Spirit (14) and Frontier (7). Of course, connecting passengers are an important part of this market.
What was the leading airport pair – Mexico City to Los Angeles – has fallen to sixth. But the biggest surprise is the growth of Cancun-Denver. In 2019, it ranked 43rd and had 19-weekly flights. Now it is 10th with 49-weekly. There's United (21-weekly), Frontier (14) and Southwest (14).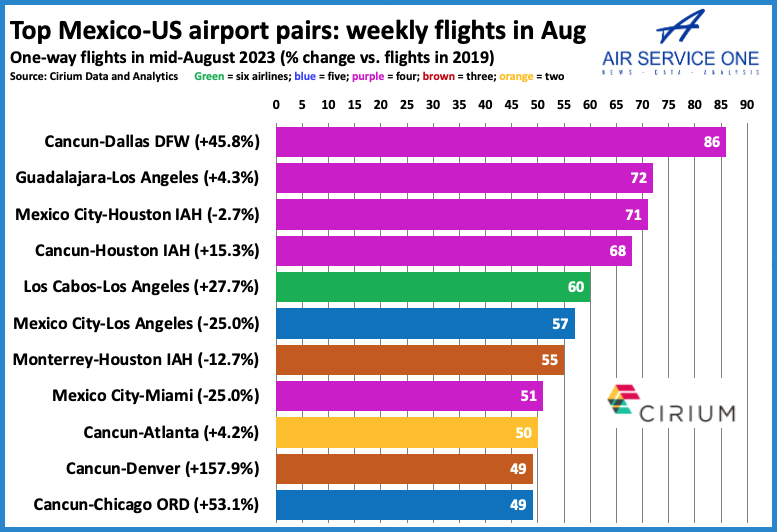 American is the largest carrier; more than 70% of flights by US airlines
The world's third-largest country market has non-stop flights by 12 carriers this August, with US carriers providing 72.7% of services. Mexican airlines are, of course, particularly important on routes less about inbound US tourism.
With 612-weekly flights and more than one in five of the total (22.1%), American is the largest operator. It has overtaken United for the top spot. American has 42 routes in the examined time, encompassing 24 Mexican airports and 10 in the US.
Not surprisingly, most of the airline growth has come from (U)LCCs, both US and Mexican. These include Vivaaerobus, which, while it now ranks seventh, will benefit from big future growth if/when its joint venture with Allegiant materialises. This will see many new routes, especially to/from key tourist destinations. Previously, it said some 150+ routes may be launched.