31 new US-Europe routes in S23; United has overtaken Delta as the #1 carrier in this huge market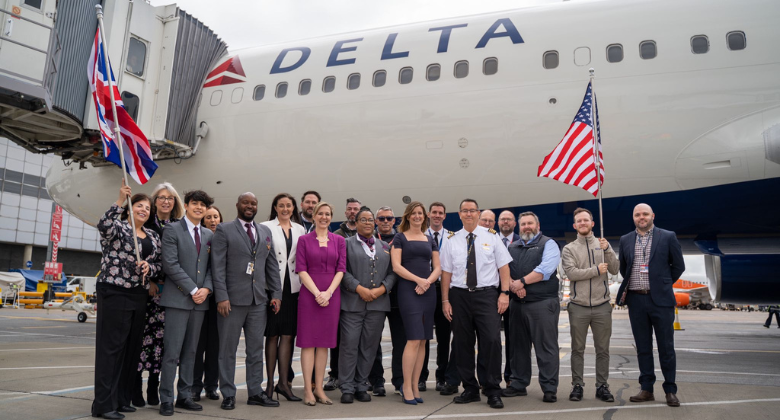 The United States to Europe is by far the world's largest long-haul market. According to Cirium schedules information data, there are 3,903-weekly one-way flights this August (about 558 daily). They have risen by 1.7% versus the same week in 2019. Some 320 airport pairs and 466 routes are served in this all-important month.
Much has changed versus 2019. Aeroflot, Air Italy, Air New Zealand, Alitalia, Corsair, Eurowings, Level (LV IATA code), Norwegian, Thomas Cook, Ukraine International and XL Airways no longer serve the market for various reasons. However, Eurowings Discover, ITA Airways, JetBlue, Neos, Norse Atlantic (two AOCs) and PLAY have entered. The market's development continues in summer 2023, with 31 new routes.
United is #1 to Europe
While 'only' four US carriers operate to Europe, they account for nearly half of August flights (45.3%). As the figure below shows, United, Delta and American are the top three operators. They are joined by JetBlue in 18th.
For many years, Delta was always the largest carrier – of all airlines – in this market. Some 20 years ago, for example, Delta was first and United sixth. Following the merger with Continental, United overtook Delta in 2012, but Delta soon regained the crown. It continued in this fashion until the pandemic hit.
United usurped Delta in 2020 and continues to be first. United's flights have increased considerably. They are up by more than a quarter versus August 2019 (+26.3%), with an additional 138 weekly one-way services (about an extra 20-daily). In contrast, Delta is +0.8% and less than half of the whole market. Yes, it has grown, but by far the shallowest of the six carriers in the top 10 to have expanded. Due to Turkish Airlines' huge growth, it has risen from 13th place to eighth. It replaces Norwegian, which ceased all long-haul flying.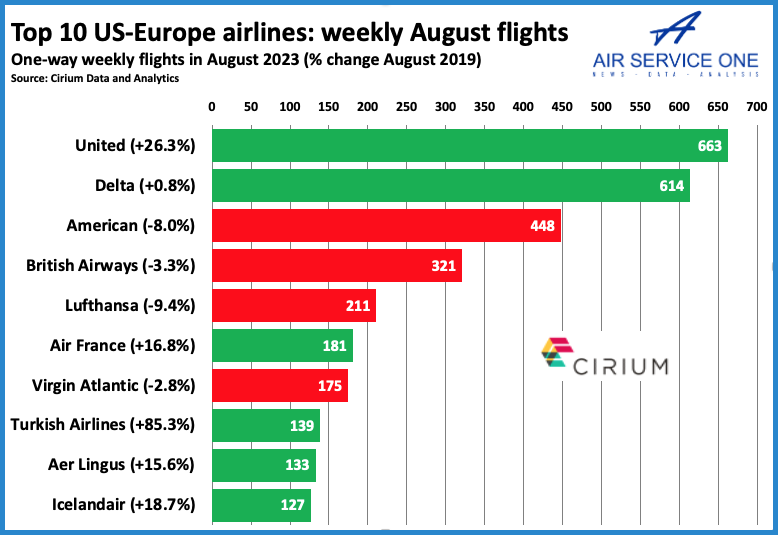 United has 26% more Europe flights than in August 2019
Examination of Cirium information tells that United has 74 Europe routes this August, up from 62 in 2019. It serves 14 European countries with its own metal on a network spanning 29 airports. Its growth is from densification on existing routes and, more excitingly, multiple new and often relatively thin destinations and routes.
Dubrovnik, Malaga, Nice, Palma, Ponta Delgada and Tenerife TFS are now served, along with a doubling of flights to Athens, Berlin, Milan MXP and Naples. It has been quite creative and different by historic standards, a legacy of the more entrepreneurial spirit that arose during the pandemic. And the importance of leisure markets – so crucial in the recovery – is obvious.
United is present on six of the top US-Europe airport pairs, as shown below. However, it is only the market leader, by flights, on three: Newark-London LHR, San Francisco-London LHR and Washington IAD-London LHR. With 42-weekly services in August, IAD-LHR is the ninth most-served US-Europe market. United has 21-weekly (half of the market), British Airways 14-weekly and Virgin Atlantic daily.
31 new routes this summer
All of the following are new this summer. Either they have not been served by the stated carrier or, if they have, not in the past decade, like Delta's Atlanta-Edinburgh (until 2007) and Air Serbia (by JAT until 1991). This does not include route swaps between AOCs, e.g., Norse Atlantic's London LGW-New York JFK switching from Norwegian to UK AOCs.
The 31 include some especially different routings, such as SAS between Aalborg-Newark and Atlantic Airways between the Faroe Islands and New York SWF. Having never been served before, United and ITA Airways will launch San Francisco-Rome this summer. Delta and Icelandair begin Detroit-Keflavik, last served by WOW in 2019.
26 March 2023: Norse Atlantic, Paris CDG-New York JFK (daily)
10 April 2023: Delta, New York JFK-Geneva (daily)
10 April 2023: Delta, New York JFK-London LGW (daily)
26 April 2023: PLAY, Keflavik-Washington IAD (daily)
27 April 2023: SAS, Aalborg-Newark (3-weekly)
28 April 2023: SAS, Gothenburg-Newark (3-weekly)
12 May 2023: Delta, Atlanta-Nice (daily)
15 May 2023: Delta, Detroit-Keflavik (4-weekly)
17 May 2023: Air Serbia, Belgrade-Chicago ORD (3-weekly)
18 May 2023: Icelandair, Keflavik-Detroit (4-weekly)
19 May 2023: Aer Lingus, Dublin-Cleveland (4-weekly)
25 May 2023: Delta, Atlanta-Edinburgh (daily)
25 May 2023: Delta, New York JFK-Berlin (daily)
25 May 2023: Norse Atlantic, London LGW-Orlando MCO (up to daily)
25 May 2023: United, Chicago ORD-Barcelona (daily)
25 May 2023: United, San Francisco-Rome FCO (daily)
25 May 2023: United, Washington IAD-Berlin (daily)
26 May 2023: Norse Atlantic, London LGW-Fort Lauderdale (up to 4-weekly)
31 May 2023: United, Newark-Malaga (3-weekly)
1 June 2023: Norse Atlantic, London LGW-Washington IAD (up to 6-weekly)
5 June 2023: British Airways, London LHR-Cincinnati (5-weekly)
13 June 2023: Air Tahiti Nui, Seattle-Paris CDG (2-weekly)
20 June 2023: Norse Atlantic, Rome FCO-New York JFK (daily)
29 June 2023: JetBlue, New York JFK-Paris CDG (daily)
30 June 2023: Norse Atlantic, London LGW-Los Angeles (daily)
1 July 2023: ITA Airways, Rome FCO-San Francisco (up to 4-weekly)
1 July 2023: Norse Atlantic, London LGW-San Francisco (3-weekly)
23 August 2023: Atlantic Airways, Faroe Islands-New York SWF (weekly)
29 August 2023: JetBlue, New York JFK-Amsterdam (daily)
2 September 2023: Norse Atlantic, London LGW-Boston (5-weekly)
20 September 2023: JetBlue, Boston-Amsterdam (daily)