34 Caribbean airports have flights from Europe this winter; Air France remains the number one carrier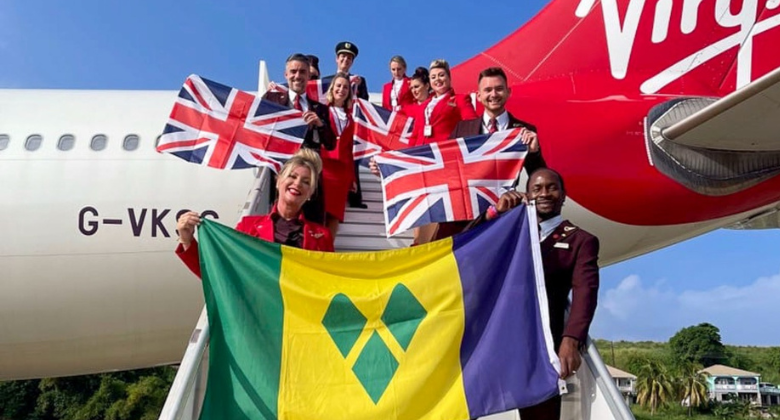 With the promise of warm temperatures, there are an average of 50 daily departures from Europe to the Caribbean this winter, according to Cirium schedules data. In total, the market has just under 2.8 million departing seats, 2% smaller than in the high of W21 (and 10% below W19). The year-on-year (YOY) change is primarily because of Russian capacity – the country was the fifth-largest source of seats last winter – which has fallen by 83%.
France and UK are leading markets for Caribbean flights
Nine European countries and 26 airports have Caribbean flights in W22. Heavily influenced by historic ties and VFR traffic, France remains the leading market. It has 30% of seats with service to eight airports in the region; Pointe-a-Pitre (Guadeloupe) and Fort De France (Martinique) have 70% of capacity. Others include little-known San Salvador (Bahamas) linked from Paris ORY weekly by Air Caraïbes; it is non-stop to San Salvador and via Punta Cana to France. Paris ORY is Europe's number one airport to the Caribbean.
With 29% of capacity, the UK is the Caribbean's second biggest market. However, it has flights to 17 airports and is much bigger in this context. Barbados is far and away the main destination and St Vincent the most recently added (by Virgin Atlantic in October 2021). Then come the Netherlands (14% of seats), Spain (12%) and Germany (8%).
All except the UK and Spain have lower capacity YOY. The UK has over 811,000 departing seats to the Caribbean, up by 19%. Crucially, it is also higher than in W19. TUI is +67% YOY, British Airways +8% and Virgin Atlantic +7%. TUI's growth, which exceeded pre-pandemic figures, was chiefly because of substantial increases to ever-popular Barbados and Jamaica.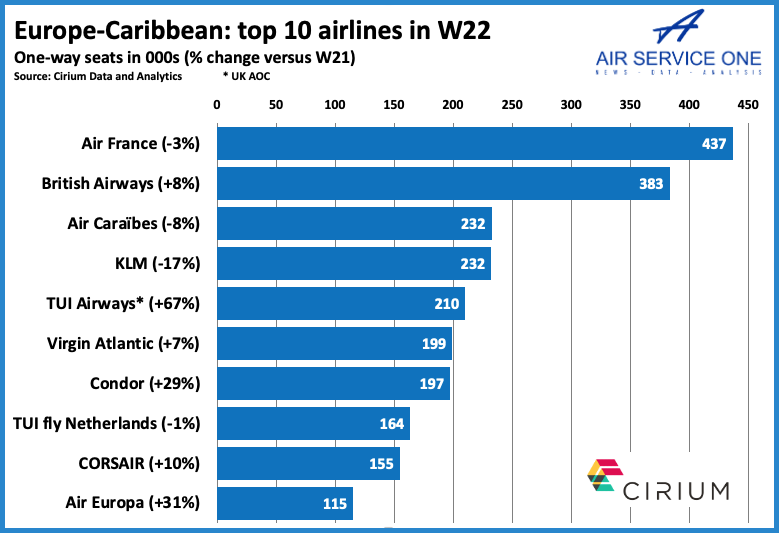 22 Caribbean countries, 34 airports
Some 22 Caribbean countries have service from Europe, with the Dominican Republic firmly the most popular. It has a fifth of capacity and almost twice as much as number two, Guadeloupe. In W22, five Dominican Republic airports have Europe flights: Punta Cana, Santo Domingo, La Romana, Puerto Plata and Santiago (the latter just two Plus Ultra charters from Madrid before Christmas). It is overtaken by only Cuba (six airports). Yet, it is Barbados that is the leading Caribbean destination (12% of European departures), closely followed by Punta Cana and then Pointe-a-Pitre, Fort De France and Havana.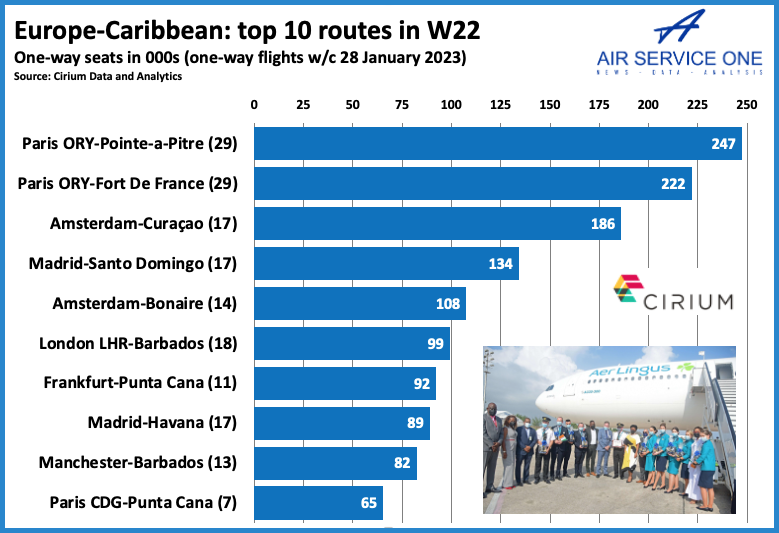 New routes from several carriers
Airlines continue to identify new route opportunities. They include the following in W22 and into summer. According to Cirium, it is the first time that Frankfurt and Düsseldorf have had Martinique flights, and the first time that Rome has had service to Guadeloupe. British Airways will launch Aruba at the start of S23, the maiden UK scheduled flight to the Dutch Caribbean country.
11 November 2022: Iberojet, Madrid-Santiago (Cuba; 2 weekly)
4 December 2022: Condor, Düsseldorf-Fort De France (monthly! Four flights in all)
4 December 2022: Eurowings Discover, Frankfurt-Fort De France (monthly; four flights)
23 December 2022: Neos, Rome FCO-Pointe-a-Pitre (weekly)
23 December 2022: Air Belgium, Brussels BRU-Bonaire and Curaçao (2-weekly); via Curaçao back to Belgium
26 March 2023: British Airways, London LGW-Aruba (2); via Antigua in both directions
30 June 2023: World2Fly Portugal, Lisbon-Samana, Dominican Republic (1); as Santiago has no transatlantic flights in S23, the country will still have long-haul from five airports