95% of Binter Canarias' flights are within the Canary Islands; international network growing with E195s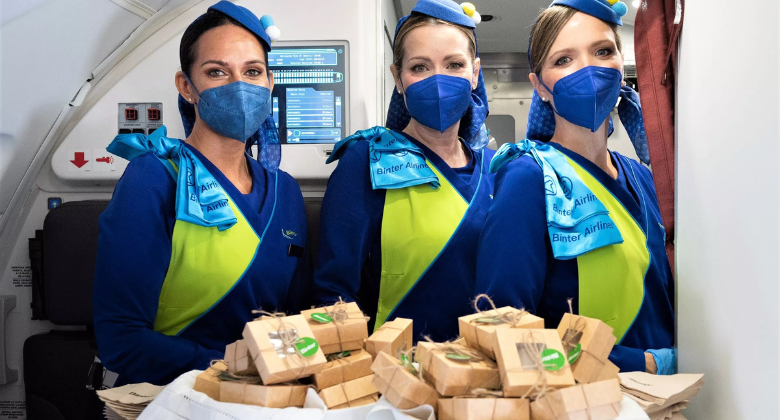 While Binter Canarias has a small network of non-Spanish routes from Madeira, almost all its operation revolve around the Canary Islands from which its name derives. With a fleet of 32 aircraft – 27 ATR-72s and five Embraer E195-E2s – it has 43,500 flights to/from/within the Canaries this summer, according to Cirium schedules information data. That is 4% more than its previous peak (S22) and 17% more than S19. Binter is responsible for 40% of the Canary Islands flights, obviously driven by its huge intra-island operation. This facilitates its very short average sector length of just 299 kilometres and large numbers of sectors per day.
95% of flights are intra-Canaries
Binter Canarias' network can be categorised into three: intra-Canaries, non-Canaries domestic Spanish flights and international. With 95% of services, nearly all of Binter's operation are within the Canaries, an archipelago that is part of Europe but is geographically much closer to Africa.
Serving all the islands' eight commercial airports, Binter plays a vital role for the local population. Cirium informs that it has 82% of all intra-Canaries flights and has five times as many as the only other local airline, canaryfly. Its intra-island operation revolves around Gran Canaria/Las Palmas (29% of departing flights; eight non-stop routes) and Tenerife TFN (28%, six routes). Not surprisingly, these airports are its top two network-wide, as shown below.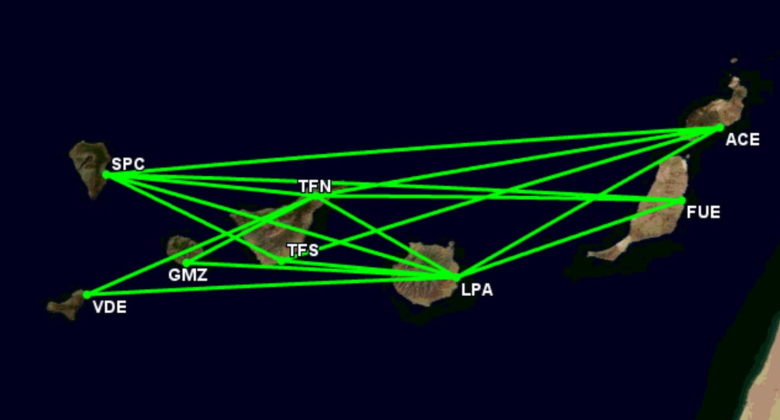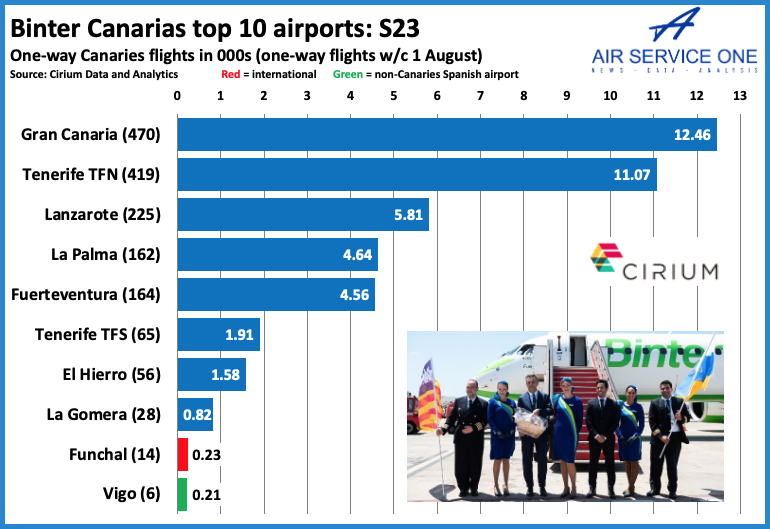 Wider domestic Spain flights started in 2018
Cirium data signifies that Binter Canarias' first non-islands domestic routes were in May 2018 to Vigo and Palma. This coincided with the arrival of wet-leased CRJ-1000s from Air Nostrum. In S23, it has more non-Canaries Spanish flights than in any other summer, with flights in this market segment up by 23% versus the previous record (S22). It serves some 15 airports and has 21 routes, all from Gran Canaria (15 routes) and Tenerife TFN (six).
It has 19 international routes from the Canaries
Binter has operated internationally for many years. In 2004, for example, it flew to both Lisbon and Porto using a wet-leased Futura 737-400. While international flights remain down versus S22 and S17-S19, it has 19 routes involving 14 airports in eight countries, as summarised below. As the following figure shows, Funchal is the most served international airport from the Canaries. It has summer flights from Gran Canaria, Fuerteventura, Lanzarote, Tenerife TFN and Tenerife TFS – three of which launched last year (see later).
Cape Verde: Sal
France: Lille, Toulouse
Italy: Florence, Venice
Mauritania: Nouakchott
Morocco: Agadir, Fez, Guelmim, Marrakech
Portugal: Funchal, Ponta Delgada
Senegal: Dakar
Western Sahara: Laayoune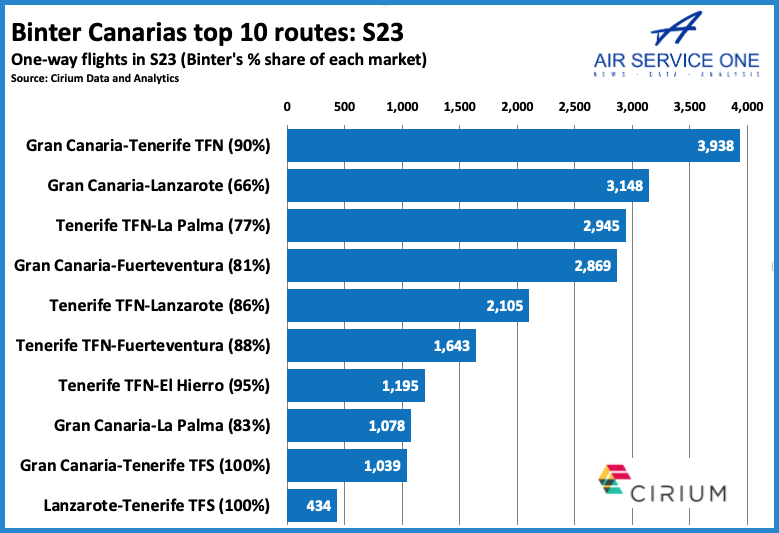 Where has it added from the Canaries?
Binter Canarias has introduced, or will begin, the following routes. They include Gran Canaria-Ibiza, taking off on 6 July. Until the pandemic started, the airport pair had never been served. Air Europa had five two-way flights in 2020, but now it is the turn of Binter. It means the airline will serve three airports in the Balearics: Ibiza, Menorca and Palma de Mallorca.
2 April 2022: Gran Canaria-Guelmim (2-weekly)
27 May 2022: Lanzarote-Tenerife TFS (14)
1 July 2022: Gran Canaria-Valladolid (2)
1 July 2022: Gran Canaria-Menorca (1)
2 July 2022: Gran Canaria-Fez (1)
2 July 2022: Gran Canaria-Florence (1)
2 July 2022: Gran Canaria-Ponta Delgada (1)
2 July 2022: Fuerteventura-Funchal (1)
2 July 2022: Lanzarote-Funchal (1)
4 July 2022: Tenerife TFS-Funchal (2)
27 March 2023: Gran Canaria-Granada (2)
6 July 2023: Gran Canaria-Ibiza (1)