Aalborg welcomed three airlines in a year; fourth is coming in December; Copenhagen still top route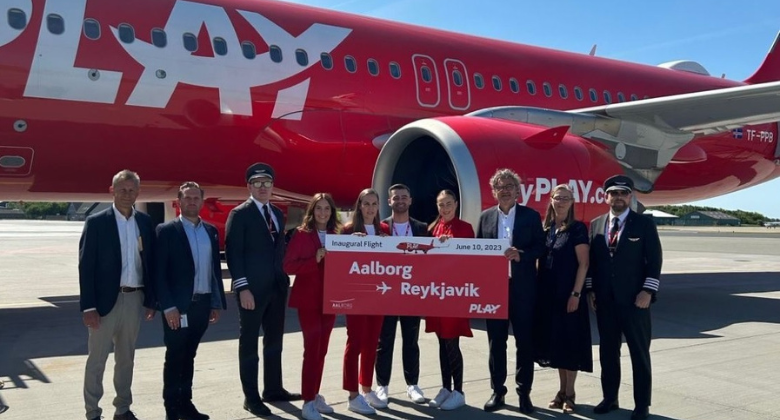 The Danish airport of Aalborg has added three scheduled carriers in the past 13 months. These developments – and various additional routes, most notably Newark – mean that Aalborg has exceeded pre-pandemic capacity in the crucial July-September quarter. According to Cirium schedules information, it has 158 weekly one-way August flights, up by 5% versus 2019.
First Volotea and Pegasus launched
The so-called airline of small and medium-sized cities, Volotea launched Aalborg – its first airport in Denmark – to Naples on 13 May 2022. It continues to operate weekly exclusively with the LCC's 180-seat A320s. Cirium data shows that this was Aalborg's first Naples service, at least on a scheduled basis.
Nearly exactly a year later, on 16 May 2023, Pegasus began Aalborg to Antalya (weekly). The Turkish resort, and the country generally, is relatively popular among Danes. It is the third Turkish airline on the 2,730-kilometre airport pair, joining SunExpress (2-weekly) and Corendon (weekly).
Then PLAY arrived
On 10 June 2023, Iceland's PLAY launched Aalborg from Keflavik (2-weekly), one of three Denmark destinations alongside Copenhagen and Billund. The carrier reconnects Aalborg with Iceland with regular flights after Iceland Express ended the route in August 2011. Importantly, PLAY also provides one-stop service to North America.
While these additions are notable, using Cirium to compare 2019 to 2023 indicates that various carriers no longer serve Aalborg: Vueling (2012-2020), British Airways' franchise partner Sun-Air (many years until 2019) and Great Dane Airlines.
Norwegian remains Aalborg's leading carrier based on August flights, closely followed by SAS. Norwegian has been helped by the introduction of two routes, as discussed below. Notice that Ryanair only has a small presence, providing barely 2% of August departures. These are to London STN – Aalborg's sole London route – and Kaunas, Aalborg's only non-stop link to Central and Eastern Europe.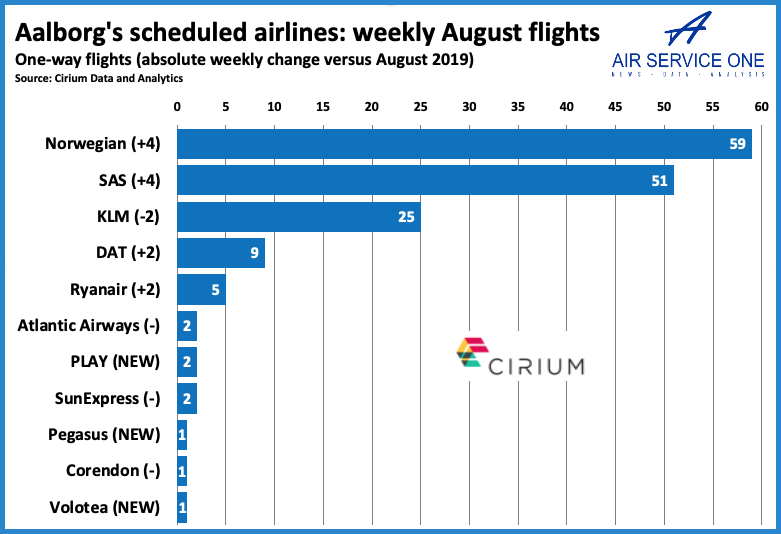 Five new and returning scheduled routes
The most significant – and most served – addition is SAS to Star Alliance's Newark hub. Using the 157-seat A321LR, it is Aalborg's first long-haul route. Curiously, Aalborg has as many Newark flights as it does to London, mainly as the UK capital is principally served from Billund, another Jutland airport. The new US route caters to the whole of Jutland, an area of Denmark with more than two million people.
27 April 2023: SAS, Newark (3-weekly)
16 May 2023: Pegasus, Antalya (weekly)
10 June 2023: Norwegian, Alicante (weekly)
10 June 2023: PLAY, Keflavik (2-weekly)
24 June 2023: Norwegian, Barcelona (2-weekly)
Despite the additions, Aalborg remains heavily focused on the 240-kilometre domestic link to Copenhagen. With 96-weekly August flights, they are by Norwegian (48), SAS (42) and Danish Air Transport (6). Copenhagen has 61% of Aalborg's flights. The only other scheduled route with a daily-plus service is KLM to Amsterdam, introduced in 2011 and now served 25-weekly.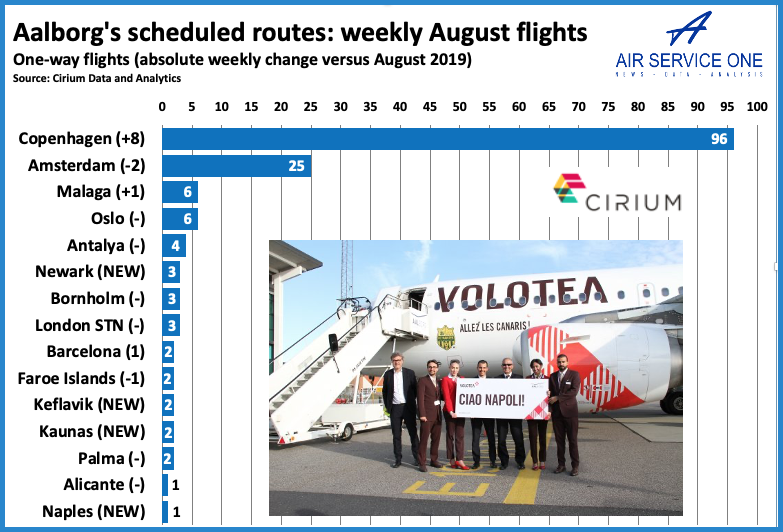 airBaltic to begin in December
Aalborg will welcome back airBaltic, which served the airport from Riga in 2015. This time, it will serve Gran Canaria (2-weekly), beginning on 3 December, enabled by airBaltic's new winter-seasonal base in the largest of the Canary Islands. Gran Canaria is very popular with Scandinavians. It will be joined by another scheduled route: Norwegian to Tenerife South, beginning on 31 October (weekly).