Aarhus passengers rise by 10% versus 2019; Ryanair top carrier by flights; Copenhagen leading route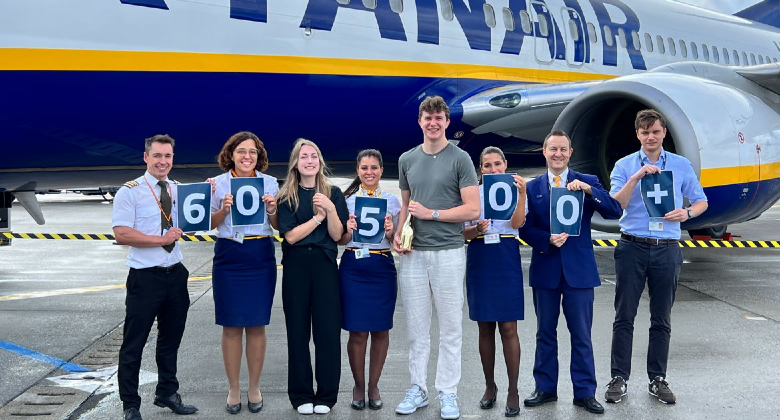 Aarhus is Denmark's second-largest city, and it has a metro population of about 1.4 million people. In the first seven months of 2023, it welcomed 318,470 passengers, making it the country's fourth busiest airport. While that was not a record, it was its best result since 2011. In July 2023, it had 61,417 passengers – its single best month to date. Helping is charter carrier Airseven, whose summer sun operation – along with growth by Ryanair and SAS – has offset the loss of various other carriers.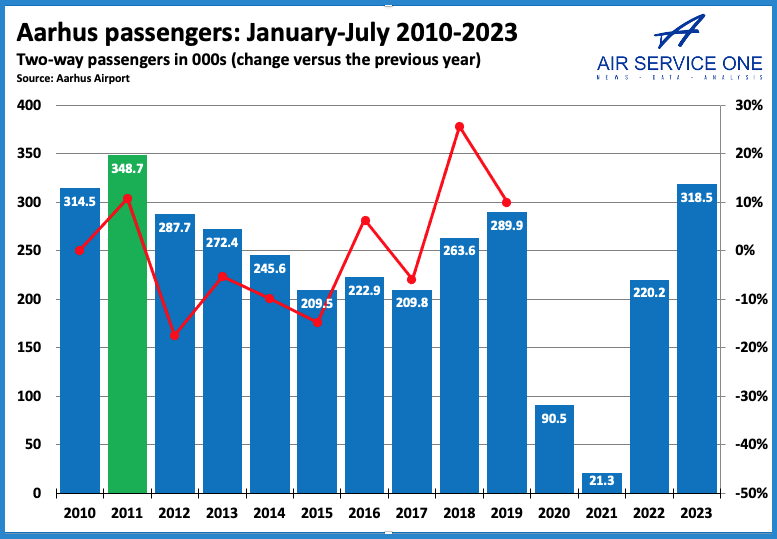 KLM, easyJet gone; Wizz Air leaves in October
Aarhus gained KLM in October 2022, when it was one of four airports the SkyTeam carrier served in Denmark from its Amsterdam hub. According to Cirium schedules information, it had a 6-weekly operation and was the first time Aarhus had Schiphol service. However, it ceased in March 2023.
It followed the March 2020 exit of British Airways franchise Sun Air, which ended its link from Stockholm BMA, the capital's downtown airport. It was replaced by BRA in November 2022. It also came after the December 2021 exit of easyJet, which served Aarhus since September 2018 from Berlin TXL (later BER) and London LGW.
Wizz Air added Aarhus in September 2022, returning to the airport after last serving it in 2011. While it previously flew from Gdansk, Bucharest was launched last year – the first time the Romanian capital had Aarhus service. However, the 2-weekly operation will cease at the end of S23.
Ryanair is number one by seats, SAS by flights
This July-September (Q3), Ryanair has almost 63,000 available departing seats, according to Cirium. Ryanair's capacity has risen by a strong 17.2% year-on-year and by 181.2% versus Q3 2019.
It now has 57.8% of the airport's capacity on a nine-strong network. These include Faro (2-weekly), which started on 27 March 2023 after SAS ended it in October 2019, and Palma, which returned on 29 March 2023 after ending in 2014. The latter has direct competition with charter carrier Sunwing, which began on 24 June 2023 (weekly).
If flights are considered, SAS leads because of its low-capacity ATR 72 and CRJ-900 operation. It three hub routes: Copenhagen, Oslo OSL and Stockholm ARN. Added in October 2015, Stockholm was suspended in March 2020. It returns on 14 August 2023 with a 5-weekly operation (no weekend flights).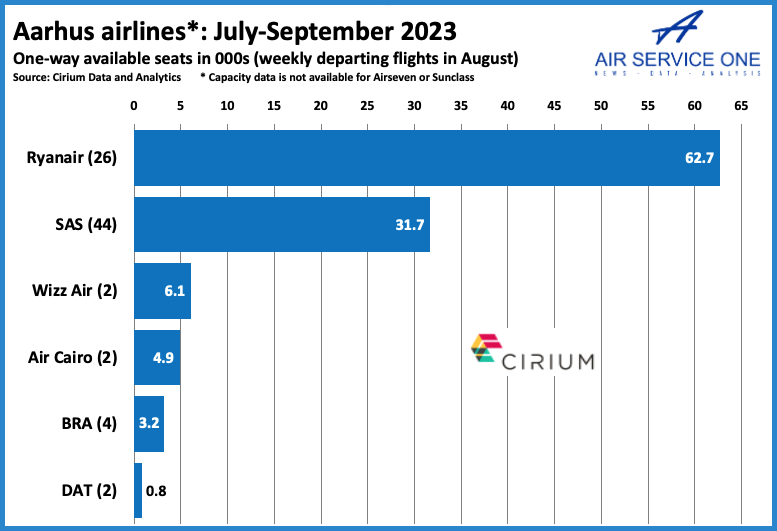 Copenhagen remains the leading destination; Visby is new
The 150-kilometre link to Copenhagen remains Aarhus' top destination by seats and flights. A crucial hub link, the domestic route has up to 31-weekly departures in Q3, all by SAS. (Air Cairo's triangular operation is not included.)
Of new destinations, Visby – in Sweden – is surely the most exciting. Some 490 kilometres from Aarhus, a 2-weekly absolute peak summer ATR 72 service will begin on 3 July and will Denmark's only non-stop link to the holiday destination.