Abbotsford International Airport passed 1 million passengers in 2019; Flair and Swoop adding routes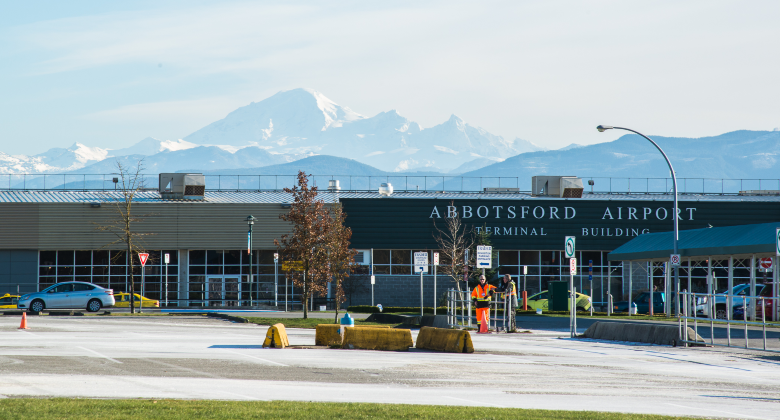 Abbotsford International Airport (IATA code YXX) is located in the Fraser Valley, around 65 kilometres east of Vancouver and very close to the Canada/US border. With a population of just under 150,000, Abbotsford is the largest city in the province of dBritish Columbia outside of the Vancouver metropolitan area. The airport lies just outside of town right next to the Trans-Canada Highway. For a decade, between 2006 and 2016, the airport handled around 500,000 passengers each year, with most of those passengers travelling with WestJet to either Calgary or Edmonton. In 2017, WestJet started service to Winnipeg, while newcomer Flair began serving Edmonton and Winnipeg. The following year saw the airport welcome the arrival of WestJet's lower-cost brand, Swoop, with service to Edmonton, Hamilton, Las Vegas and Winnipeg.
1 million passengers in 2019
Traffic continued to grow and in 2019 the airport welcomed over one million passengers for the first time, making it Canada's 17
th
busiest airport. During the year, Swoop had added service to London (IATA code YXU) in Ontario, as well as international routes to Mazatlan and Puerto Vallarta in Mexico. According to Cirium data, Swoop accounted for just over 50% of seat capacity in 2019, WestJet just under 35% and Flair around 13%.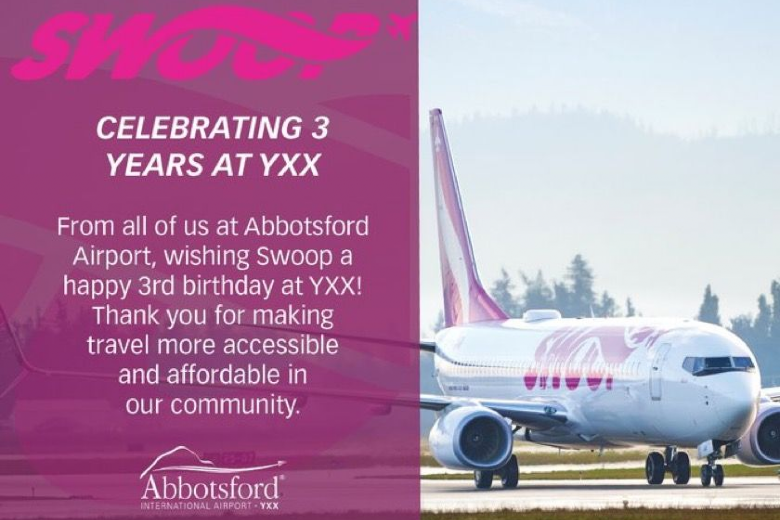 In 2020, Swoop also added service to Toronto YYZ. Despite the pandemic, Flair increased its presence at the airport in 2021 by launching domestic service in August to Montreal, Ottawa, Toronto YYZ and Winnipeg. Then, in mid-December it added international service to Las Vegas. This week sees both Flair and Swoop introduce weekly service to San Jose del Cabo in Mexico.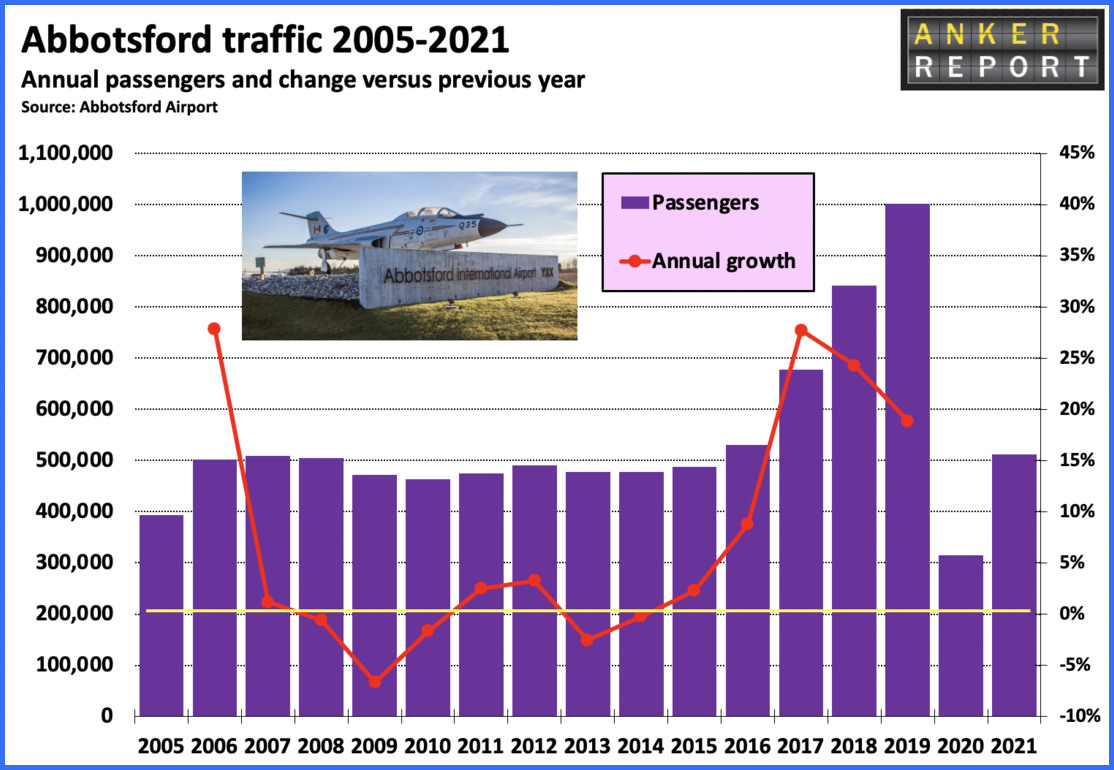 Abbotsford International Airshow
For real aviation enthusiasts, the best time to visit Abbotsford is in August when the airport hosts the annual Abbotsford International Airshow, the largest such event in Canada. This year the event is set to celebrate its 60
th
anniversary and will run from 5-7 August.