Abu Dhabi's European capacity grows 12% vs. 2019, but Etihad's share falls to its lowest level in 15 years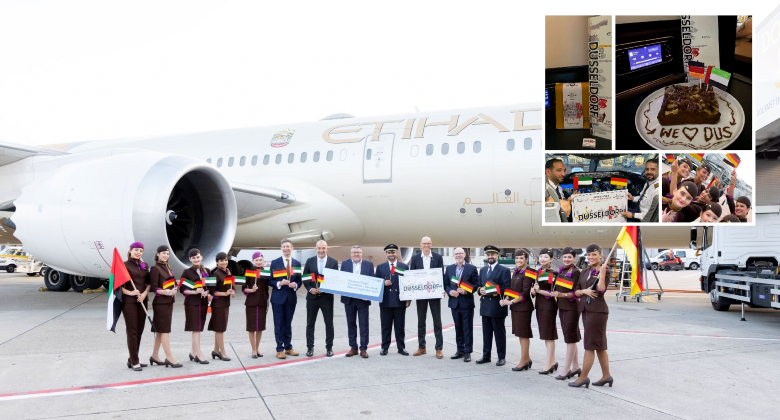 Abu Dhabi is one of more than 30 Middle East airports to have Europe flights in Q4 2023 (October-December). According to Cirium schedules information, it has 965,000 available seats. With about one in 14 Europe seats, it ranks fourth of all Middle East airports. Never has the UAE capital had so much Europe capacity, up by 12% over Q4 2019. It is primarily because of the fast growth of ULCC Wizz Air, the arrival of multiple carriers and new and returning Etihad Airways routes.
Numerous airlines have come and gone
After the exit of Gulf Air from Abu Dhabi in 2006, Etihad became the primary operator. In the following 17 years, numerous European carriers have served Abu Dhabi but no longer do. They include Aegean, airBaltic, airberlin, Air Serbia, Alitalia, British Airways, Cobalt, Czech Airlines, KLM, Lufthansa and Ukraine International.
Various Asian carriers flew to Europe on a fifth freedom or at least a one-stop basis, among them Biman Bangladesh, China Airlines, Garuda Indonesia and Pakistan International. Pre-2006, airlines like Royal Brunei stopped in Abu Dhabi en route to Europe.
Multiple recent additions
The year 2020 saw the arrival of Wizz Air Hungary, followed by Aeroflot, Air Arabia Abu Dhabi (co-owned by Etihad) and Wizz Air Abu Dhabi in 2021. Belavia and SunExpress arrived in 2023.
On 29 October 2023, they will be joined by the return of Air France, which previously served Abu Dhabi until 2012, with a daily Paris CDG service. It is the same date that Russian LCC Pobeda launches Moscow VKO-Abu Dhabi (4-weekly). Both come as leisure carrier Smartwings, in partnership with Etihad Holidays, begins charter flights from Cologne, Leipzig and Nuremberg.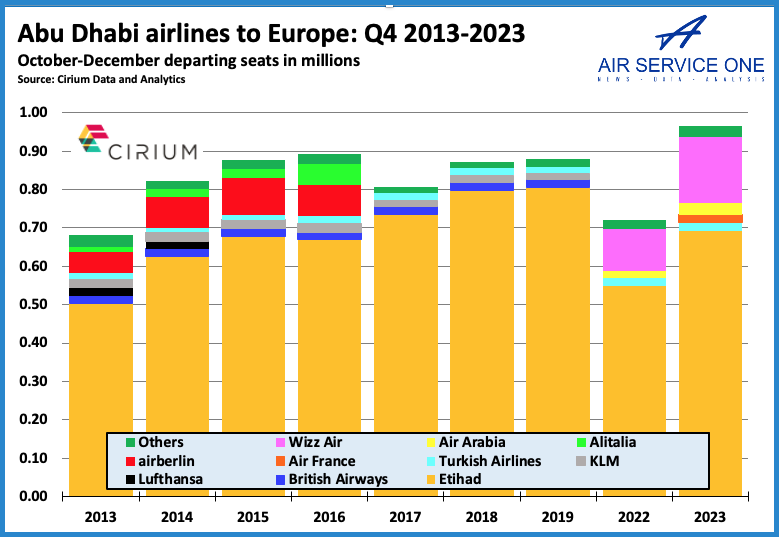 Etihad remains heavily in control, but lowest share since 2008
The above developments – particularly the fast growth of Wizz Air – and Etihad's slow recovery have necessarily reduced the flag carrier's European capacity share. It is despite the return of its 498-seat A380s, now exclusively deployed to London LHR.
Analysis of Cirium data shows that Etihad has 'only' 72% of the market in Q4, down from 94% in Q4 2019; it is its lowest level in 15 years. However, if Etihad's co-owned Air Arabia unit is included, the pair's share jumps to three-quarters of capacity.
Etihad will serve 22 European airports this October-December. They include brand-new Copenhagen, which started on 29 September 2023 (4-weekly) and the return of Düsseldorf, which relaunched the day before (3-weekly). The German city was previously part of Etihad's network between 2011 and 2020 and was also served by equity partner airberlin from 2012 to 2017. They followed the 18 June launch of Lisbon (3-weekly).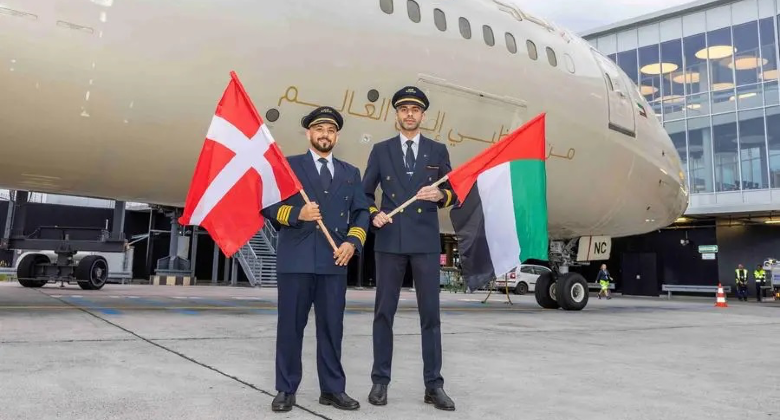 Wizz Air has 19% of non-stop European capacity
The Wizz Air Group has almost a fifth of Abu Dhabi's European capacity, up by three percentage points year-on-year. Interestingly, Cirium shows that most of its seats are provided by the original Hungarian – rather than its UAE – unit.
The Group's Abu Dhabi-Europe capacity has risen by about 70% year-on-year, with its network rising to 16 routes (excluding the Caucasus countries). In these three months, it competes directly with Etihad on three: Athens, Rome FCO and Vienna. In response, full-frills Etihad has reduced one-way Athens fares to as little as £65, Rome from £68 and Vienna from £78.
London LHR remains Abu Dhabi's top destination
When all carriers are combined, Abu Dhabi has non-stop flights to more than 40 European airports. With nearly one in six seats being to London LHR, the UK's busiest airport is by far the most-served destination. Etihad has a 4-daily operation. However, among the standouts is Rome FCO, which has risen three places to become Abu Dhabi's number two destination thanks to Wizz Air. By comparison, the Italian capital ranks 15th by seats from Dubai and eighth from Doha.