Aegean Airlines adds seven new international routes from Athens in S22 but drops at least 11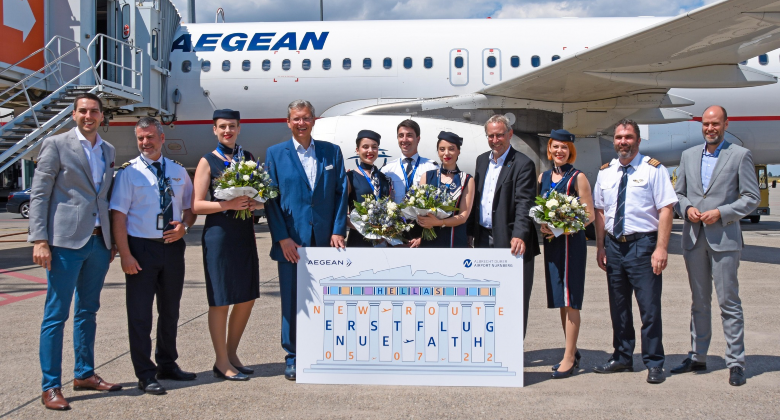 Greece's biggest carrier, Aegean Airlines, is offering non-stop flights from Athens to 78 international destinations this summer, including seven that it was not serving during the summer of 2019. This compares with 82 international destinations served three summers ago. The new routes, all launched this summer are (weekly frequency in August 2022 in brackets):
20 May 2022: Oslo (2, was last served in 2015)
7 June 2022: Florence (2)
23 June 2022: Cologne Bonn (2), Eindhoven (2)
1 July 2022: Bilbao (2)
5 July 2022: Nuremberg (2)
7 July 2022: Paphos (2)
Conversely, the Star Alliance carrier has dropped 11 international routes for this summer that it operated in the summer of 2019. These are Casablanca, Kiev KBP, Lamezia Terme, Lille, Marrakech, Palermo, Pisa, Sarajevo, Split, St. Petersburg and Verona. Four of these destinations are in Italy and two in Morocco. Cirium data still shows Aegean planning to serve Moscow DME in October, but that seems unlikely. Furthermore, flights to Krakow and Tallinn, which were operated in the early part of S22, are not listed from August onwards.
France and Italy leading country markets
With its fleet of single-aisle A320-series aircraft (one A319, 35 A320s and 16 A321s according to planespotters.net), Aegean is unable to offer long-haul services. Its longest current route is to Dublin at 2,879 kilometres, just one kilometre further than Lisbon at 2,878. Looking at the airline's leading international country markets this summer, reveals that France and Italy are almost tied for first place with Germany not far behind. Then come Cyprus, Spain and the UK. Of the top 15 markets, four (highlighted in Green) have shown an increase in monthly flights compared with August 2019.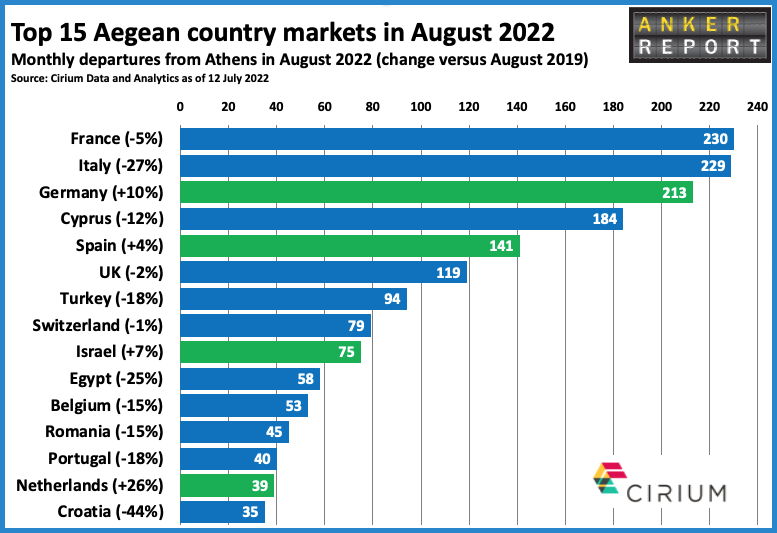 The highest frequency international routes are all from Athens. Larnaca (40-weekly) leads the way followed by Paris CDG (28) and London LHR (21). Other destinations served with at least 2-daily service are Istanbul IST, Milan MXP, Munich, Rome FCO and Tel Aviv.
Almost 50 international routes from other Greek airports
Aegean also offers 46 international routes across seven other Greek airports this summer. These are mostly aimed at the inbound leisure market. Of these 17 are to Heraklion, 15 to Thessaloniki, six to Rhodes, four to Kalamata, two to Mykonos and one each to Corfu and Santorini. In addition, the airline continues to offer a number of charter-only routes.
Aegean recently reported its May traffic figures (including figures for subsidiary Olympic Air) that showed it carried 565,308 international passengers, down 19% compared with 2019. Load factor was 79.6% down just 0.6 percentage points versus May 2019.