AILEVON PACIFIC, Aviation Consulting – Weekly Airline Schedule Update – April 10th 2023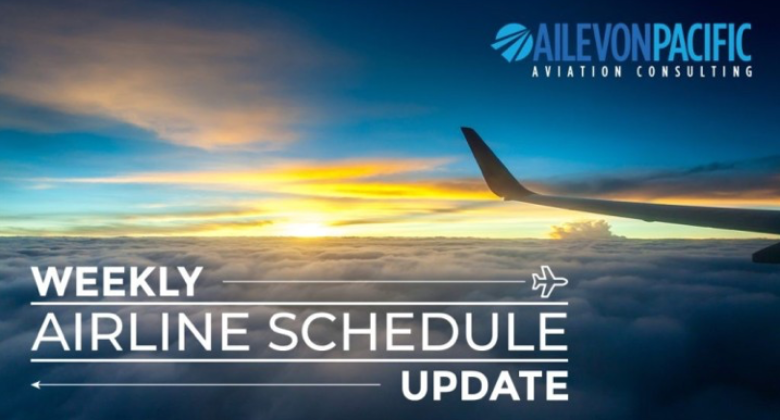 Themes of the Week:
Airlines are still trimming their summer schedules where needed and to help with the ATC shortage in NYC.
Avelo expanded their footprint in FL with the adds of DAB and MLB.
Breeze added CRW and another California add for PIT; also made significant changes across its network post-Labor Day.
Frontier added new routes from CLE, SFO, PHX and MDW.
Capacity Update
To see a detailed list of domestic U.S. capacity changes by airline, please click here.
Air Transat cancelled YYZ to FLL and MCO from November on.
Allegiant removed CHS to SDF from all future schedules and cancelled three routes in the summer (BNA to MLB; BWI to PGD; and OWB to SFB).
American reduced LGA capacity on Republic Airlines around 7% week over week from August onward. They cancelled LAX to TPA from from October through November 4.
Avelo announced and filed new service to two new stations. DAB to HVN and MLB to HVN and RDU both starting in June.
Breeze filed previously announced new service from new station CRW to CHS and MCO starting in May. They also filed new service from PIT to LAX starting in September. Breeze made significant changes across its network post-Labor Day.
Frontier filed previously announced new routes this week: CLE to CLT and DFW; SFO to DTW and MCO; PHX to IAH and TPA; and MDW to RDU and SFO. All new markets start in May or June and there are also several markets resuming service in May and June. ISP to RDU and IAH to PHL were removed from future schedules.
JetBlue cancelled BOS to EWR from June 15 through September 5.
Jetlines cancelled MLB to YYZ and will replace it with FLL to YYZ starting in June.
Spirit announced and filed new service from CHS to LAS starting in September. They also cancelled BOS to PHX from August through November.
Sun Country cancelled ACY and MCI to MSP for the majority of May and cancelled IAH to LAS in August.
United added back many seasonal ski markets in the 23/24 ski season this week. EWR to OGG is also resuming in November.
Domestic United States Capacity By Carrier
TSA Update
The first nine days of April are at 100.5% of 2019 levels and 110.3% of 2022 levels.
February Airline On-Time-Performance