AILEVON PACIFIC, Aviation Consulting – Weekly Airline Schedule Update – April 17th 2023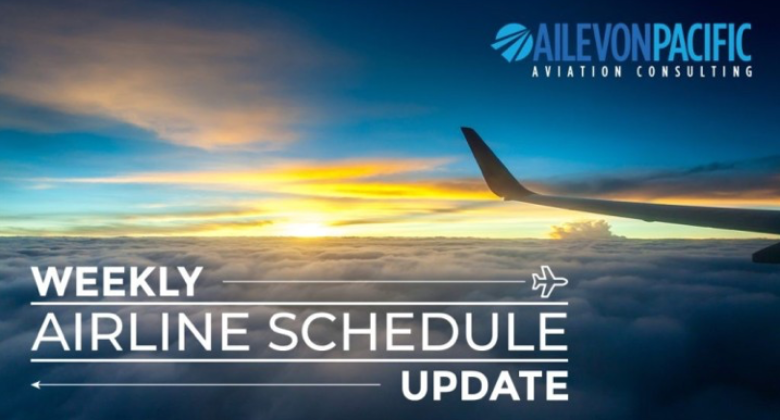 Themes of the Week
We've added international changes to/from the U.S. in our summary! Please feel free to send feedback on whether you find this useful and any other suggestions for this newsletter.
Alaska and United tweaked their schedules in the fall.
Alaska and United both have their earnings calls this week. Do a push up every time they say "RASM" and you'll easily meet your spring fitness goals! 😉
The SCASD due date is approaching, May 17th - at least one airport has made their intentions known so far: BIL.
Our next Airport Roundtable is next month in MSO; 8 airlines so far and you should be there!
Capacity Update
To see a detailed list of U.S. domestic and international capacity changes by airline, please click here.
Air Canada cancelled BDL to YYZ in May and reduced capacity June through October.
Alaska cancelled FLL to SAN in October and lowered domestic capacity 7% in September week over week. They reduced BOI capacity 15% week over week in September; PDX 19%; and SFO 14% week over week.
American removed LAX to MZT from future schedules. They cancelled AUS to MBJ (Montego Bay, Jamaica) and NAS (Nassau, Bahamas) from November through February and cancelled MIA to ELH (North Eleuthera, Bahamas) and MHH (Marsh Harbour, Bahamas) from August 15 through October 4. They also cancelled GSP to MIA from September 5 through November 4.
Austrian cancelled LAX to VIE (Vienna, Austria) in October.
Breeze removed HPN to LAX from future schedules.
Delta cancelled ATL to MXP (Milan, Italy) and JFK to EDI (Edinburgh, Scotland) from early January to early March. They also cancelled JFK to VCE (Venice, Italy) from November through March 6.
United increased domestic capacity in October 7% week over week. Several markets were cancelled in September. Please see file for the complete list. United added flights between SFO and MSN for the annual Epic Conference in August.
Sky High Aviation filed flights between PVD and Santo Domingo, Dominican Republic (SDQ) starting in May.
ZIPAIR filed Narita, Japan (NRT) to SFO flights that were previously announced, starting in June.
Domestic United States Capacity By Carrier
TSA Update
The first 16 days of April are at 100.4% of 2019 levels and 110.4% of 2022 levels.
Read the full, Weekly, Airline Schedule Update Here!