AILEVON PACIFIC Aviation Consulting-Weekly Airline Schedule Update – August 21st 2023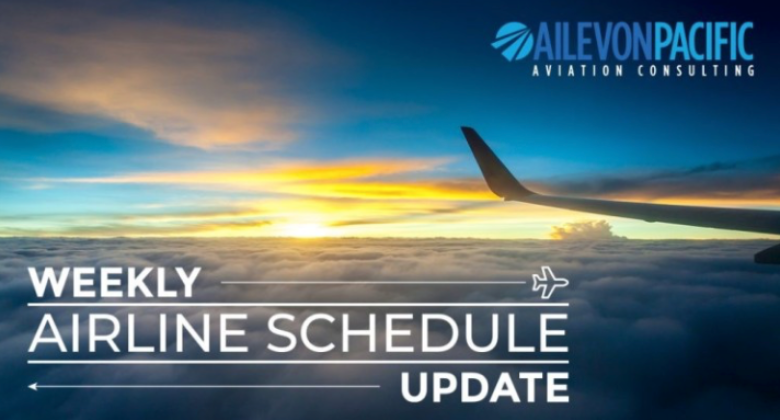 Themes of the Week
MSP and DEN are the latest airports to catch a DUB (or two)
Allegiant extended their schedule
American announced new routes to Europe
OGG capacity cuts have started and will likely continue into the late fall as the island is recovering from extensive wildfire destruction
No updates yet on SCASD grants, but we will have results as soon as they are published.
Our next YVR Airport Roundtable is SOLD OUT! We have another Airport Roundtable with The Quotient Group October 25-27 hosted by LEX in Lexington, KY! FIVE airlines are already confirmed. For more information and to register click here.
Multiple Property Study and Why Airlines Love Them!
Ailevon Pacific creates customized Multiple Property Studies that help unlock hidden air service demand. With the use of United States County Property Assessor data that is cleaned and compiled by a third party data vendor, we can show you where residents of your catchment area own a second, third or fourth home in the U.S. AND where people reside throughout the U.S. that own a second, third or fourth home in your catchment area. This is a significant driver of air service demand and is a compelling data point, not easily accessible to airlines, to add new or additional service between your airport and other cities.
This data has proven extremely valuable for airlines like Allegiant, whose core customers are those with multiple homes and who value convenience in air service.
"Most are those that own second, some of them third homes that fly us out of CVG, GRR, etc., many legacy markets for network carriers that upon consolidation left those areas as hubs. They (65+) fly us because we're taking them non-stop, and they actually have quite a bit of discretionary time and income." Scott Sheldon EVP and COO Allegiant from Q2 2022 Earnings Call
Reach out to Lacey.Alicie@ailevonpacific.com for more information and a quote for a customized Ailevon Pacific Aviation Consulting Multiple Property Study!
Capacity Update
To see a detailed list of U.S. domestic and international capacity changes by airline, please click here.
Advanced Air filed new service from Carlsbad, NM (CNM) to ABQ and PHX starting in November. They are taking over the Essential Air Service (EAS) contract from Boutique Air.
Aer Lingus filed new service from Dublin, Ireland (DUB) to DEN starting May 17 and will resume service to MSP on April 29 (last served April 2020).
Air Premia filed new service to HNL from Seoul, Korea (ICN) starting December 31.
Alaska is creating a temporary tag route between CLE and PIT from January 8 through February 15 (SEA-CLE-PIT-SEA).
Allegiant extended their schedule through May 15.
American announced several new routes and filed new service from PHL to Nice, France (NCE). They also are starting several international routes earlier than previous years (JFK to Athens, Greece (ATH) and ORD to Barcelona, Spain (BCN)). They are also resuming LGA to PHL on October 29, which was last served July 2020. They cancelled DFW to Santiago, Chile (SCL) from March 30 onward; ORD to Dublin, Ireland (DUB) from March through May; and PHL to Athens, Greece (ATH) in May.
Avelo cancelled ILM to PBI from November onward.
Bahamas Air cancelled RDU to Freeport, Bahamas (FPO) from October through November 11.
Canada Jetlines removed FLL to YYZ from future schedules. They filed new service from MCO to YYZ starting October 30.
Delta cancelled BOS to Mexico City, MX (MEX) from the schedule before it was even scheduled to fly in December. They will be resuming LAX to Shanghai, China (PVG) March 31. It was last served in February 2020. Three new routes filed this week are: LGA to TUL starting May 7; MIA to Nassau, Bahamas (NAS) starting November 5; and MSP to Dublin, Ireland (DUB) starting May 9.
Flair filed seven new routes LAS and SFB and removed YUL to SFB from future schedules.
JetBlue cancelled BOS to EWR from September 25 through October 28.
Sunrise Airways filed new service from MIA to Cap-Haïtien, Haiti (CAP) starting in September and Port Au Prince, Haiti (PAP) starting in October.
United reduced capacity to OGG through mid-October by 47% week over week. They cancelled EYW markets IAH and ORD from May 2 onward.
Domestic United States Capacity By Carrier
TSA Update
August 1-20 is at 101.6% of 2019 levels and 111.7% of 2022 levels.