AILEVON PACIFIC Aviation Consulting-Weekly Airline Schedule Update – August 7th 2023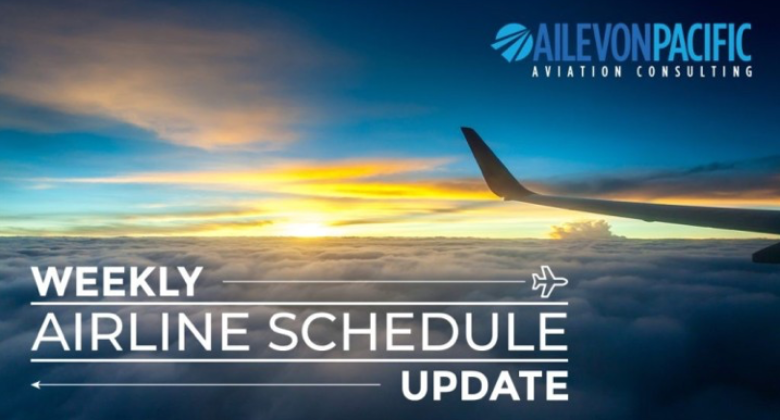 Themes of the Week
American is resuming BOS to LGA due to the end of the Northeast Alliance
Avelo, Southwest and Spirit extended their schedules this week
All U.S. airlines have reported their earnings and Air Canada will give their Q2 update this week
Our next Airport Roundtable with The Quotient Group will be in Vancouver from September 11-13 with seven airlines already committed to attend. Find out more information and register to attend here.
Capacity Update
To see a detailed list of U.S. domestic and international capacity changes by airline, please click here.
Air Canada cancelled MCI to YYZ from September 5 through October 31. LAX to YYZ will have two of the daily four flights on the 787 between November and April.
Air France added Paris (CDG) to LAS flights in January for the Consumer Electronics Show (CES).
American is resuming BOS to LGA four times per day service on the A319, due to the cancellation of the Northeast Alliance (NEA) with JetBlue. JetBlue still serves the market up to 10 times per day with the E-190. They are also swapping their Doha, Qatar (DOH) service from JFK to PHL on October 28. American is also cancelling two AUS routes from December through January 7. JFK to Monterrey, Mexico (MTY) is cancelled from December 20 onward.
Avelo extended their schedule through February 14 and also announced and filed new service from HVN to SJU starting November 15. They also cancelled MCO to RDU from November through January.
Delta is resuming JFK to Kingston, Jamaica (KIN) in January. It was last served in March 2020.
Etihad announced and filed new service between BOS and Abu Dhabi, UAE (AUH) from March 31 on.
Hawaiian cancelled LIH to OAK from September 6 through December 14.
JetBlue cancelled JFK to Havana, Cuba (HAV) in October.
LATAM pushed back the start date of ATL to Lima, Peru (LIM) until November.
Southwest extended their schedule through April 8.
Spirit extended their schedule through March 5. They cancelled seven routes from mid-November through January and took five routes to daily from November 15 onward (BNA to BOS and MIA; CLT to ORD; DTW to MYR; and FLL to PHX).
United added MCO to LAS for Grand Prix in November in LAS.
Domestic United States Capacity By Carrier
TSA Update
July finished at 98.9% of 2019 levels and 112.0% of 2022 levels. The first 6 days of August are at 100.5% of 2019 levels and 112.6% of 2022 levels.
June On-Time Performance
September Top 100 Airports Ranked by Capacity Recovery