AILEVON PACIFIC Aviation Consulting-Weekly Airline Schedule Update – July 17th 2023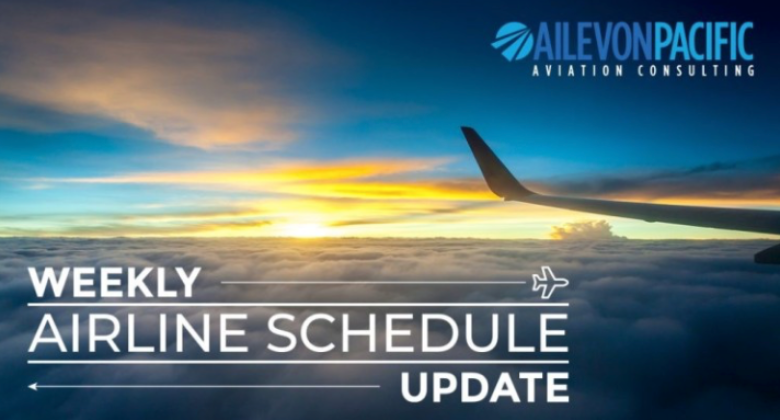 Themes of the Week
American is adding new routes to MIA this winter as well as ICT to DCA
Alaska is adding another new international destination, Guatemala City
American, Delta and United love NCAA football, especially Notre Dame; did you know, it's Robert Isom 's alma mater?
American and United are reporting their Q2 earnings this week
Capacity Update
To see a detailed list of U.S. domestic and international capacity changes by airline, please click here.
Alaska announced and filed new service from LAX to Guatemala City, Guatemala (GUA) starting in December. They also filed new Saturday only seasonal Zihuantanejo, Mexico (ZIH) service to SAN and ORD starting in December. BOI to PSP and SAN to Cancun, Mexico (CUN) will have their seasonal service end early in March and April respectively, but will be returning in the late fall.
American announced and filed new and increased frequency MIA service starting in November. They also filed new CLT to MLI service starting in December; new ICT to DCA service starting in January; and new PIT to CUN service running from December through March.
Avelo announced and filed new service from Salem (SLE) to LAS and BUR starting in October. SLE will be using SCASD funding to support the new service that they won last year. Avelo removed all future flights for MLB to RDU.
Delta announced and filed new ATL to Curaçao (CUR) service from December on. They cancelled JFK to Geneva, Switzerland (GVA) from October 28 through January. HHH to LGA was cancelled from March through April 8.
Denver Air Connection added new twice weekly service from MSP to Pierre, SD (PIR) from November onward.
Frontier increased capacity in September 27% week over week. They took many routes up to once daily and added ORD to PHX in September and October.
JetBlue decreased November capacity 6% week over week. They cancelled BOS to MCI from October through March and BOS to MKE from January 4 through March 14.
Norse announced and filed new service from MIA to Berlin, Germany (BER) and Paris, France (CDG) starting in December.
Sichuan Airlines removed LAX to Chengdu, China (TFU) from all future schedules.
United adds more NCAA football flights. They cancelled IAD to EYW, MYR and PBI in November. JAC to ORD was cancelled in late October through November.
Viva Aerobus is adding three routes for the second half of November: Leon, Mexico (BJX) to DFW; and Queretaro, Mexico (QRO) to IAH and SAT.
Domestic United States Capacity By Carrier
TSA Update
July 1-16 is at 97.0% of 2019 levels and 111.9% of 2022 levels.
Read the full Weekly, Airline Schedule Update Here!