AILEVON PACIFIC Aviation Consulting-Weekly Airline Schedule Update – July 24th 2023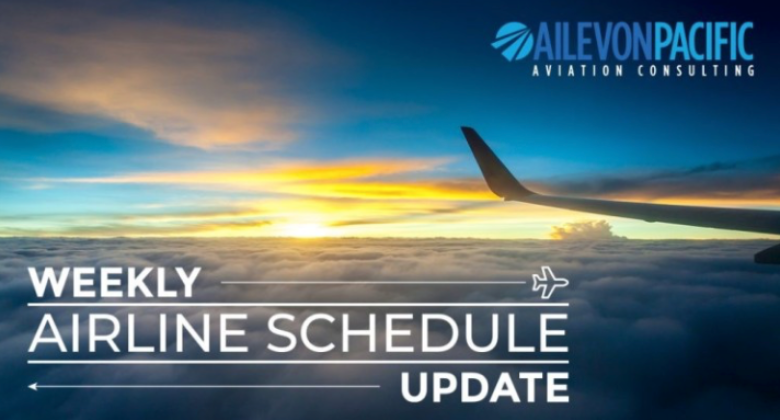 Themes of the Week
Breeze is ready to be a major player in RSW
United is growing their Pacific presence again
Avelo is adding Wausau, WI (CWA) - their 25th state
Alaska is ready to grow IntraCal with BUR-SFO; United and Southwest also serve this route
Delta and El Al both added flights for CES in LAS
WestJet is adding TPA flights for snowbirds
The love for Notre Dame continues with both American and United adding additional football fan flights; plus some other colleges but Notre Dame wins…
Capacity Update
To see a detailed list of U.S. domestic and international capacity changes by airline, please click here.
Aerolineas Argentinas removed AEP (Buenos Aires, Argentina airport) to JFK and MIA flights from future schedules and replaced JFK with EZE.
Air France is replacing Delta in RDU to CDG starting October 30 and will be the 15th airline at RDU.
Alaska decreased December capacity 6% week over week. BOI saw a 15% capacity decrease week over week in December. They announced and filed new BUR to SFO service starting in December. They are adding back a second flight between SEA and YKM and added back PDX to RDM service. PSP to SJC was removed from future schedules.
Allegiant announced and filed new service on six routes starting in November: ABE to MLB; AZA to PDX; BGR to PGD; FLL to BNA and CID; and MOT to SFB.
American decreased November capacity 5% week over week. American cancelled around 10 markets in late fall to early winter and pushed the start of two seasonal routes until June 4 (ORD to BTV and ILM). American added a Notre Dame flight from LAX to SBN for the big rivalry game against USC. Maybe Oscar Munoz (USC) and Robert Isom (ND) will be there. American has added over 2,000 seats to SBN for Notre Dame games this year to four markets that aren't normally served nonstop to SBN. This represents 52% of the total special seats which is over 3,700 seats when Delta and United are also added in.
Avelo announced and filed a new destination Wausau, WI (CWA) to MCO starting in October.
Breeze announced and filed 11 new routes starting in November: RSW to CAK, CMH, MSY, ORF, PIT, RDU, RIC, SDF and SYR; and PVD to JAX and VRB.
Delta added additional destinations from LAS for the Consumer Electronics Shows (CES) in January: FLL, MCO and SJC. They are resuming LGA to EYW and PNS in November.
Denver Air Connection cancelled MSP to PIR from March onward.
El Al is adding a Tel Aviv, Israel (TLV) flight to LAS for CES in January.
Eurowings Discover cancelled SLC to Frankfurt, Germany (FRA) in October.
Frontier decreased capacity in October and November 3% and 4% respectively week over week. They cancelled 16 routes in November. Please see our file for the complete list.
Jin Air cancelled Guam (GUM) to Busan, Korea (PUS) from November onward.
KLM cancelled Amsterdam, Netherlands (AMS) to MIA from April onward.
Norse cancelled London Gatwick (LGW) to BOS from the end of October through the end of March and IAD from April onward.
United announced and filed two new Pacific routes: LAX to Hong Kong (HKG) and SFO to Manilla, Philippines (MNL) starting in October. They removed HNL to NRT from future schedules. They added five additional NCAA football flights, with you guessed it, another Notre Dame flight!
Viva Aerobus removed three markets they previously added for seasonal service: DFW to Leon, Mexico (BJX) and IAH and SAT to Queretaro, Mexico (QRO).
WestJet announced and filed two new TPA routes: Calgary (YYC) and St. Johns (YYT) starting in December and March. They cancelled LGA to Toronto (YYZ) from the end of October onward.
Domestic United States Capacity By Carrier
TSA Update
July 1-23 is at 98.4% of 2019 levels and 112.3% of 2022 levels.
Read the full Weekly, Airline Schedule Update Here!