AILEVON PACIFIC Aviation Consulting-Weekly Airline Schedule Update – July 31st 2023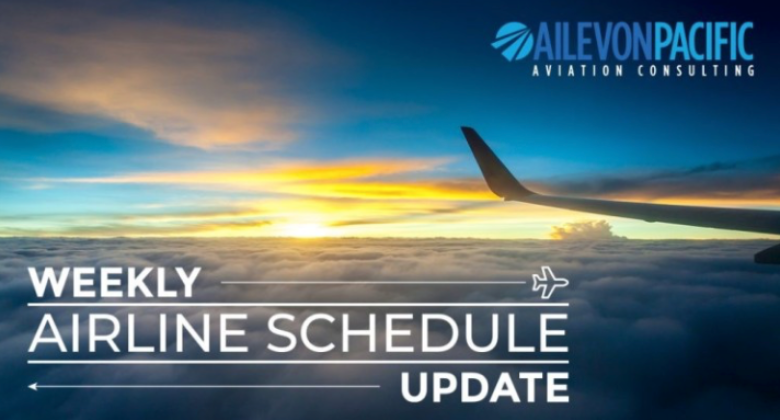 Themes of the Week
American is adding two new destinations to their route map
Frontier extended their schedule through January 10, 2024
Spirit is adding new seasonal routes in September and October
WestJet is swooping in and replacing Swoop on several U.S. flights
Five airline Q2 earnings calls are coming up this week: Allegiant, Frontier, JetBlue, Spirit and Sun Country
Capacity Update
To see a detailed list of U.S. domestic and international capacity changes by airline, please click here.
Alaska reduced capacity 10% and 9% week over week in January and February, respectively. They cancelled six routes in Q1: PDX to ABQ and SBP; SFO to GEG and IAD; IAD to LAX; and BOI to PSP.
American filed and announced two new destinations starting in February 2024: PHX to PSC and PHX to Tijuana, Mexico (TIJ). They will be the only U.S. airline to serve TIJ.
Breeze removed HPN to SRQ from future schedules.
Asiana cancelled Saipan (SPN) to Seoul, Korea (ICN) from November onward.
Cathay Pacific reduced capacity on all their U.S. flights from November through March.
Delta cancelled RDU to Paris, France (CDG) since it will be replaced by Air France. They filed PIT to SLC for one NCAA Football game in November (BYU at WVU).
Frontier extended their schedule through January 10. They increased October capacity 18% week over week.
Neos cancelled JFK to Milan, Italy (MXP) from April onward.
Royal Air Maroc added three flights in October between IAD and Marrakech, Morocco (RAK).
Sky High Aviation added three new routes from the Dominican Republic: Santiago (STI) to MIA and PVD; and Santo Domingo (SDQ) to STX.
Spirit reduced September capacity 3% week over week. They added three new flights in September and October: BNA to BOS and MIA; and CLT to ORD. AUS to Monterrey, Mexico (MTY) was cancelled from September 5 through January 31.
Swoop/WestJet: Swoop removed LAS to YHM and YYZ from future schedules. WestJet already has service to LAS via YYZ. Swoop cancelled MCO to YHM from November onward and WestJet filed new service to replace Swoop. WestJet also filed new service between TPA and YHM that was previously served by Swoop via PIE.
United reduced December and January capacity 2% and 1% respectively, week over week. They increased capacity in Latin markets in December and February by 14% week over week. United added two additional NCAA football games in October: BHM to BTR and CMH to MSN.
Domestic United States Capacity By Carrier
TSA Update
July 1-30 is at 98.8% of 2019 levels and 112.0% of 2022 levels
Read the full Weekly, Airline Schedule Update Here!