AILEVON PACIFIC Aviation Consulting-Weekly Airline Schedule Update – July 3rd 2023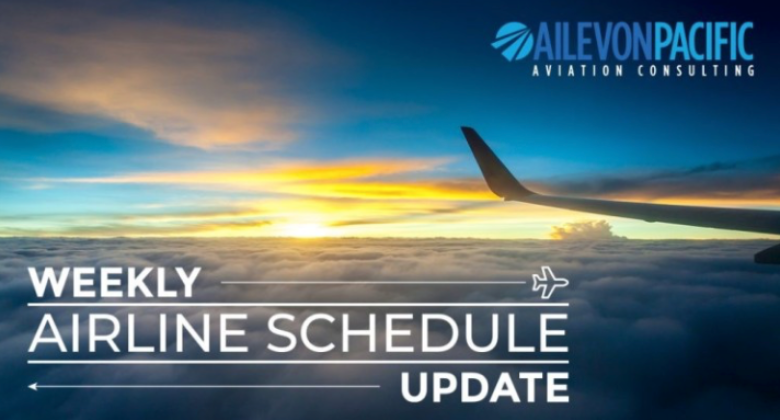 Themes of the Week
Alaska is adding four new routes and one new international destination
Breeze added three new routes and is resuming service to two others
Lynx is linking more Canada and U.S. sunny destinations; C'est le fun!
Southwest extended their schedule and added one new route; congrats OMA!
Our next Airport Roundtable is in September in YVR and seven airlines are already committed to attend; more info and register here
For those in Canada, we hope you had a fantastic Canada Day and for those in the U.S., Happy 4th of July!
Capacity Update
To see a detailed list of U.S. domestic and international capacity changes by airline, please click here.
Air Asia X removed HNL to Osaka, Japan (KIX) from future schedules.
Alaska announced and filed four new routes this week: LAS to Puerto Vallarta, Mexico (PVR) and Cabo San Lucas, Mexico (SJD) and Nassau, Bahamas (NAS) to LAX and SEA with service starting in December. NAS will be the 101st destination for Alaska from SEA.
Breeze announced and filed new service to three markets: TPA to CRW and PIT; and MCO to MSY all starting this fall. They also will be resuming two previously suspended routes: CMH to TPA and MSY to TUL. They are suspending CMH to RDU (December on); MCO to SNA (November 15 on) and TUL (September 15 on) in the fall.
Contour has yet to add back flights beyond October to four Essential Air Service (EAS) markets: AOO, OGS, PGA and PBG.
Delta filed flights for the Consumer Electronic Show (CES) in LAS in January: Amsterdam (AMS), Paris (CDG) and Seoul (ICN). They also filed NCAA football flights between CID and DTW for the Hawkeyes and Michigan State game in September.
Frontier reduced July capacity 1% week over week and August capacity was increased 3% week over week.
GOL cancelled MIA to Manaus, Brazil (MAO) from August through November and February onward.
Lynx filed new service on three routes: YUL to LAS; and YYZ to LAX and PHX.
Silver filed new service from GSO to TPA, the third route for GSO. They also will be returning to GNV from FLL, starting in August. They last served the market in August 2015.
Southwest extended their schedule to March 6 and announced and filed new service from OMA to FLL starting in January.
Domestic United States Capacity By Carrier
TSA Update
June finished at 100.8% of 2019 levels and 111.1% of 2022 levels. June 30 set a new record for TSA passengers with 2.884 million travelers.
Read the full Weekly, Airline Schedule Update Here!