AILEVON PACIFIC Aviation Consulting-Weekly Airline Schedule Update – June 12th 2023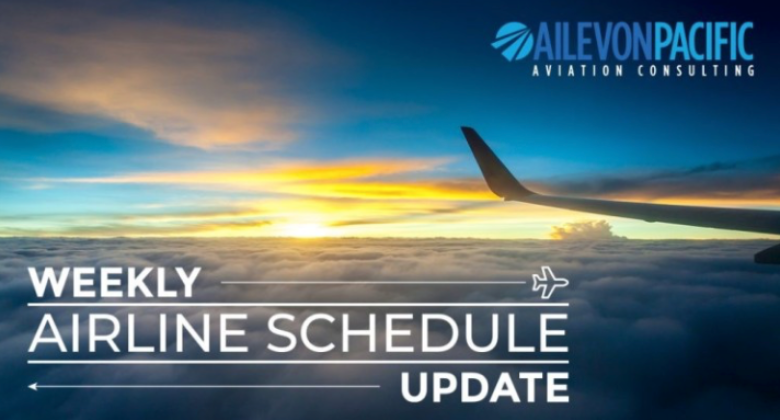 Themes of the Week
Alaska and Delta are adding flights to Hawaii
JetBlue is adding service to the Caribbean
Swoop is being swept into WestJet
Norse is swapping FLL for MIA
United is adding ABQ Balloon Fiesta flights
The Air Service World Congress Conference is coming up in July; get more info here
Capacity Update
To see a detailed list of U.S. domestic and international capacity changes by airline, please click here.
Aerolineas Argentinas is switching airports in Buenos Aires, Argentina from EZE to AEP for service to JFK and splitting service to MIA, both starting in August.
Aeromexico cancelled six Guadalajara, Mexico (GDL) routes to the U.S. from August 28 through October or November and LAX to Monterrey, Mexico (MTY) from August 28 onward. They will have no U.S. flights to GDL in September or October. VivaAerobus will be the only airline serving LAX to MTY.
Alaska announced and filed new service from PAE to HNL starting in November. They are resuming service between LAX and RSW in December. Alaska reduced capacity in November through February ranging from 3% to 10% reductions week over week.
American cancelled BOS and DCA to Halifax, NS (YHZ) in November. They will only have once a week service to PHL in November.
Contour added ORD to Owensboro, KY (OWB) from August onward. They won the latest Essential Air Service (EAS) contract offering two flights per day on a 30-seat EMB-135 to ORD versus Cape Air with one flight daily to BNA and STL. The contract is worth $5.6 million the first year.
Delta filed new service from MSP to OGG starting in December.
JetBlue reduced September capacity 3% week over week. They cancelled BDL and CHS to LAX from late October through March. Four routes were cancelled in September and October. JFK to RNO was cancelled from October through January. MCO to RDU is resuming in November (last served October 2021). JetBlue announced and filed new service from BOS to Grenada (GND); JFK to Belize (BZE) and St Kitts (SKB); and LAX to Nassau, Bahamas (NAS) all starting in November or December.
Norse is switching their FLL to London Gatwick (LGW) and Oslo, Norway (OSL) service to MIA in September.
Sichuan cancelled LAX to Chengdu, China (TFU) from July through August.
Silver Airways pushed the start date of new GSO service to BNA and MCO until July 25.
Southwest extended their schedule through March 6, 2024. They are resuming three markets in November: ATL to Cancun (CUN) which was last served January 2020; DAL to TUS which was last served June 2019; and HOU to RSW which was last served January 2023.
Spirit extended their schedule through January 9, 2024. They removed five routes from future schedules: BOS to IAH; EWR to MSY; MYR and SAN to ORD; and PHL to TPA. They cancelled 12 additional routes in the fall months. Spirit is resuming DEN to DFW from August 31 through September 5. Spirit finalized their September schedule, reducing capacity 9% week over week.
United filed Albuquerque Balloon Fiesta flights from ABQ to DEN, EWR, IAD and IAH in October. They also added special Epic Conference flights from IAH to MSN in August. United is cancelling EWR to Havana, Cuba (HAV) from October 29 onward. They will still serve HAV from IAH daily.
Domestic United States Capacity By Carrier
TSA Update
June 1-11 is at 97.2% of 2019 levels and 109.6% of 2022 levels.
Read the full Weekly, Airline Schedule Update Here!