AILEVON PACIFIC Aviation Consulting-Weekly Airline Schedule Update – June 19th 2023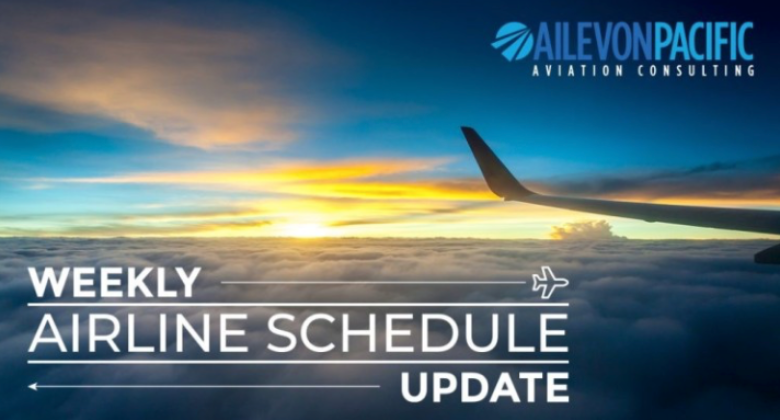 Themes of the Week
Alaska is adding three new sun markets
American is adding six new markets and one that is competing with a new Alaska route
WestJet is sunsetting Sunwing
Delta and LATAM are growing their bond in Central and South America
The SCASD submissions have been uploaded to the Regulations.gov website; see below for recap; winners will likely be announced in late summer
Capacity Update
To see a detailed list of U.S. domestic and international capacity changes by airline, please click here.
Alaska announced and filed new service starting this winter from JFK to PSP; LAS to SBP; and MIA to PDX.
American increased capacity from January on 1% week over week. They filed six new routes starting this late fall and winter and already announced a few of them: ALB to DFW; BNA and CVG to CUN; DCA to FLL and MKE; and MIA to PDX (directly competing with Alaska's newly announced flight). They also removed JAC to PHX and MTJ to LGA and PHX for this winter. American cancelled LAX to TPA and ORD to SJU from November through early to mid-December.
Avelo cancelled BRO to BUR in October. BRO had service to both MCO and BUR, the only city in their network to serve both coasts, but it appears they might only fly to MCO after August.
Contour cancelled 12 markets from November onward and they aren't selling on their website. This has happened once before and is likely an error because they are EAS markets.
Delta reduced capacity in November 2% week over week. They are resuming service between ATL and Cartagena, Colombia (CTG) in December (last served March 2020). They are also resuming LAX to Liberia, Costa Rica in December (last served January 2022).
Frontier removed ATL to Nassau, Bahamas (NAS) from future schedules.
Norse cancelled four markets from late October onward: JFK to Berlin, Germany (BER), Rome, Italy (FCO), and Oslo, Norway (OSL); and LAX to OSL. Last week we called out Norse and Norwegian flights separately since they were filing schedules under separate IATA codes in Diio schedules.
Sichuan cancelled LAX to Chengdu, China (TFU) from October 27 onward.
United increased capacity from November onward from 3-5% week over week. They are resuming LAX to PSP early in October 29 and resuming CLE to TPA in October (last served May 2022). 11 routes were cancelled in late fall/early winter.
Domestic United States Capacity By Carrier
TSA Update
June 1-15 is at 97.2% of 2019 levels and 109.9% of 2022 levels
Read the full Weekly, Airline Schedule Update Here!