AILEVON PACIFIC, Aviation Consulting – Weekly Airline Schedule Update – June 5th 2023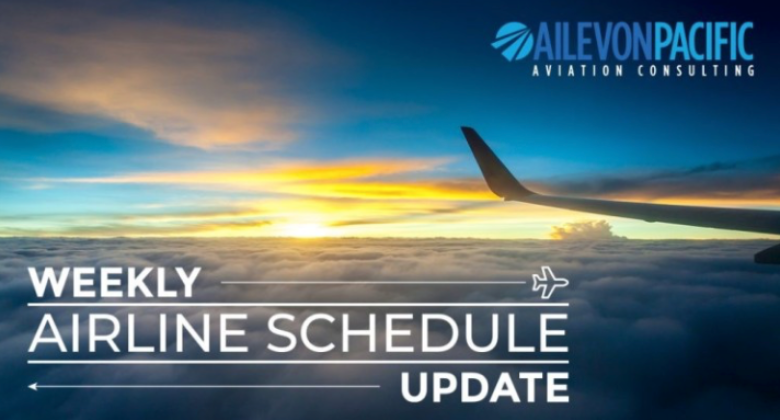 Themes of the Week
Delta reduced fall capacity 1% week over week
Delta makes sure Notre Dame alumni in NYC can get to their home games
Avelo removed one ILG market before it will even start
BermudAir filed their new Bermuda (BDA) flights to three U.S. destinations
Virgin Atlantic announced Manchester, UK (MAN) flights to LAS starting in July
The Air Service World Congress Conference is coming up in July; get more info here
Capacity Update
To see a detailed list of U.S. domestic and international capacity changes by airline, please click here.
Alaska reduced November capacity by 1% week over week. They cancelled eight routes from November through December or January (BIL to PDX; BOI to AUS, PSP and SJC; LAX to BZN and RNO; MSO to PDX; and SAN to SLC).
American added daily flights between LAX and YYZ from September 6-12 for the Toronto Film Festival.
Avelo removed ILG to MLB from future schedules. The route was scheduled to start on June 28. They also cancelled HVN to MLB and SAV; and ILG to SAV from September 5 through October. ILG to PBI was cancelled in October.
Avianca cancelled MIA to Cali, Colombia (CLO) from October through November and also, February through March 24.
BermudAir is a new airline that will be starting service in August from Bermuda (BDA) to BOS, FLL and HPN. Their code is currently BMA and they will use E-170s and have schedules filed in Cirium but you aren't able to search by the airline code. However, the schedules are viewable if you search by route.
Condor cancelled LAX to Frankfurt, Germany (FRA) from November through February.
Delta reduced capacity 1% week over week in August through October. They cancelled ANC to SLC from September 19 through November 30. Delta cancelled BMI to DTW from September 2 onward. They still will offer service twice daily to ATL. They cancelled BTV to DTW from November 5 through January. Delta added their special Notre Dame football home game flights from September through November for alumni in NYC (LGA).
Jeju Air has cancelled Guam (GUM) to Tokyo Narita (NRT) from November onward.
Spirit cancelled IAH to Monterrey, Mexico (MTY) from September through November.
United decreased October capacity 1% week over week. They cancelled ELP to ORD from September 29 through October 28 and IAD to MYR from September 3 through October.
Domestic United States Capacity By Carrier
TSA Update
May finished at 99.5% of 2019 levels and 110.2% of 2022 levels. The new highest day since March 2020 was on Friday, May 26th with 2.74 million travelers.
Read the full, Weekly, Airline Schedule Update Here!