AILEVON PACIFIC, Aviation Consulting – Weekly Airline Schedule Update – May 15th 2023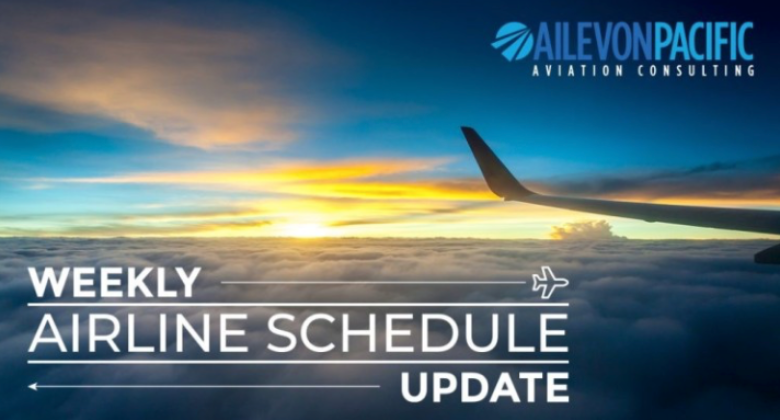 Themes of the Week
Southwest and Spirit trim late summer and early fall capacity.
United is exiting a station, bringing the legacy airline station exit count to 74 since April 2020.
WestJet puts the WIN in Winnipeg.
Chinese airlines have been allowed to increase flights to the U.S.
Safe travels to everyone coming to the MSO Airport Roundtable this week!
Capacity Update
To see a detailed list of U.S. domestic and international capacity changes by airline, please click here.
Air China is resuming service between JFK and Beijing, China (PEK) from May 1 through October 1. This route was last served by Air China in April 2020.
Alaska filed new service between SNA and BZN and TUS starting December 14. ALW to SEA increases back up to two flights per day from September 7 onward.
Allegiant extended their schedule until February 12.
American cancelled DAB to DFW from September 1 through October 28 and BOS to Cancun, MX (CUN) from September 3-30.
Breeze extended several routes into September and October.
China Eastern is resuming service between LAX and Shanghai, China (PVG) from May 21 on. The route was last served in May 2020.
Delta cancelled BOS to Dublin, Ireland (DUB) from January 8 through March 6. BOS to BTV is also cancelled from January 8 onward. They extended JFK to Geneva, Switzerland (GVA) from November 2 through January 7. Delta decreased capacity in 2024 by 1% week over week.
Flair added YUL to SFB and FLL from October 29 on. JFK to YYZ and LAX to YEG are cancelled from October 28 onward. PHX to YVR start date is pushed back to December 15.
Frontier cancelled five markets between July and November (ATL to BDL, KIN (Kingston, Jamaica), MSY, and NAS; and MCO to SWF).
Southwest cancelled four routes from mid-August through September: ABQ to SAT; BUR to HOU; MDW to PBI; and OMA to TPA. Southwest decreased capacity in August and September by 2% week over week.
Spirit reduced July capacity by 3% week over week. They cancelled BOS to IAH from July through mid-August and IAH to Monterrey, MX (MTY) from mid-July through November. LAS saw a 7% capacity reduction week over week in July.
United cancelled HPN to ORD from July onward, suspending HPN altogether. This is the 74th station exit by a legacy airline since April 2020 and the start of the pandemic.
WestJet announced and filed new service between ATL and Winnipeg (YWG) from September 6 onward.
Domestic United States Capacity By Carrier
TSA Update
May 1-14 is at 97.8% of 2019 levels and 109.4% of 2022 levels
Read the full, Weekly, Airline Schedule Update Here!