AILEVON PACIFIC, Aviation Consulting – Weekly Airline Schedule Update – May 8th 2023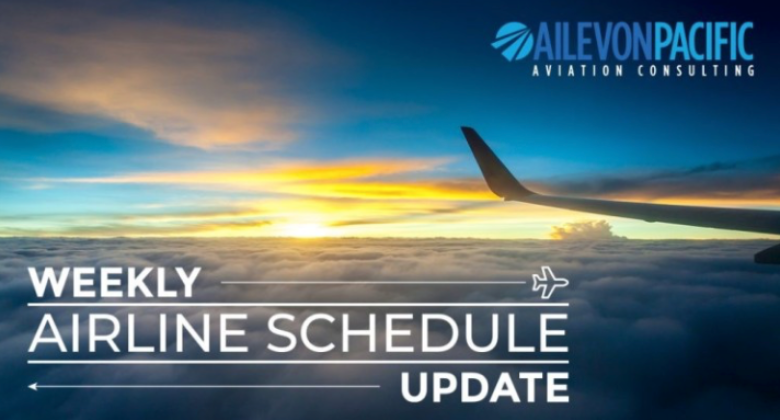 Themes of the Week
Airlines continue to trim late summer and early fall capacity with Delta and JetBlue taking the biggest cuts this week.
NY is getting a nonstop to the Faroe Islands.
Delta is adding two new routes and getting in on the Epic conference action in MSN; a case study in getting airlines to add capacity for an annual conference.
Sun Country knows when to fold 'em when it comes to ACY, at least for now.
MSO Airport Roundtable is next week and we can't wait to see everyone!
Capacity Update
To see a detailed list of U.S. domestic and international capacity changes by airline, please click here.
Avelo is suspending BRO to BUR from August 13 through October 5 and ILG to PBI from July 5 through October 15. They also extended their schedule through October 31.
Air Asia X cancelled HNL to Osaka, Japan (KIX) from September through October 29.
Atlantic Airways announced and filed new service between Stewart (SWF) and the Faroe Islands (FAE) from August to October.
American adjusted capacity in August and September. Several seasonal markets had service extended into the first week of September, while some markets are ending earlier in August.
Contour cancelled BNA to Greenville, MS (GLH) from June onward. They still offer service to GLH from DFW.
Delta reduced August capacity 4% week over week. They added new service between BOS and Mexico City, Mexico (MEX) from December 21 onward. They also filed new service between SLC and LGA from July through September. They added special flights to MSN for the Epic conference in August from BOS, LAX, and SLC. In an effort to reduce capacity to/from New York City this summer, Delta reduced capacity between NYC (EWR/JFK/LGA) and Washington D.C. (BWI/DCA/IAD) 37% in August and 28% in September.
JetBlue reduced capacity in September and October 3% week over week. They mostly made day of week reductions in select markets.
Red Air consolidated its operations with Laser Airlines in La Romana, Dominican Republic (LRM) and therefore cancelled MIA to Santo Domingo, D.R. (SDQ) and filed new service between MIA and LRM starting May 8.
Sun Country removed ACY to MSP from future schedules. New service was scheduled to start May 26. ACY is still listed on Sun Country's website, but we will monitor.
Domestic United States Capacity By Carrier
TSA Update
May 1-7 is at 98.7% of 2019 levels and 110.9% of 2022 levels
Read the full, Weekly, Airline Schedule Update Here!