AILEVON PACIFIC Aviation Consulting-Weekly Airline Schedule Update – November 13th 2023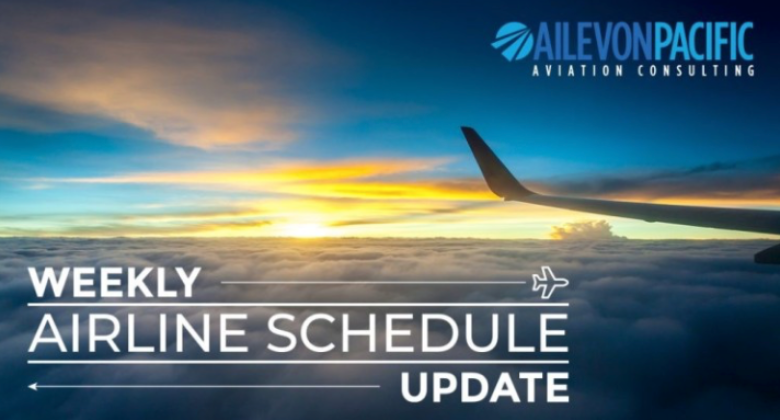 Themes of the Week
Everyone loves Tulum and now American is adding three routes there
Breeze is adding seven new cities to their route map with 14 new routes
Spirit finalized their January and February schedules with some big reductions; but they did remember the Alamo and added one route there
United is pushing restart dates of some Asia markets until mid-February
WestJet is having a party in the USA with four new routes
Have you met APAC's Asia Pacific teammates? Matthew Findlay, Kiven Cheung and our newest APAC member Diego Chavez just wrapped up the 2nd annual Air Service Data Analysis Symposium!
Capacity Update
To see a detailed list of U.S. domestic and international capacity changes by airline, please click here.
Aeroméxico announced and filed new service from Mexico City, MX (MEX) to RDU starting July 1.
Air Canada suspended YVR to OGG service from May through September 2024.
Alaska announced and filed new service from PDX to BNA starting on March 14.
American filed an additional AUS suspension this week starting in February: Nassau, Bahamas (NAS). They announced and filed three new routes to Tulum, Mexico (TQO) starting in March: CLT, DFW and MIA.
Breeze announced and filed new service in seven new cities and 14 new markets: MCO to AVP, BTV, EVV, MSN and SWF; TPA to BTV, MSN, MYR and PBG; CHS to SWF; MYR to CRW and PVD; and GJT to SFO and SNA. One route was suspended, CRW to TPA from January 7 onward.
Delta pushed the resumption of LAX to Shanghai, China (PVG) from March to July 11.
Frontier extended their schedule to April 9.
Hainan will resume SEA to Beijing, China (PEK) on November 26. It was last served March 2020.
Play suspended IAD to Iceland (KEF) from January 16 through February 28.
Spirit reduced capacity in December and January 12% and 7% respectively, week over week. 16 markets were suspended from January through mid-February. They also announced and filed new service from SAT to TPA starting on January 12.
United pushed out the resumption of service in several US to Asia markets to February 15: PEK to EWR and ORD; and PVG to EWR, IAD, LAX and ORD. ORD to Dublin, Ireland (DUB) was suspended in April.
VivaAerobus suspended CVG to Cancun, Mexico (CUN) in December.
WestJet announced and filed new service in four markets: YEG to ATL, BNA and SFO and; YVR to DTW. Markets start between April and June.
Note: Schedule information presented in the Weekly Airline Schedule Summary comes from what is loaded in Cirium schedules via Diio Mi and may not reflect what airlines are actually selling. 
Domestic United States Capacity By Carrier
TSA Update
November 1-12 is at 104.4% of 2019 levels and 119.4% of 2022 levels
Read the full Weekly, Airline Schedule Update Here.