AILEVON PACIFIC Aviation Consulting-Weekly Airline Schedule Update – November 6th 2023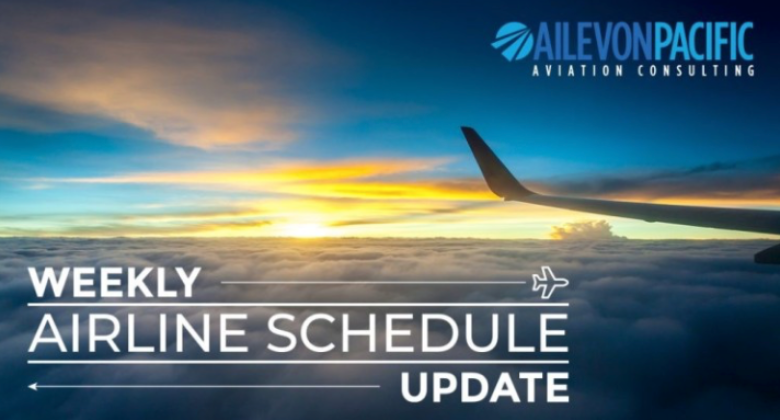 Themes of the Week
American cutting back in AUS
Icelandair is connecting the land of the Puffins with the city that has Penguins
Spirit is leaving the Centennial State in January
Capacity Update
To see a detailed list of U.S. domestic and international capacity changes by airline, please click here.
Alaska reduced capacity in April and May by 1% week over week. They removed MSO to SFO from future schedules. FLL to LAX, PDX and SFO were suspended from mid-April through mid-May. PDX to PSP was suspended from May 26 through September.
Allegiant reduced capacity in April and May by 2% and 5% respectively week over week. They removed FNT to SAV from future schedules and suspended nine routes from Mid-April through May.
American filed 22 AUS suspensions in early 2024 as a part of a sweeping change to the AUS station. One of the reasons that could be to blame is the pilot contract as mentioned here. In March 2024 American AUS capacity is down 25% week over week.
Delta reduced capacity in January and February 1% week over week. They suspended JAC to MSP from June onward. They filed new service from MSP to ILM and SYR starting in May and June. They also filed special Daytona 500 flights to DAB from DTW and LGA in February.
Flair suspended SFB to YOW in April and May.
Icelandair announced and filed new service from PIT to Iceland (KEF) starting in May.
JetBlue suspended LAX to SEA and Cancun, Mexico (CUN) from January through April.
Korean will resume HNL to Tokyo Narita, Japan (NRT) in April. The market was last served in April 2020.
Kuwait Airways removed IAD to Kuwait City, Kuwait (KWI) from future schedules.
Silver Airways filed a station exit from GSO to BNA and MCO from future schedules.
Lynx filed several summer route suspensions from Canada to the US.
Spirit announced and filed an exit from the DEN station on January 10. They serve FLL, LAS and MIA from DEN. They also filed a suspension from FLL to Bucaramanga, Colombia (BGA) from January 16 onward. They also filed previously announced service from FLL and MCO to Tulum, Mexico (TQO) from March onward.
Note: Schedule information presented in the Weekly Airline Schedule Summary comes from what is loaded in Cirium schedules via Diio Mi and may not reflect what airlines are actually selling. 
Domestic United States Capacity By Carrier
Q3 Airline Earnings Call Dates
Air Canada - Transcript
Alaska - Transcript
Allegiant - Transcript
American - Transcript
Delta - Transcript
Frontier - Transcript
Hawaiian - Transcript
JetBlue - Transcript
Skywest - Transcript
Southwest - Transcript
Spirit - Results
Sun Country - Tuesday, November 7, 2023 4:30 pm Eastern Link This Week
United - Transcript
Interested in a Q3 airline recap, reach out to Jean.Ellisor@ailevonpacific.com for more information.
TSA Update
October finished at 104.8% of 2019 levels and 110.3% of 2022 levels. The first five days of November are at 102.5% of 2019 levels and 134.1% of 2022 levels
Read the full Weekly, Airline Schedule Update Here.